Apocalyptic death industrial project PATHOGENS will release the three-song Soiled Cogs Forever Grinding via a partnership between Scry Recordings and Black Horizons on March 13th.
PATHOGENS is A. D. Carter using manipulated samples, distorted synth, found objects and contact mic recordings, electronic drums and percussion, electric guitar, voice, and throat. The reflection of a dying world, PATHOGENS exists solely to serve as an unflinching reminder of the negative influences of the human species inhabiting this planet. Taking early Swans influences to an even more bleak and excruciating extremes, A. D. Carter blends synth distortion, primal mechanical rhythms, profoundly disturbing samples, and nightmarish agonized vocalizations to create death industrial doom akin to its influences, yet unique and singular.
In advance of the release of Soiled Cogs Forever Grinding, Captured Howls is streaming "Hollow Eyes" noting, "The track begins with and mostly runs on a bubbling stew of nauseating, thick-toned sonic muck. It's a meaty, repeatedly drawn out series of tones that erratically surge and retract over and over again. Listening feels somewhat like what gradually falling through increasingly suffocating quicksand must be like – there's no breathing room, no empty space, just the devilishly snaking, crushing tidal waves of this brutal sound…"
Read more and stream "Hollow Eyes," exclusively at Captured Howls, at THIS LOCATION.
Recorded and mixed by A. D. Carter at Minecrawl Studio and mastered by Egan Budd with layout by Zach Wise Soiled Cogs Forever Grinding will be released on cassette (limited to 50 copies) and digital formats. For preorders go to THIS LOCATION.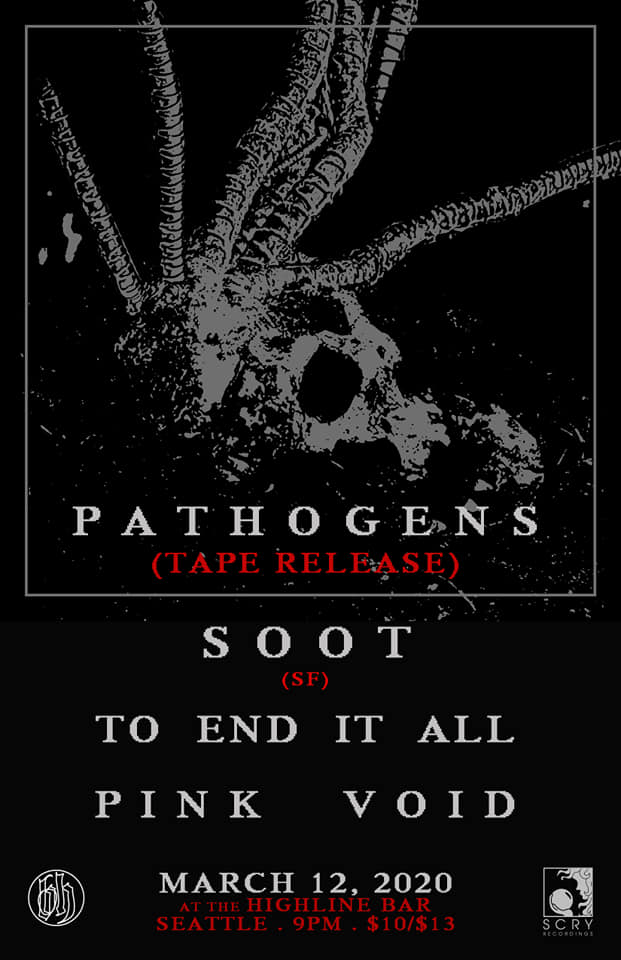 PATHOGENS has confirmed a special record release show March 12th in Seattle with additional rituals to be announced in the weeks to come.
PATHOGENS Live:
3/12/2020 Highline Bar – Seattle, WA w/ Soot, To End It All, Pink Void
Soiled Cogs Forever Grinding Track Listing:
Side A
1. Abuse Of Power
2. Hollow Eyes
Side B
3. Soiled Cogs Forever Grinding
In the future, there will be near silence in the air, silence that is the product of a world mostly void of life. Environmental toxicity, escalating conflict, rampant consumption, and therefore destruction, humanity stands no chance of surviving the most invasive species of all; themselves. Ultimately, the cries of new life become drowned out by the real world chaos, consumption, and destruction under the reigning power of our own death machines.
http://www.facebook.com/Pathogensmusick
http://www.scryrecordings.com
http://www.facebook.com/scryrecordings
http://www.black-horizons.com
http://www.facebook.com/blckhrzns