CULT OF LUNA will kick off their long-anticipated North American headlining tour this week. The journey will commence February 25th in Dallas and run through March 13th in Mexico City. Support will be provided by Emma Ruth Rundle and Intronaut. See all confirmed dates below and keep up with CULT OF LUNA live dates at https://metalblade.com/cultofluna/#tour.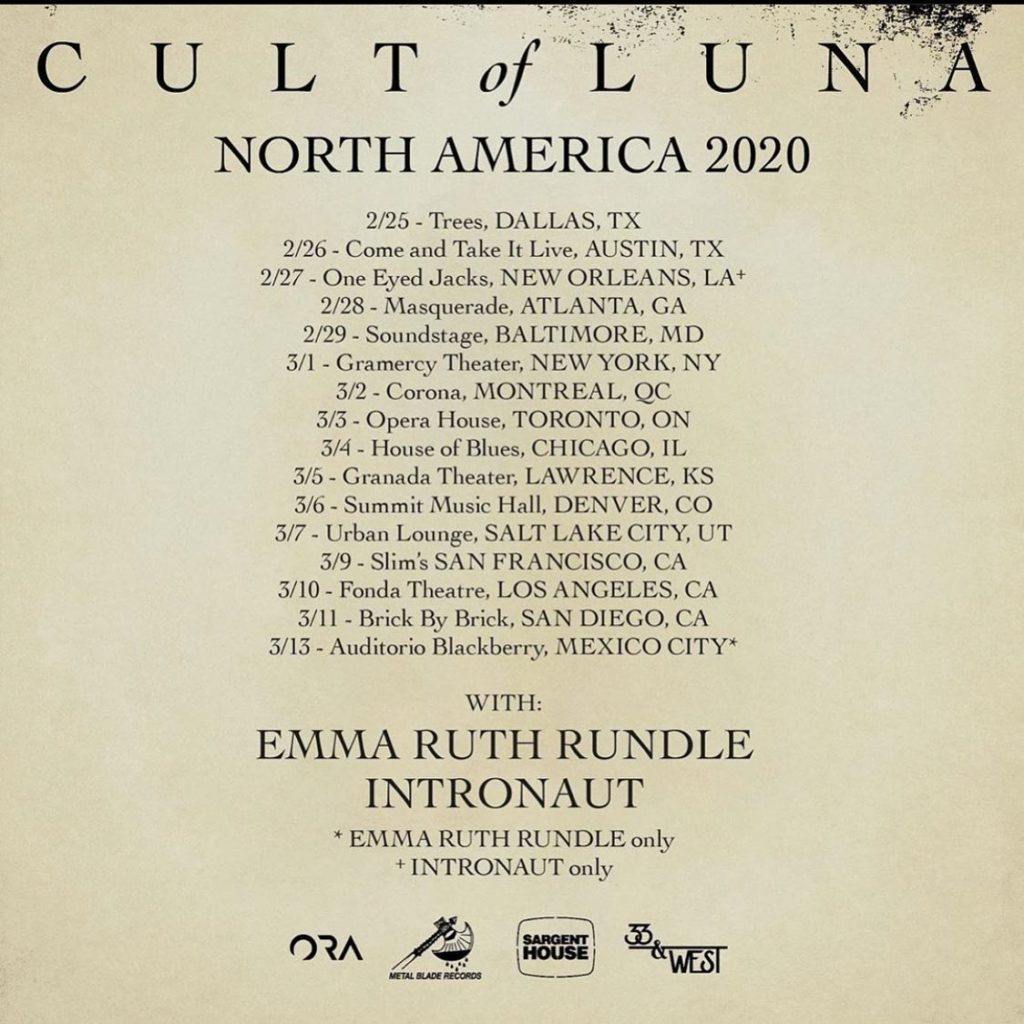 CULT OF LUNA w/ Emma Ruth Rundle, Intronaut:
2/25/2020 Trees – Dallas, TX
2/26/2020 Come And Take It Live – Austin, TX
2/27/2020 One Eyed Jacks – New Orleans, LA * No Emma Ruth Rundle
2/28/2020 Masquerade – Atlanta, GA
2/29/2020 Soundstage – Baltimore, MD
3/01/2020 Gramercy Theater – New York, NY
3/02/2020 Corona – Montreal, QC
3/03/2020 Opera House – Toronto, ON
3/04/2020 House Of Blues – Chicago, IL
3/05/2020 Granada Theater – Lawrence, KS
3/06/2020 Summit Music Hall – Denver, CO
3/07/2020 Urban Lounge – Salt Lake City, UT
3/09/2020 Slim's – San Francisco, CA
3/10/2020 Fonda Theatre – Los Angeles, CA
3/11/2020 Brick By Brick – San Diego, CA
3/13/2020 Auditorio Blackberry – Mexico City, MX * No Intronaut
CULT OF LUNA will be touring in support of their stunning A Dawn To Fear full-length released via Metal Blade Records. Building on twenty years of composing some of the most epic, emotive, and inventive heavy music unleashed on the world, there is no denying that CULT OF LUNA's A Dawn To Fear is a monster of a record. An album comprised of eight tracks running seventy-nine minutes, it embodies everything the band's faithful have come to expect while still covering new ground. "Going into the process, we knew the album we wanted to make, an antithesis of what we've done before," says vocalist, guitarist, and lead songwriter Johannes Persson. "For pretty much every album there's been a very concrete theme. We've known from the start the kind of story we wanted to tell, and I didn't want that to be the case. I've seen a lot of subtle changes and patterns in my own behavior and my own thinking the last couple of years, and I wanted this to be a completely spontaneous process. I just wanted to see what came out of me, and A Dawn To Fear is the result of that."
To preview and purchase A Dawn To Fear, please visit: metalblade.com/cultofluna.
"…refreshed, distinguished and mature." – Consequence Of Sound
"CULT OF LUNA have always cultivated a flair for the cinematic and with A Dawn To Fear they have written their most ambitious, most moving and dense album to date." – The Sleeping Shaman
"CULT OF LUNA continue to set the bar high. Even at its extended length (or perhaps because of it), this feels like a journey, something few bands achieve." — MetalSucks
http://www.cultofluna.com
http://www.instagram.com/cultofluna
http://www.facebook.com/cultoflunamusic
http://twitter.com/cultofluna_off
http://www.metalblade.com/cultofluna