"Eschatology tells the story of a depleted planet beset by vast inequality, ravaged by climate catastrophe, and poisoned by nuclear disaster." — PALE GREY LORE
Columbus, Ohio-based psychedelic garage doom collective PALE GREY LORE recently joined forces with Small Stone Recordings for the release of their second full-length Eschatology, set for release this September.
Blending elements of garage psych, space rock, post-punk, and stoner doom, PALE GREY LORE manifests focused, hook-driven, heavy, rock 'n' roll. Melodic vocals and subtle harmonies echo alongside the molten groove in the guitar, bass, and drums, taking a time-tested formula and proving it indeed to be timeless. Produced by the band's own Xander Roseberry and Michael Miller, engineered and mixed by Andy Sartain, and mastered by Harold LaRue, with artwork and layout by Adam Eckley, Eschatology can be best described as heavy on the heavy, and fuzzy and trippy in all the right places.
"Eschatology tells the story of a depleted planet beset by vast inequality, ravaged by climate catastrophe, and poisoned by nuclear disaster," relays the band of the record's themes. "The masses are left to suffer and die while the wealthy techno-industrialists responsible for the destruction flee in luxury spacecraft that will become their tombs. The sheer magnitude of this planetary devastation summons cosmic beings whose presence warps reality itself, and the world is utterly transformed as the present collides with an ancient timeline. When the survivors finally emerge from their underground shelters, they discover that half the planet remains a post-apocalyptic wasteland while the other half has become lush and verdant. One hemisphere is strewn with melted reactors, crashed spacecraft, and bombed-out ruins; the other is an untamed wilderness, teeming with strange creatures, and dotted with ominous towering edifices that pulsate with eldritch power."
Eschatology will be released on CD, limited LP, and digital formats on September 6th. In advance of its release, PALE GREY LORE is pleased to unveil the record's opening track "Sunken Cities."
Issues the band, "'Sunken Cities' creates tension by moving from eerie, cavernous spaciousness to tight, claustrophobic riffing and back again. The cinematic intro was based on an improvisation we developed after the rest of the song had come together. It provided us an opportunity to expand our sound in a more prog-rock direction, which is one of many influences we wanted to explore on this new record. Our goal was to experiment and evolve our sound without straying too far from the core aesthetic that animated our self-titled debut. We think we were able to achieve that balance well."
For Eschatology preorders and to sample "Sunken Cities," visit the Small Stone Bandcamp page at THIS LOCATION.
Eschatology Track Listing:
1. Sunken Cities
2. Greed Springs Eternal
3. Before The Fall
4. Regicide
5. Waiting For The Dawn
6. The Rift
7. Void-Cursed
8. Silent Command
9. Undermined
10. Eschatology
PALE GREY LORE began as a collaboration between brothers Michael (guitar, vocals) and Adam Miller (drums), with Donovan Johnson (bass) joining up in the summer of 2014. Xander Roseberry (guitar, backing vocals) was added to the lineup in the winter of 2016, just prior to their signing with Oak Island Records, an imprint of German label Kozmik Artifactz.
The band's eponymous debut full-length was originally self-released on limited-run CD and digitally in June of 2016 and consequently landed at the #13 spot on TheObelisk.net's Top 20 Debut Albums of that year. Conceived as a series of surreal vignettes, it brought forth allegorical scenes from a dystopian, post-apocalyptic world in which the lines between science and the occult, technology and superstition, were hopelessly blurred. The album was released on vinyl in December 2017 via Oak Island Records.
Building on the momentum of the vinyl release, PALE GREY LORE began playing more live shows throughout the Midwest, landing spots on heavy music festivals such as the Chicago Doomed & Stoned Fest, Descendants Of Crom, and the Maryland Doom Fest. They've shared the stages with the likes of Pelican, Monolord, Lo-Pan, and Le Butcherettes, and are primed to release second album Eschatology. Fans of Failure, Lo-Pan, Black Sabbath, Irata, and Sundrifter, pay heed.
PALE GREY LORE:
Michael Miller – lead/backing vocals, six-string electric/acoustic guitars, theremin, mellotron
Xander Roseberry – backing vocals, six-string/twelve-string electric/acoustic guitars, theremin, chimes
Donovan Johnson – bass
Adam Miller – drums, auxiliary percussion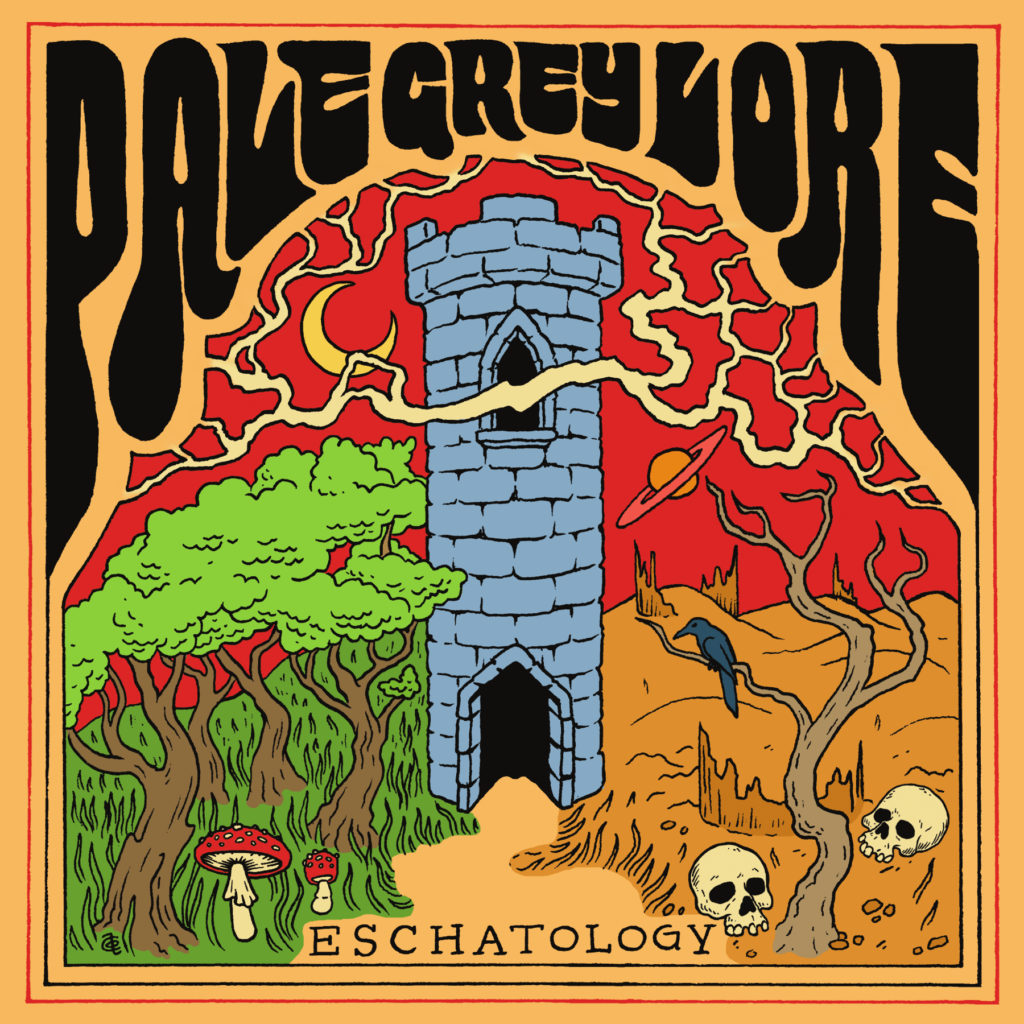 http://www.facebook.com/palegreylore/
http://www.smallstone.com
http://www.facebook.com/smallstonerecords
http://www.smallstone.bandcamp.com