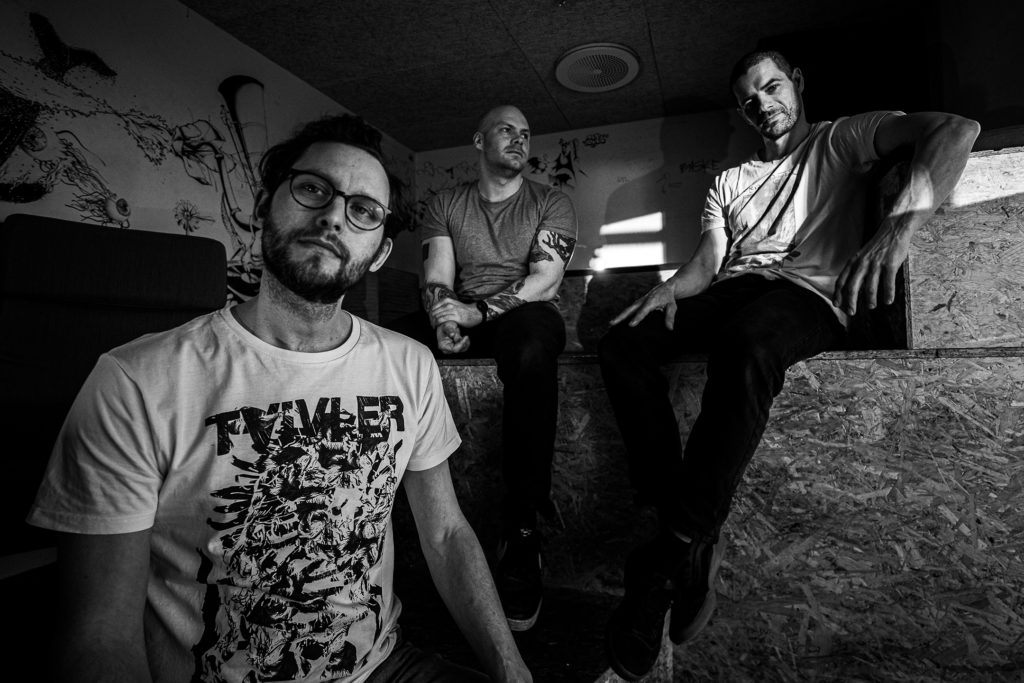 photo by Rolf Meldgaard
The Primordial Blues, the fourth album from Aarhus, Denmark-based avant/technical metallic hardcore trio OXX, is out today on Nefarious Industries, streaming everywhere.
Formed in 2012 by guitarist/vocalist/lyricist Alex Bossen and drummer Martin Aagard, OXX was born in the Danish punk/metal scene and has since grown into a feral beast of its own by weaving elements of avant/free music, afrobeat, and film scoring into its compositions. The band's raw and spontaneous blend of chaotic hardcore, sludge, and crust acts as an extension of the lyrics; an unfiltered, feverish stream of thought – bits and pieces of novels, obscure cinema, video games, and more, rushing by in a maelstrom of impressions of existence filtered through the eyes of the woefully unstable.
Following the 2019 release of their third album, The Skeleton Is Just A Coat Hanger; These Are The Black Strings That Make You Dance, OXX was able to bring their glorious belligerence to US audiences for the first time with a sprawling month-long trek. In November of 2022, the band joined Cleric on a two-week tour through parts of Europe, and in early 2023 they welcomed new bassist Anders Frodo S. Mikkelsen.
OXX's The Primordial Blues is a monument to misery and a harbinger of perpetual sadness. The album was recorded by the band, mixed by Klaus Q Hedegaard Nielsen, mastered by Brad Boatright at Audiosiege (Obituary, Full Of Hell, Eyes), and completed with artwork by Aske A Hvidtfeldt and layout by Greg Meisenberg. The record also features guest contributions of violin/viola from Kristine Kier, cello from Emalia Slusarczyk, double bass from Adrian Christensen, and piano from Esben Tjalve. Fans of Converge, The Dillinger Escape Plan, Botch, Refused, and Burnt By The Sun should not ignore OXX.
OXX's The Primordial Blues is now streaming everywhere; tune in RIGHT HERE.
Beyond the digital realm, The Primordial Blues is available in a limited run of CDs and cassettes. Find merch and more at Nefarious Industries where "The Hypostasis" and the video for "The Coast" are playing HERE.
OXX is booking live excursions throughout the coming months. See all confirmed shows below and watch for further updates to be posted.
OXX Live:
9/16/2023 Musikkens Hus – Aalborg, DK
10/12/2023 VoxHall – Aarhus, DK
10/13/2023 Momentum – Odense, DK
11/03/2023 Sønderborghus – Sønderborg, DK
11/30/2023 Ungdomshus – Grindsted, DK
12/07/2023 Basement – Copenhagen, DK
"…is a crosscut between sludgy lumberings and manic riffing that feels both mathy and chaotic. It's a helluva ride, punctuated by enraged vocals and a rhythm section that feels like it's been given the unenviable task of making sense of complete madness… what should sound like a sonic train wreck has a sort of unexpected cohesiveness to it." – Decibel Magazine
"Combining elements of technical death metal, metallic hardcore, progressive metal, and many other stylistic points in between… an arrangement that reveals odd twists and turns when you least expect them." – No Echo
"What this Danish group brings to the table, in addition to belligerent, headbangingly heavy and sludgy riffs, is an amalgamation of off kilter, time signature stomping, tempo shifting chaos that is still somehow easy to digest… Tracks are almost cacophonous in nature, as the unrelenting pace and the stop/start transitions run circles around the listener's head." – Metal Epidemic
"…the technical level of the musicians is immense… stepping on post metal ideas that fit very well without exaggerating and give an interesting pause to what they have been doing, so, their personality is huge, and they can go where they want without spoiling the initial riffs or those that come after a main rhythm… 9/10 [translated]" – Metallerium
http://oxxmusic.com
https://twitter.com/oxxmusic
https://www.facebook.com/oxxmusic
https://oxxmusic.bandcamp.com
https://nefariousindustries.com
https://nefariousindustries.bandcamp.com
https://facebook.com/nefariousIndustries
https://instagram.com/nefarious_industries
https://twitter.com/nefariousInd