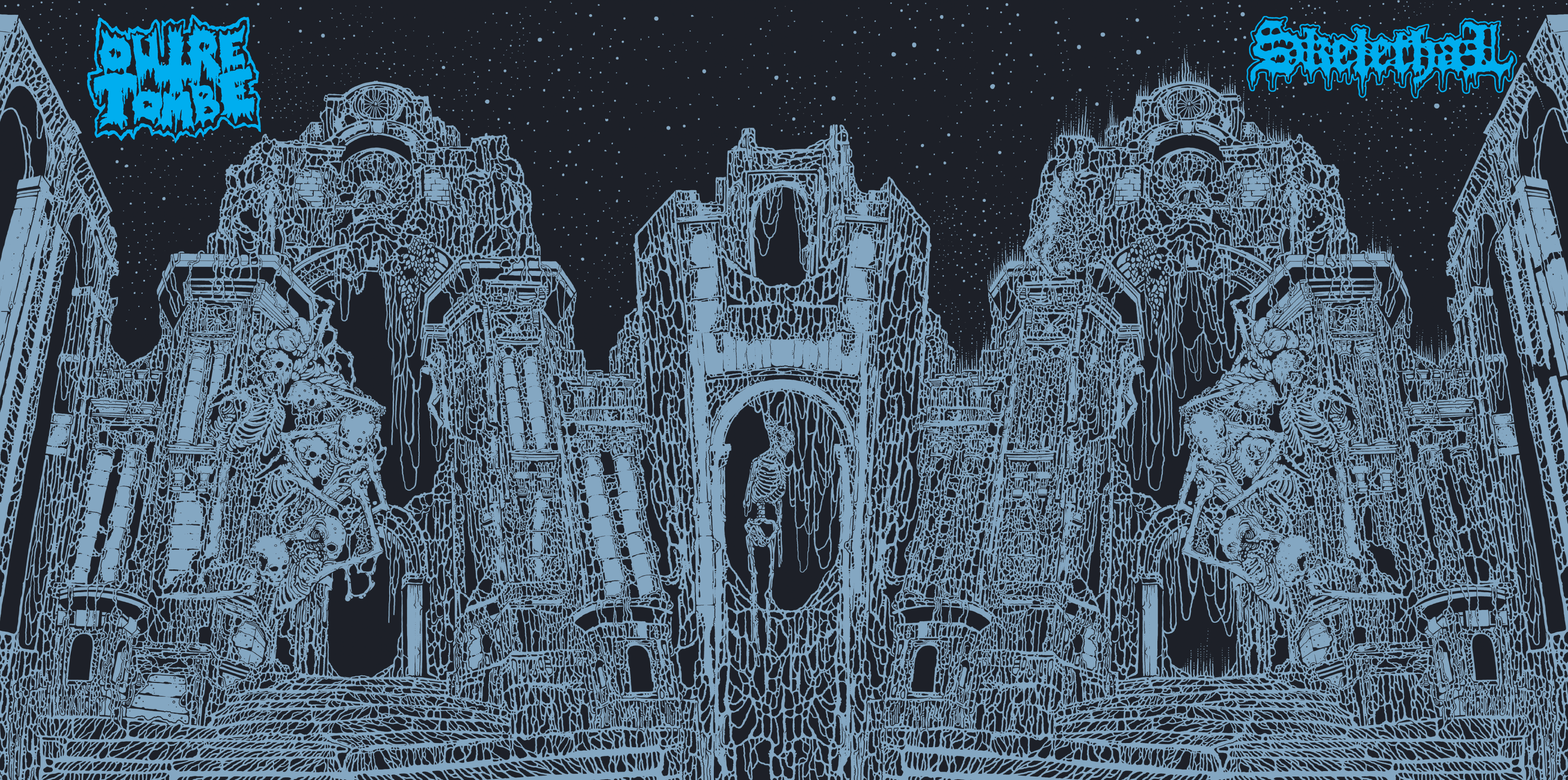 Carbonized and Dawnbreed Records announce a new split 7" EP between Quebec's OUTRE-TOMBE and France's SKELETHAL! Featuring two new songs of totally macabre death metal, this limited 7" release also coincides with their 2022 European Tour that begins this weekend.
The split sees OUTRE-TOMBE delivering the new song "Sacrilege," recorded by A. Landry and mixed/mastered by V.K. SKELETHAL delivers their new track "Carnal Deceivers," which was recorded, mixed, and mastered by the band. The record is completed with cover art by Ibay Arifin Suradi, and all records are housed in a foil-stamped gatefold jacket with double-sided insert, stickers, and download card included, pressed on four color variants: Black, Blue, Black and Blue Merge, and Electric Blue with Aqua Splatter.
The record will be released next Friday, October 28th in North America through Carbonized Records and in Europe via Dawnbreed Records.
Stream the OUTRE-TOMBE/SKELETHAL split at Bandcamp HERE.
Find US preorders at Carbonized HERE and European preorders at Dawnbreed HERE.
OUTRE-TOMBE/SKELETHAL Split Track Listing:
OUTRE-TOMBE – Sacrilege
SKELETHAL – Carnal Deceivers
In direct conjunction with the EP's release, OUTRE-TOMBE and SKELETHAL embark on a two-week European tour this weekend in conspiracy with Killtown Bookings. The A Macabre Procession Over Europe 2022 tour runs from October 22nd through November 5th. See all dates and ticket links below.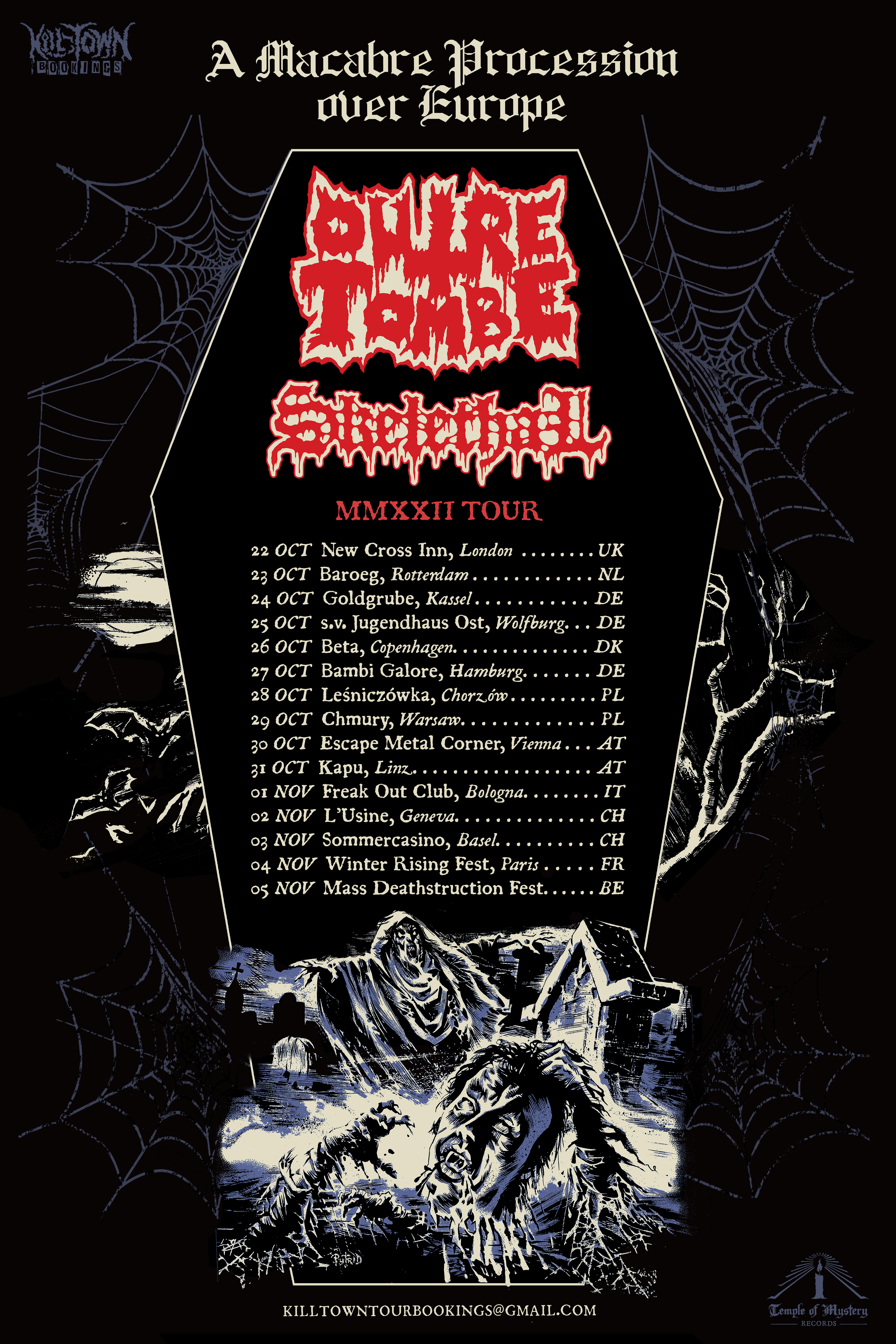 OUTRE-TOMBE/SKELETHAL A Macabre Procession Over Europe 2022 Tour:
10/22/2022 Subterranean Manifestation II @ New Cross Inn – London, UK
10/23/2022 Baroeg – Rotterdam, NL
10/24/2022 Goldgrube – Kassel, DE
10/25/2022 s.v. Jugendhaus Ost – Wolfsburg, DE
10/26/2022 Beta – Copenhagen, DK
10/27/2022 Bambi Galore – Hamburg, DE
10/28/2022 Leśniczówka – Chorzów, PL
10/29/2022 Chmury – Wasaw, PL
10/30/2022 Escape Metal Corner – Vienna, AU
10/31/2022 Kapu – Linz, AU
11/01/2022 Freak Out Club – Bologna, IT
11/02/2022 L'Usine – Geneva, CH
11/03/2022 Sommercasino – Basel, CH
11/04/2022 Winter Rising Festival – Paris, FR
11/05/2022 Mass Deathtruction Fest – Louvain-la-Neuve, BE
Hailing from Quebec City, OUTRE-TOMBE is a death metal four-piece spawned somewhere in 2010. Starting as a thrash metal trio, they soon decayed into morbidity after their first demo. Heavily inspired by late-1980s and early-1990s classic death metal, the band released its first album, Répurgation, in 2015, followed by Nécrovortex in 2018. Musically, the band's sound blends merciless fast riffing with eerie melodies, shrieking solos, and crushing passages. While avoiding being simple emulators, it's the carefully crafted syncretism of many influences – ranging from Hellhammer, Death Strike, Nihilist/Entombed, Autopsy, Bolt Thrower, early Sepultura and various crust punk acts like Axegrinder, Hellbastard, and Misery – that generates their sound, drenched in horror and total destruction. OUTRE-TOMBE regurgitates tales of the macabre, forgotten cults and strange dimensions, all in their native French tongue. Having played in Maryland Deathfest in 2019 and most of Canada in 2021, OUTRE-TOMBE released their latest full-length, Abysse Mortifère, in March of 2021.
OUTRE-TOMBE:
Crachat – vocals/bass
Desastre – guitar
Cobra – guitar
Vitesse – drums
Based out of Northern France, SKELETHAL plays old-school death metal in the vein of bands such as Entombed, Autopsy, and Morbid Angel. Since its embodiment in 2012, the band rapidly pathed its way out of France. A demo and two EPs released in 2014 were followed by an extensive number of shows all over Europe and the UK, as well as a tour in the USA. The shows included appearances in some major European Festivals such as Party San Open Air, Obscene Extreme, Fall of Summer, In Flammen Open Air, and more. With their critically acclaimed first full-length Of The Depths…, released through Hells Headbangers Records in June 2017, the band reiterated and stated its seriousness. A new lineup and a follow up second full-length, Unveiling The Threshold, released in November 2020 on Hells Headbangers Records again saw them level up and mature both in production and songwriting. The story of SKELETHAL is one of a DIY band, self-made from scratch which progressively professionalized. Armed with all this experience and the will to expand, the band is looking to reach bigger opportunities by joining forces with qualified and passionate actors of the metal scene.
SKELETHAL:
Guillame Zeller – vocals/guitar
Julien Bouly – bass
Lucas Scellier – guitar
Lorenzo Vissol – drums
https://www.facebook.com/profile.php?id=100063647946549
https://www.facebook.com/Skelethal
https://skelethal.bandcamp.com
https://skelethal.bigcartel.com
https://www.carbonizedrecords.com
https://www.facebook.com/Carbonized-Records
https://www.twitter.com/Carbon_Forms
https://www.instagram.com/carbonizedrecords
https://www.carbonizedrecords.bandcamp.com
https://www.dawnbreed.com
https://www.facebook.com/DawnbreedRecords
https://dawnbreedrecords.bandcamp.com
https://www.instagram.com/dawnbreed_records