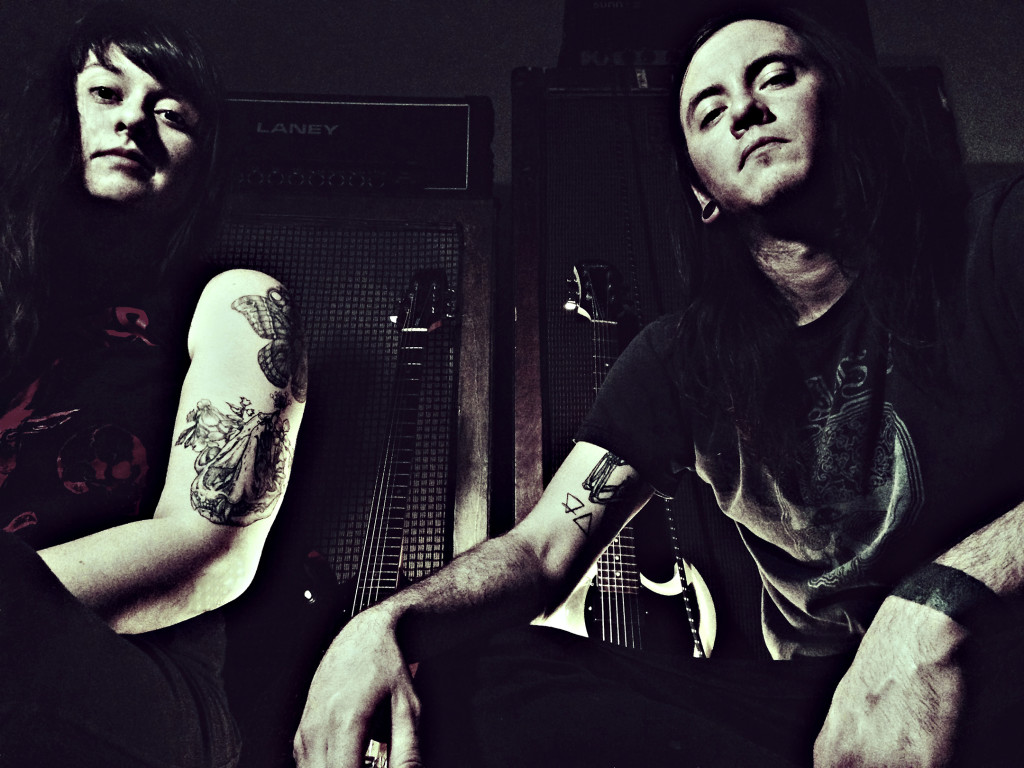 This week, the split LP between Denver-based doom/sludge duo, ORYX, and Tucson grindcore foursome, LANGUISH, will be released via Battleground Records, and another monolithic slab of audio has been leaked from the platter, as The Obelisk streams the ORYX cover of Corrupted's rupturing "Dios Injusto."
Upon the recording of "Dios Injusto," Battleground Records sent the track to Corrupted through their booking agency to gain the band's blessing on the cover. Initially, Corrupted thought the song was actually one of their own recordings, perhaps a live or unreleased version of their own song, before realizing that it was a cover. With that, the band immediately gave ORYX their blessing on releasing the track. The Obelisk today unveils this sanctioned, incredibly accurate cover track, offering, "One would be hard pressed to think of a better compliment to pay a cover than to have the original artist think it's their work, and as legacies go, living up to Corrupted is no minor feat."
Corrupted's "Dios Injusto," as performed by ORYX, can be heard at The Obelisk RIGHT HERE.
Other ravaging tunes from the split are available through a video for "The Singularity" by ORYX playing HERE, and a video for "V" by LANGUISH playing HERE.
A quagmire of low-end psychedelic thunder is what to expect with the lumbering attack of ORYX. Having transplanted themselves from New Mexico to Colorado in recent times, while the band remains a meager duo, the band delivers an unstoppable full backline's worth of damage, flooding the listener with a deluge of organic, slow-motion, downtuned amplification which any devotee of High On Fire, Ufomammut, Electric Wizard, Corrupted, Grief, and so on will feel immediately aligned with.
The blistering B-side of the split belongs to desert warfare grinders LANGUISH, the grinding quartet featuring members of North, Gatecreeper, Territory, and other acts from throughout the region. Initially released on cassette and digitally on its own, the band's half of this cooperative release sees these neckbreaking hymns delivered on wax for the first time, re-unleashing the band's torrential death-infused grind at maximum killing capacity. Fans of Phobia, Assück, Terrorizer, Disrupt, and the like will instantly find themselves immersed in this act's low-end assault.
The ORYX/LANGUISH split LP will see release through Battleground Records this Friday, April 1st in a run of 300 copies on 180-gram black wax including a digital download. Preorders are available HERE.
ORYX Live:
4/07/2016 Mutiny Info Café – Denver, CO w/ A Light Among Many, Stone Giant, In Loo, Distended [info]
4/23/2016 Rhinoceropolis – Denver, CO *record release show w/ Athamé, 908, Modok, Hellhound, Alone [info]
LANGUISH Live:
5/06/2016 Club Congress – Tucson, AZ w/ So Hideous, Bosse-De-Nage
http://www.facebook.com/theeoryx
http://oryx.bandcamp.com
http://www.facebook.com/languishaz
http://languish.bandcamp.com
http://www.facebook.com/battlegroundrecords
http://www.battlegroundrnr.com
http://www.twitter.com/battlegroundrnr
http://battlegroundrecords.bandcamp.com