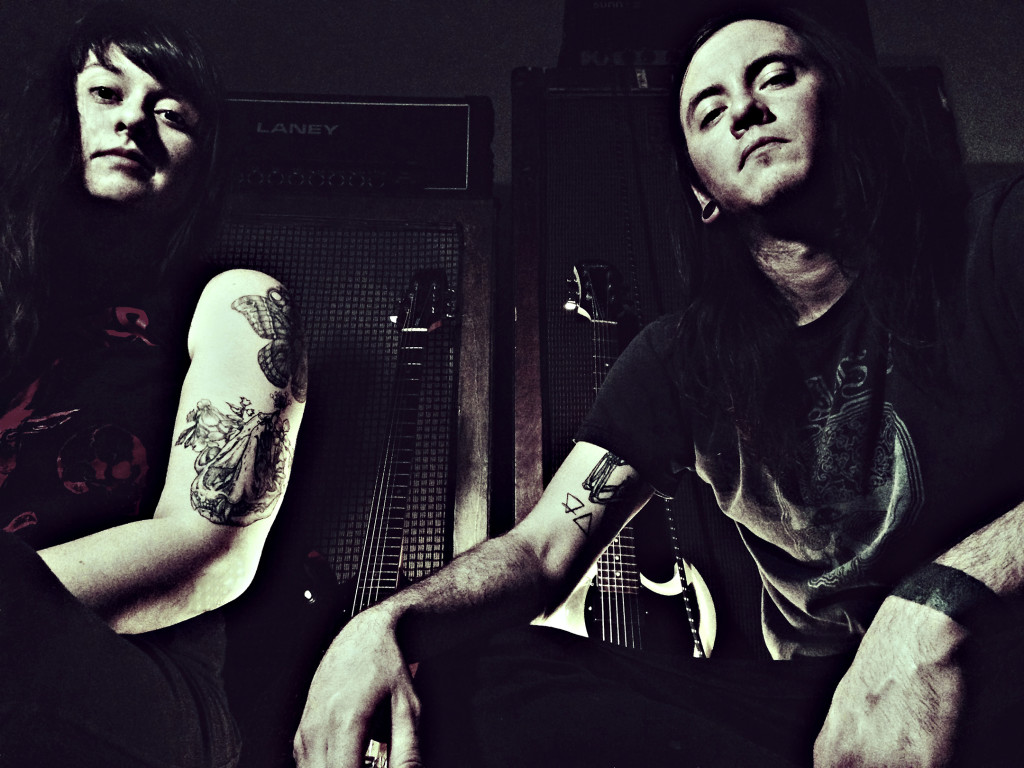 Denver-based duo, ORYX, will take their piledriving sludge/doom metal out to fans all over the country this Summer, having issued the itinerary for their massive Immune To Light Tour 2016. The bruising venture will see the twosome delivering their bruising tunes to at least forty-one cities between June 30th and August 21st, with the final venues and cities being locked up now.
The Immune To Light Tour 2016 will see ORYX delivering the tunes from their split with Languish, which was released via Battleground Records in April of this year. Drummer Abbey Apple and guitarist/vocalist Tommy Davis deliver a full backline's worth of damage on their half of the split, including an uncannily brutal Corrupted cover, their all-encompassing hymns swelling with dynamic excursions through the slow-motion realms of demolition. ORYX floods the listener with a deluge of downtuned amplification, polluted quicksand, toxic garbage, and broken hopes, bringing to mind the works of Grief, Electric Wizard, Corrupted, Ufomammut, and the like.
The ORYX tracks from the split LP with Languish can be streamed HERE and the band's video for "The Singularity" is playing HERE.
The ORYX/LANGUISH split LP is available through Battleground Records in a run of 300 copies on 180-gram black wax including a digital download, available HERE.
ORYX – The Immune To Light Tour 2016:
6/30/2016 Replay Lounge – Lawrence, KS
7/01/2016 PMD – Columbia, MO
7/02/2016 Springwater – Nashville, TN
7/03/2016 TBA – Memphis, TN
7/06/2016 The Jinx – Savannah, GA
7/07/2016 Space Station – Orlando, FL
7/08/2016 Kreepy Tiki – Ft. Lauderdale, FL
7/09/2016 The Atlantic – Gainesville, FL
7/10/2016 Shantytown – Jacksonville, FL
7/11/2016 Woodshop – Baton Rouge, LA
7/12/2016 Siberia – New Orleans, LA
7/13/2016 Hi-Tones – San Antonio, TX
7/14/2016 The Lost Well – Austin, TX
7/15/2016 Three Links – Dallas, TX
7/16/2016 The Sandbox – El Paso, TX
7/17/2016 Mods Bar – Tijuana, MX
7/18/2016 Merrow Bar – San Diego, CA
7/19/2016 Deth Haus – Las Vegas, NV
7/20/2016 Que Sara – Long Beach, CA
7/21/2016 Golden Bull – Oakland, CA
7/22/2016 Starlite – Sacramento, CA
7/23/2016 Double Treble – Portland, OR
7/24/2016 Highline Bar – Seattle, WA
7/25/2016 Obsidian Bar – Olympia, WA
7/26/2016 Wastelander Studios – Boise, ID
7/28/2016 Babe House – Laramie, WY
7/29/2016 Spigot – Lincoln, NE
7/30/2016 Wisco Pub – Madison, WI
8/03/2016 Shakespeare's – Kalamazoo, MI
8/04/2016 New Dodge Lounge – Detroit, MI
8/05/2016 Skeletunes Lounge – Ft. Wayne, IN
8/06/2016 Starbar – Columbus, OH
8/08/2016 Bug Jar – Rochester, NY
8/09/2016 Alternative Gallery – Allentown, PA
8/12/2016 Shred Shed – Philadelphia, PA
8/14/2016 TBA – Winston Salem, NC
8/15/2016 TBA – Asheville, NC
8/17/2016 The Hideaway – Johnson City, TN
8/18/2016 Highlands Bar – Louisville, KY
8/19/2016 Lost Cross House – Carbondale, IL
8/21/2016 The Elbow Room – Wichita, KS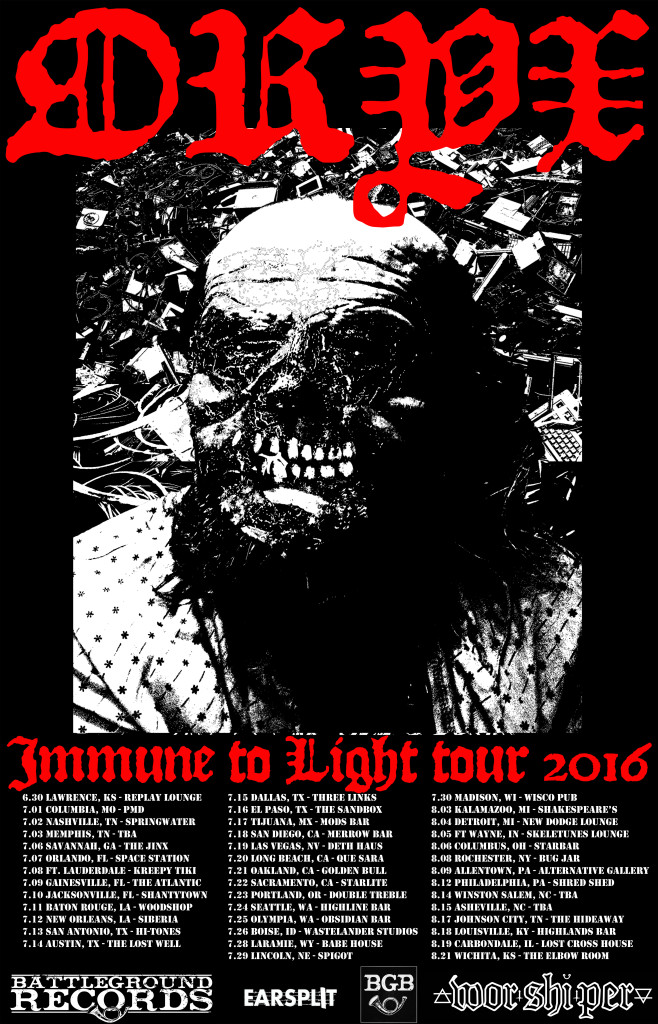 http://www.facebook.com/theeoryx
http://oryx.bandcamp.com
http://www.facebook.com/battlegroundrecords
http://www.battlegroundrnr.com
http://www.twitter.com/battlegroundrnr
http://battlegroundrecords.bandcamp.com