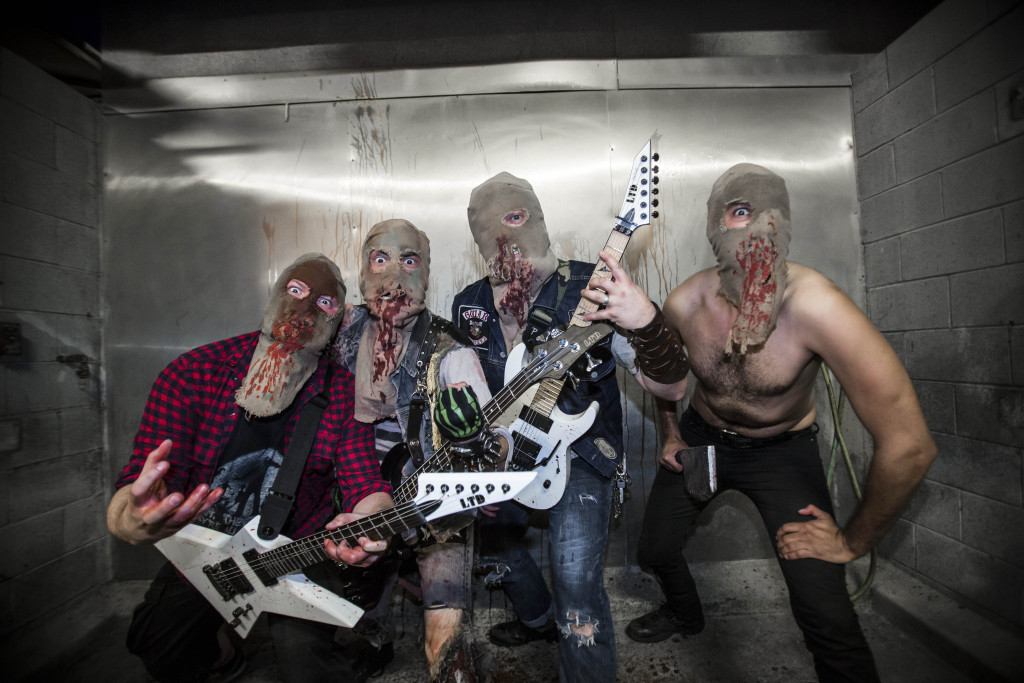 Creepsylvania's favorite hooded, cannibal splatterthrashers, GHOUL, will return with their fifth studio album this Summer. Fittingly titled Dungeon Bastards, the eleven-track audio abduction was recorded and mixed by Scott Evans (Kowloon Walled City) at Antisleep Studios in Oakland, California, mastered by Dan Randall (Impaled, Annihilation Time, Fucked Up, Necrot) at Mammoth Sound in San Francisco, California, and comes adorned in the ghoulightful graphics of Mark W. Richards of Heavy Hand Illustration (Pig Destroyer, The Black Dahlia Murder, Toke, Black Fast). With Dungeon Bastards, the metal punk maniaxe in GHOUL will rip your flesh with speed and riffs… before eating it.
GHOUL's Dungeon Bastards will rear its mutinous head from the subterranean bowls of Creepsylvania on July 29th, 2016 on CD, vinyl, and digital formats courtesy of the sound assassins at Tankcrimes Records. In the meantime, sample first single, "Ghoulunatics," at THIS LOCATION.
Dungeon Bastards Track Listing:
1. Ghetto Blasters
2. Bringer Of War
3. Shred The Dead
4. Dungeon Bastards
5. Ghoulunatics
6. Blood And Guts
7. Word Is Law
8. Death Campaign
9. Guitarmageddon
10. Abominox
Dungeon Bastards CD preorders are currently available for just $6.66 this week only (who says GHOUL doesn't like bargains?) at THIS LOCATION. The record will also be obtainable as a diehard limited edition gatefold LP (appropriately on splatter vinyl) which opens into the Dungeon Bastards board game (full game details to be revealed next week). The diehard edition includes a digital download card with an instant download of "Ghoulunatics," four two-sided Dungeon Bastards game chips, a screen-printed character sheet and poster! Reserve your copy today before they are no more at THIS LOCATION. The record will also come in slime green and blood red vinyl options, currently available for preorder HERE. Desirers of the digitals can satisfy their needs HERE.
In conjunction with the release of Dungeon Bastards, GHOUL will level the stages of seventeen venues supporting Carcass and Crowbar this Summer. The One Foot In The Grave Tour 2016 will commence on July 17th and run through August 8th with additional support provided by Night Demon.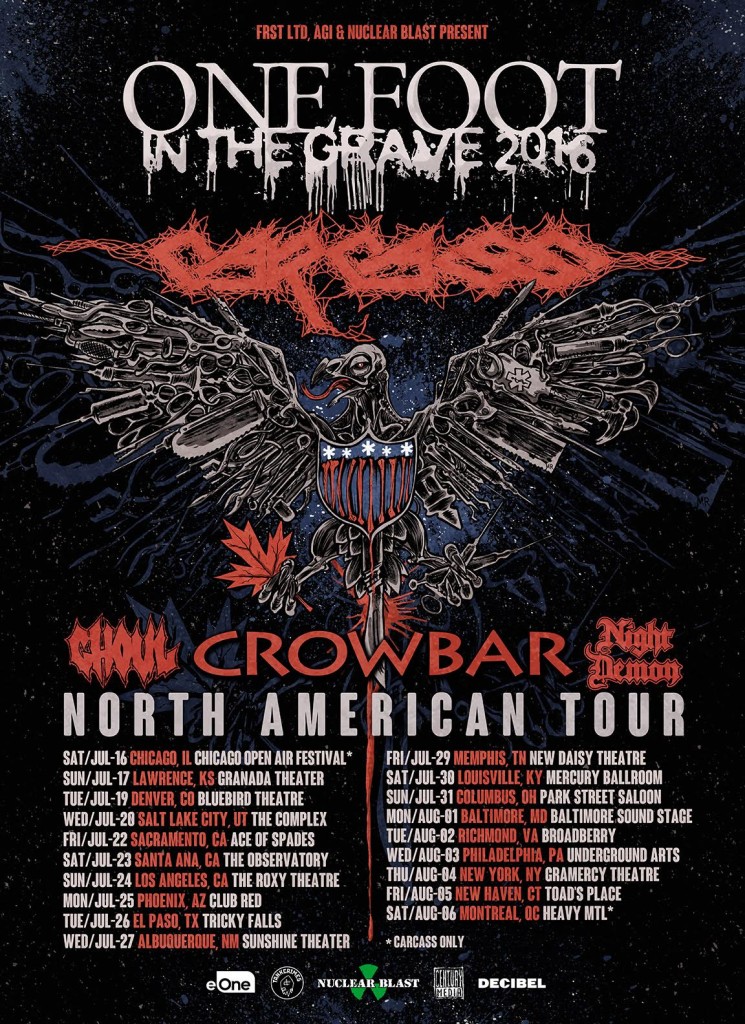 GHOUL w/ Carcass, Crowbar, Night Demon:
7/17/2016 Granada Theater – Lawrence, KS
7/19/2016 Bluebird Theater – Denver, CO
7/20/2016 The Complex – Salt Lake City, UT
7/22/2016 Ace Of Spades – Sacramento, CA
7/23/2016 The Observatory – Santa Ana, CA
7/24/2016 The Roxy Theatre – West Hollywood, CA
7/25/2016 Club Red – Mesa, AZ
7/26/2016 Tricky Falls – El Paso, TX
7/27/2016 Sunshine Theater – Albuquerque, NM
7/29/2016 New Daisy Theatre – Memphis, TN
7/30/2016 Mercury Ballroom – Louisville, KY
7/31/2016 Park Street Saloon – Columbus, OH
8/01/2016 Baltimore Soundstage – Baltimore MD
8/02/2016 The Broadberry – Richmond, VA
8/03/2016 Underground Arts – Philadelphia, PA
8/04/2016 Gramercy Theatre – New York, NY
8/05/2016 Toad's Place – New Haven, CT
For all GHOULish coverage contact liz@earsplitcompound.com.
http://www.facebook.com/GhoulunaticsAsylum
http://www.creepsylvania.com
http://www.tankcrimes.com
http://www.facebook.com/tankcrimes