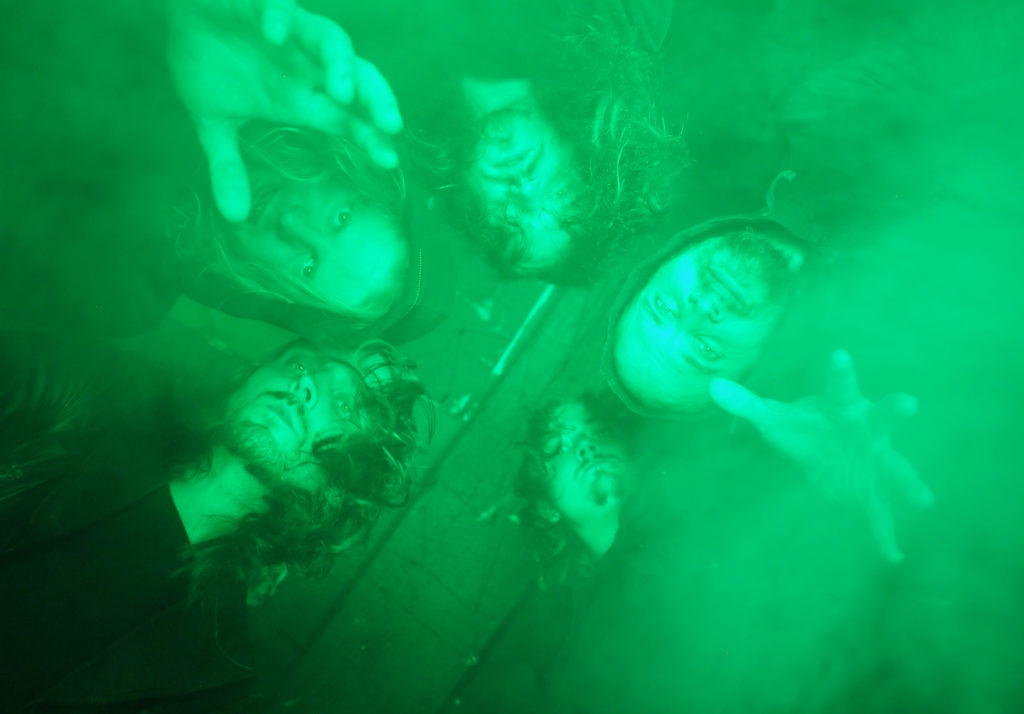 [photo by Pauliina Lindell]
Finnish psychedelic black metal experimenters ORANSSI PAZUZU announce a new West Coast leg of dates to their upcoming headlining fall North American tour.
The coveted act's first true tour of the continent sees the two acts performing in Chicago, Detroit, Toronto, Montreal, Boston, New York, Philadelphia, Baltimore, Raleigh, and Atlanta from October 10th through 19th, as previously announced, after which they are now confirmed to cross the US for additional dates. The newly announced West Coast dates now see the tour hitting Austin, Mesa, San Diego, Berkeley, Portland, and Seattle from October 21st through 27th. ORANSSI PAZUZU will see the band joined by Insect Ark who will provide support for all dates.
The new tour dates come with a message directly from the members of ORANSSI PAZUZU, having been unable to perform at their Psycho Las Vegas and additional Los Angeles shows, due to circumstances completely out of the band's control: "The visa process is now under control with the help of our US agent and the same attorney who successfully arranged the visas for Maryland Deathfest a few years ago, who has worked all through the weekend to deliver a phone-book-sized amount of data to US immigration. Through premium processing, we are feeling very confident about the visa and the tour."
Find ORANSSI PAZUZU's music stateside through 20 Buck Spin's webshop HERE and via Bandcamp HERE, as well as all other digital providers.
ORANSSI PAZUZU North American Tour Dates w/ Insect Ark:
10/10/2019 Reggies – Chicago, IL
10/11/2019 El Club – Detroit, MI
10/12/2019 Velvet Underground – Toronto, ON
10/13/2019 Le Ritz – Montreal, QC
10/14/2019 Sonia – Boston, MA
10/15/2019 Le Poisson Rouge – New York, NY
10/16/2019 Underground Arts – Philadelphia, PA
10/17/2019 Metro Gallery – Baltimore, MD
10/18/2019 Kings – Raleigh, NC (late show)
10/19/2019 529 – Atlanta, GA
10/21/2019 Barracuda – Austin, TX
10/23/2019 Club Red – Mesa, AZ
10/24/2019 Brick By Brick – San Diego, CA
10/25/2019 Cornerstone – Berkeley, CA
10/26/2019 Star Theater- Portland, OR
10/27/2019 Chop Suey – Seattle, WA
Since birth, ORANSSI PAZUZU has never been satisfied to stick with a formula. Each album has seen the band expand upon its previous incarnation and then, like a supernova, blow it up and transform again into something recognizable but completely new.
Having partnered with 20 Buck Spin in North America and Svart Records in Europe, in 2013, the band issued their Valonielu LP, an album of timeless creative immensity that was met with ubiquitous praise throughout the world and solidified the band's position as one of the most forward-thinking and interesting metal bands. ORANSSI PAZUZU returned in 2016 with their fourth album, the mind-bending Värähtelijä; an album which continues in this vein, giving the band much more room to diverge and explore the vast regions of hypnotic progressive psychedelia and the nebulous outer limits of Scandinavian black metal. Songs explode with radiant ultraviolet color and plunge into the deep black darkness of innermost consciousness. If Valonielu was the creation of a universe, Värähtelijä is the magnification and expansion of its infinite boundaries.
Both albums showed the boundless enormity and remarkable uniqueness that ORANSSI PAZUZU alone create. No other band can bend these genres into such an extraordinarily cohesive whole. The band has also since issued a special two-song EP titled Kevät/Värimyrsky, and reissued their first three albums — Kosmonument, Farmakologinen, and Muukalainen Puhuu – while the next chapter continues to be created.
http://www.oranssipazuzu.com
http://www.facebook.com/pages/Oranssi-pazuzu/58437793552
http://www.20buckspin.com
http://www.facebook.com/20buckspin
http://www.twitter.com/20buckspinlabel