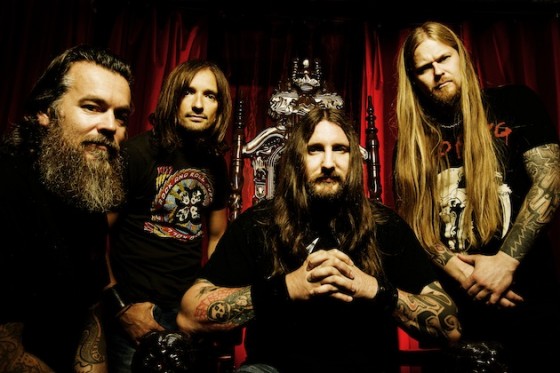 With ORANGE GOBLIN's Back From The Abyss full-length now three weeks away from release, the band has confirmed the first North American tour in support of the record. Set to begin December 1st and run through December 21st, ORANGE GOBLIN will return to the stage touring alongside Down, Bl'ast, and labelmates, King Parrot!
Vocalist Ben Ward comments, "I remember being a spotty 19 year old rushing out to the record store to buy the first Down album NOLA the very day it came out in 1994. Now, twenty years on, I have to pinch myself to make sure I'm not dreaming that ORANGE GOBLIN are heading back to North America as main support to the mighty Down. It really is fairytale stuff for us. Down are one of the bands that are the reason ORANGE GOBLIN exists. To be given this opportunity to go out to promote our brand new album, Back From The Abyss, to the Down fans is just a dream come true the rest of the band and I can't wait to get started. The fact that we also get to see Bl'ast and King Parrot every night just makes it all so hard to believe! Hail the Leaf! Hail the RIFF! Hail DOWN!"
Recorded earlier this year, Back From The Abyss reunites ORANGE GOBLIN with producer Jamie Dodd; who served as producer on the band's best selling album in North America to date – 2012's A Eulogy For The Damned. Two songs already have fans globally excited; Loudwire and Metal Hammer premiered the Motörhead-tinged "The Devil's Whip" to overwhelming success on August 15th. Last week Noisey premiered the first video from the album for the song "Sabbath Hex." The band is currently working on a second video for the song "Mythical Knives" which is expected to be completed by month's end.
Touring for the album will start in Europe on October 9th. Travelling the continent with friends Saint Vitus, ORANGE GOBLIN will pull song selections from their extensive catalog now spanning eight studio albums. Tickets for their North American dates are set to go on sale for shows Friday, September 19th.
ORANGE GOBLIN w/ Down, Bl'ast, King Parrot:
12/01/2014 Aztec Theater – San Antonio, TX
12/03/2014 House of Blues – Las Vegas, NV
12/05/2014 Riverside Municipal Auditorium – Riverside, CA
12/06/2014 Wiltern Theatre – Los Angeles, CA
12/07/2014 Ace of Spades – Sacramento, CA
12/08/2014 The Fillmore – San Francisco, CA
12/10/2014 Showbox at the Market – Seattle, WA
12/11/2014 Commodore Ballroom – Vancouver, BC
12/13/2014 Union Hall – Edmonton, AB
12/14/2014 Flames Central – Calgary, AB
12/15/2014 Knitting Factory – Spokane, WA
12/17/2014 Summit Music Hall – Denver, CO
12/19/2014 Diamond Ballroom – Oklahoma City, OK
12/20/2014 Gas Monkey Live – Dallas, TX
12/21/2014 Warehouse Live – Houston, TX
Back From The Abyss will be released October 7th, 2014 via Candlelight Records. Preorders for Back From The Abyss are now up via ITunes, Amazon, and Candlelight's official webstore. The album is available to order on CD, deluxe CD, and double vinyl.
ORANGE GOBLIN is vocalist Ben Ward, guitarist Joe Hoare, bassist Martyn Millard, and drummer Christopher Turner. The band are endorsed by Marshall Amplification, Orange Amplificaiton, Fender Bass Guitars, Natal Drums, Meinl Cymbals, Vater Sticks, Remo Skins, Vans, Volcom, Boss Pedals, Rotosound Strings, and Jagermeister.
"…a big burly bag of rock goodness…" – Blabbermouth
http://www.facebook.com/orangegoblinofficial
http://www.orange-goblin.com
http://www.candlelightrecordsusa.com