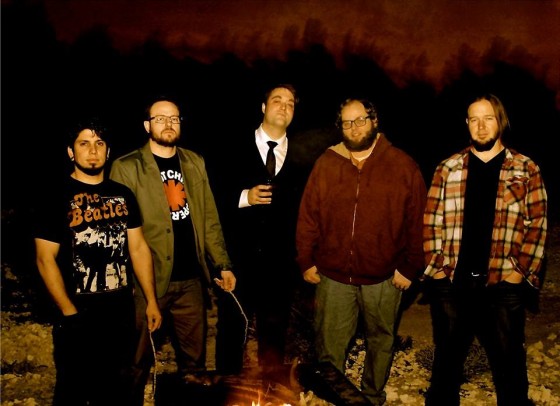 Las Vegas' energetic rock and roll groove crew, ONE TON PROJECT, has released a new single from their Gizzards & Hearts debut LP through New Noise Magazine, as Battleground Records has posted premieres for the physical versions of the platter in advance of its early May release.
Inducing party time ambiance and the feeling halfway between highbrow swagger and an inebriated stagger, ONE TON PROJECT's varied output blends traditional rock structures and soulful vocal patterns into the pulsing rhythms of reggae, jazz breaks fuse with the sharp timbre of Eastern scales, and catchy hooks create sparks as they clash with progressive post-rock soundscapes and bluesy phrases. Self-produced over the course of several years in the instrument crowded warren of the band's own studio, their debut album Gizzards & Hearts delivers nearly fifty minutes of smooth but sweltering boogie breaks and soulful elements that'll have you dressed to the nines and ready to hit the town.
The third of the whopping dozen tracks on ONE TON PROJECT's Gizzards & Hearts LP broke out early courtesy of New Noise Magazine; check out the exclusive jam RIGHT HERE.
The band also released "The Vineyard" through a Youtube trailer HERE and the entire track HERE.
Battleground Records will release Gizzards & Hearts on May 5th, and preorders are now available, the 6-panel digipak CD HERE, limited 180-gram clear LP version HERE and digital HERE. All physical preorders placed through Battleground automatically put you in the running to win a vinyl test pressing of the album. Gizzards & Hearts will also be on iTunes, Amazon MP3, Spotify, Google Music Store and all relevant digital platforms.
ONE TON PROJECT has also confirmed a record release show for Gizzards & Hearts in the heart of Vegas on June 19th, with additional performances and tour dates to be announced in the weeks ahead.
ONE TON PROJECT Record Release Show:
6/19/2015 Backstage Bar and Billiards – Las Vegas, NV w/ The Solid Suns, Dinner Music For The Gods [info]
Boasting an incredible array of influences into a seamless and explosively creative blend of what the band self-describes as, "a bountiful cocktail of sounds on an oasis of rhythms," the influences and flavors of the past shine brightly within the particular elixir that is ONE TON PROJECT. Tuneful gemstones pried loose from the gilded throne of King Crimson are ground up and blended with a bit of Frank Zappa's mad genius and a healthy serving of the eternal groove handed down to the present day by the titans of soul, rhythm, and blues, all of which sets and gels comfortably under a healthy coating of modern rock varnish. Between three guitarists, three vocalists, a bassist, and a drummer, along with the colorful tones of unconventional instruments thrown in to the mix, the end result is the sound of a band making the music they love and taking their time to do so, without the pressure of being involved in the stream of trends and temporary satisfaction. Rather, the band has scratched out a stake on the shores of that ungovernable island of artistry where strange trips and weird dreams are brought to life through song, making it impossible to nail ONE TON PROJECT down with the constrictive restraints of any one genre.
http://www.facebook.com/onetonproject
http://onetonproject.com
http://onetonproject.bigcartel.com
http://www.facebook.com/battlegroundrecords
http://battlegroundrecords.bigcartel.com
http://twitter.com/battlegroundrnr