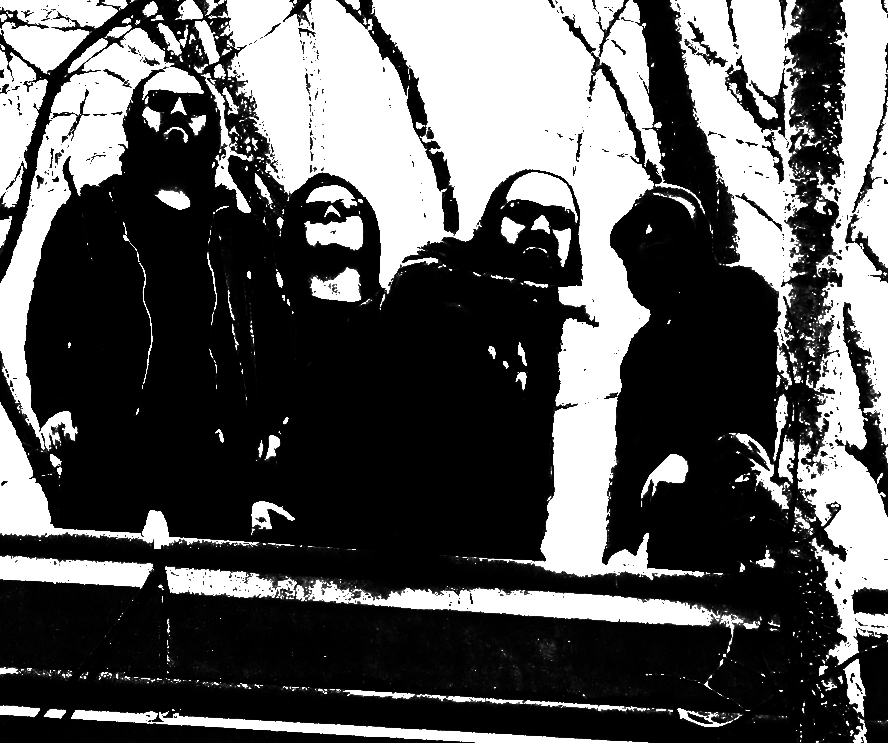 "Piercing tremolo rings across the length of the track, soaring high above a punishing barrage of drums and low-end that stretches for over seven minutes." – Metal Injection
Lycanthropic Burrowing, the impending new full-length from harrowing occult black metal practitioners ONE MASTER, will see release next month via Eternal Death Records. Recorded, mixed, and mastered by Will Killingsworth at Dead Air Studios, and accompanied by artwork from Dave Fogg of Fog Palace, Lycanthropic Burrowing delivers thirty-five minutes of cursed and dismal fury.
As a precursor to its release, today Metal Injection offers up "Death Resurrection" for public consumption hailing, "a powerful crescendo. Piercing tremolo rings across the length of the track, soaring high above a punishing barrage of drums and low-end that stretches for over seven minutes. The fervent intensity of 'Death Resurrection' is an ideal example of what has made ONE MASTER so ruthless over the last 15 years."
Hear "Death Resurrection" at THIS LOCATION.
"Lycanthropic Burrowing is about the drive to expose one's animalistic instincts," relays the band, "'Death Resurrection' is the moment when atavistic impulses take control and the transformation from man into werewolf is realized."
Lycanthropic Burrowing will be unleashed on July 14th on CD, digital, and limited vinyl formats. Preorders are currently available at the official Eternal Death Bandcamp page where you can also sample "Will Of The Shadow" at THIS LOCATION.
In an advance review of the record, Wonderbox Metal notes, "The songs are raw and aggressive, played in the classic, orthodox style. It's as misanthropic and furious as you would expect, delivering scathing black metal that is not for the weak or unwary," further hailing, "A triumphant return for ONE MASTER; long may they reign." The Sound Not The Word concurs, "As dark and unsettling as the album can be, Lycanthropic Burrowing is a distinctly rewarding listen (enjoyable is not quite the right word for something this dark). There is more than enough here to keep listeners coming back for more, and if this album is not recognized as one of 2017's best, it would be a genuine shame." Adds No Clean Singing of first single "Will Of The Shadow," "As far as I can recall, this is my first encounter with the band's music, despite the fact that this is their fourth album, but clearly won't be the last – because 'Will Of The Shadow' is a real grabber. The intro is marked by a majestic, ritualistic kind of ominous grace, but the music becomes a cyclonic fury, laced with bursts of pulse-pounding thrash riffing."
In conjunction with the release, ONE MASTER will take on a West Coast mini-tour from July 15th through July 22nd. The band will also appear at the Red River Family Fest in Austin this September alongside Panzergod, Yellow Eyes, and more with future live abrasions in the conspiring stages. See confirmed dates below.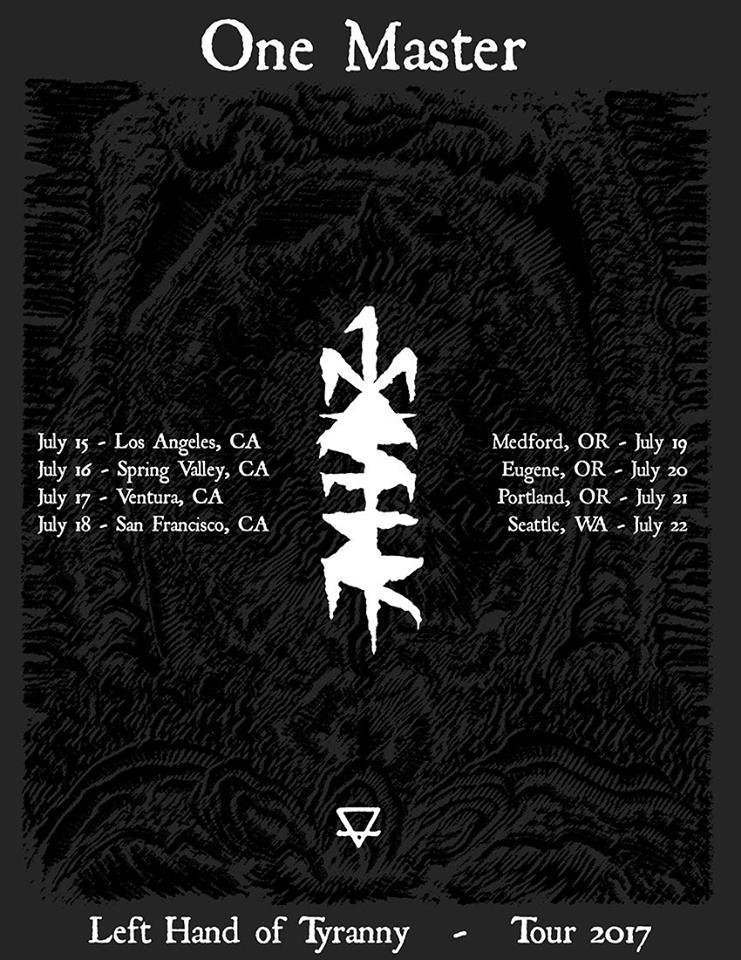 ONE MASTER [events page]:
7/15/2017 5 Star Bar – Los Angeles, CA
7/16/2017 The Bancroft – Spring Valley, CA [info]
7/17/2017 Los Compadres – Oxnard, CA
7/18/2017 Elbo Room – San Francisco, CA [info]
7/19/2017 The Bamboo Room At King Wah's – Medford, OR [info]
7/20/2017 Old Nick's Pub – Eugene, OR
7/21/2017 Twilight Café And Bar -Portland, OR [info]
7/22/2017 Highline Bar – Seattle, WA [info]
9/22-23/2017 Red River Family Fest @ Barracuda – Austin, TX [info]
For the past fifteen years, ONE MASTER has been conjuring raw and aggressive black metal in the dark corners of the US underground. Lycanthropic Burrowing serves as the follow-up to the band's acclaimed Reclusive Blasphemy offering, which ranked among the best metal records of 2015 by Loudwire, MetalSucks, and Metal Insider. From the militaristic oppression of "Will Of The Shadow" to the haunting ritualism of the closing title track, the expertly-produced Lycanthropic Burrowing is an audio document of a band ascending towards the elite tier of US black metal occupied by bands such as Nightbringer and Leviathan.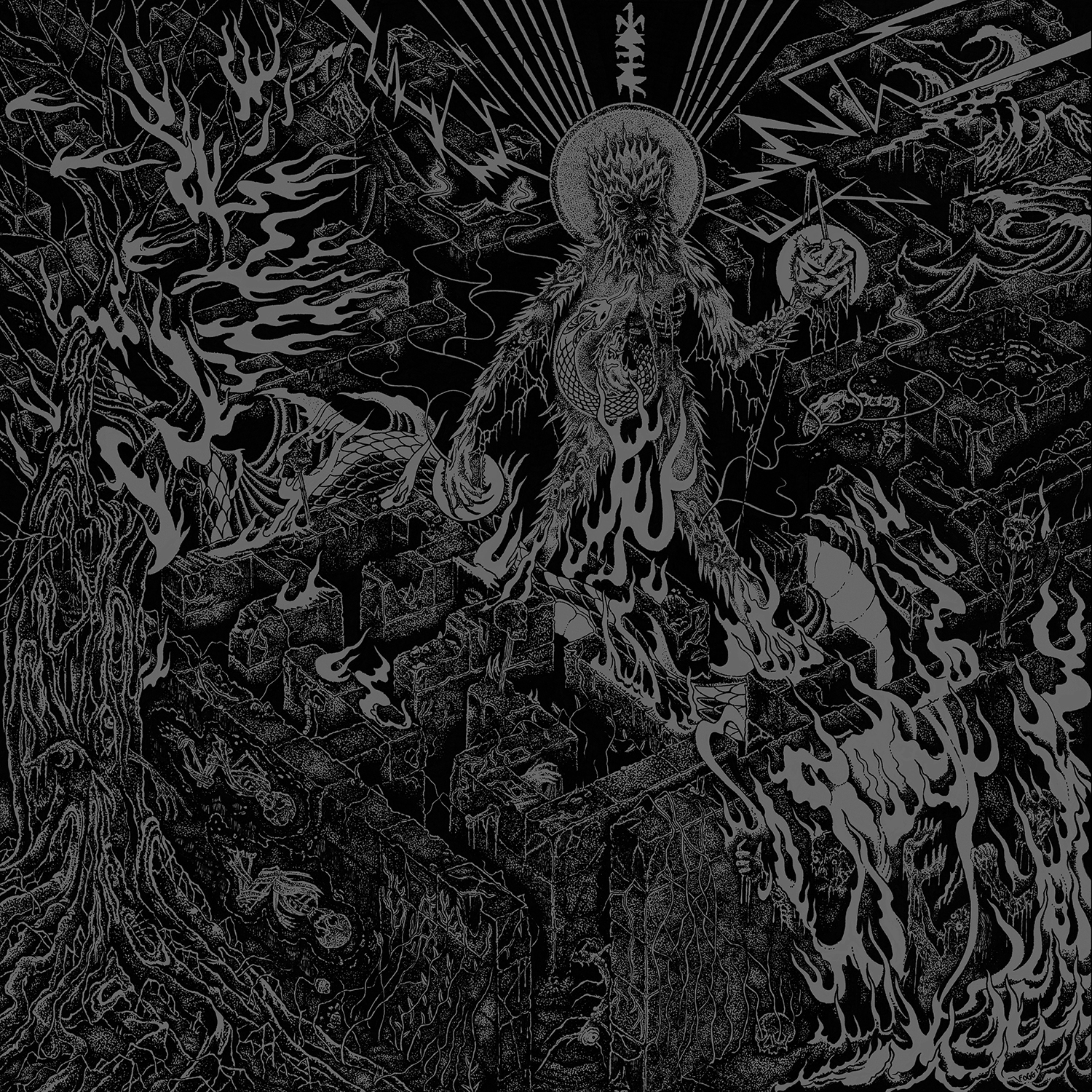 http://www.one-master.net
http://www.facebook.com/onemasterUSA/
http://www.eternal-death.com
http://www.eternaldeath.bandcamp.com
http://www.eternaldeath.storenvy.com
http://www.facebook.com/eternaldeathUSA