Dominion Of Misery is the impending new long-player from Oregon-based technical death metal outfit, OMNIHILITY. The follow-up to 2014's critically lauded Deathscapes Of The Subconscious, Dominion Of Misery was again captured at Castle Ultimate with famed producer Zack Ohren (Animosity, Suffocation, All Shall Perish) who continues to lead the charge by pushing the recorded boundaries in extreme music. Dominion Of Misery includes the maniacal artwork of Mark Cooper (Rings Of Saturn, Deeds Of Flesh, Master) bringing the entire package alive with his twisted Lovecraft-gone-Giger inspired visuals.
In advance of its release today Heavy Blog Is Heavy offers up second track, "Psychotic Annihilation," for communal disorientation, the esteemed portal noting, "'Psychotic Annihilation' doesn't waste a second in getting to business. In an approach similar to that employed by tech death legends Origin, tremolo picked bursts abound within the twisted riffs on display, and the band blazes through one punishingly heavy part after another with no respite. The track only slows down briefly in the latter half, allowing the guitars to shine through with some nifty harmonic minor noodling before the riffs regain their relentless quality."
Sample "Psychotic Annihilation," now playing RIGHT HERE.
Hailing from the Willamette "Valley Of Death" among st the woods of Eugene, OMNIHILITY – named for the absolute belief in nothingness – manifests intense, brutal and technical death metal. A nod to the old-school past combined with the immense speed and accuracy of death metal present, all while subconsciously channeling energy from arcane sources to destroy the minds of the multitude, with the band's third release and second for extreme metal powerhouse Unique Leader Records, OMNIHILITY ups the stakes with sheer technical prowess.
Dominion Of Misery will be released via Unique Leader Records on February 26th, 2016. Preorder bundles are currently available at THIS LOCATION.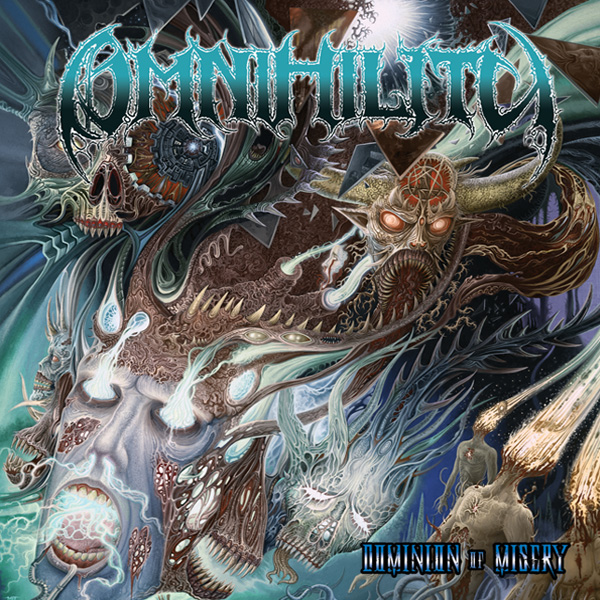 http://www.facebook.com/omnihility
http://www.uniqueleader.com
http://www.facebook.com/UniqueLeaderRecords