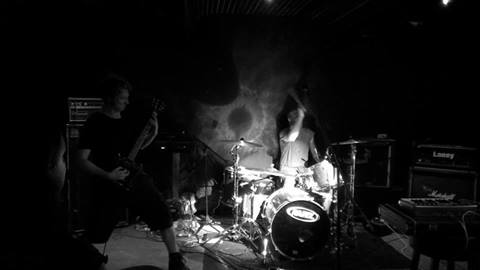 UK drone/doom duo, OMMADON, is set to release their monolithic new album, V, next month. Delivering two mammoth tracks of unadulterated sonic oppression, the appropriately titled fifth full-length, V — which clocks in at neatly ninety chest-caving minutes — was recorded completely live in a forest in the highlands of Scotland. Split across four sides of vinyl, the 180 gram double LP was mastered by Billy Anderson (Sleep, Eyehategod, High On Fire etc.) and worships at the altar of Teeth Of The Lions Rule The Divine, Sunn O))), early Earth, and all things decibel-challenging. The pair – David Tobin (guitars) and Ewan Mackenzie (drums, keyboards) — are adept at cultivating colossal stockades of noise, as their thick, crushing sound makes full use of impossibly weighty drones and riffs that feel almost infinite.
OMMADON, in cooperation with Terrorizer Magazine, is currently streaming "V1" in its planet rupturing entirety at THIS LOCATION.
V will be released in North America on August 5th via Domestic Genocide Records. Preorder your copy at THIS LOCATION. Additionally, V is available in the UK via Dry Cough Records HERE, and in the Netherlands via Burning World Records HERE.
"You can bet your favorite Sunn O))) picture disc on this thing sounding heavier than a dying planet…" –Terrorizer
"…like trying to imagine your own burial under the Himalayas." – Echoes And Dust

OMMADON on Facebook
http://ommadon.bandcamp.com
http://www.domesticgenociderecords.com