Cult psychedelic stoner/death metal unit OLD GRANDAD is pleased to unveil a video for "Urine Angel." The track appears on their classic Vol. 666 full-length, initially released in 1997, and recently reissued alongside the band's OGD EP as a double LP via Hectic Records.
Comments the band, "'Urine Angel' is a fan-favorite we have played at hundreds of OLD GRANDAD shows since 1995. It starts out with the cooking and eating of Satan's head, and then ventures into even deeper philosophical terrain from there!"
View the band's previously released "Crawl All The Way" video HERE.
Revisiting the mid-late nineties in warm analog glory, Hectic Records' epic, limited, double vinyl reissue of OLD GRANDAD's first two records — Vol. 666 and the OGD EP — is beautifully packaged and sounding heavier than ever thought possible. Writes Metal Injection, "Dig into this exhumed slab of psychedelicized death crawl and kiss yourself for living right."
Stream OLD GRANDAD's Vol. 666 + OGD EP at THIS LOCATION.
Vol. 666 and the OGD EP is available in two color variants: black or half-and-half red/black. For orders visit the Hectic Records website at THIS LOCATION.
OLD GRANDAD was forged in the San Francisco fog of 1994 when Will Carroll, Erik Moggridge, and Max Barnett created a thrash/death metal-flavored, Sabbath-inspired, Satanic-Floydian, groove-guzzling giant. Their live performances quickly became legendary for their excessive celebrations of all things heavy.
Living on a strict diet of blasphemous nihilism, ferocious cacophonizing, and relentless fun, OLD GRANDAD produced a sludge fest of growling grace in 1995 on their first Hectic Records album Vol. 666. With bombastic abandon their fans howled along to the heaviness of songs like "Urine Angel" and "Don't Call Me A Deadhead." The live favorite, "Blatant Drug Song," reflected the unique blend of heavy rock worship and lifestyle insanity that blossomed in darkened bars and hazy minds in San Francisco in the nineties. Wrote Chronicles Of Chaos upon its release, "OLD GRANDAD's sound could be described as crossing Black Sabbath and thrash with some death metal and rock influences."
In 1997, OLD GRANDAD released the OGD EP on Hectic Records, delivering a refined expansion of both their Floydian passions as well as ferociously redefined thrash riffing. The blistering "I'm Frying On Acid" complimented the acid tunnel groove of "All Calls In Daze" in ways singularly distinctive to the crushing trio of OLD GRANDAD. They soon became ingrained and celebrated in the San Francisco underground, playing hundreds of shows with an array of bands in a diversity of venues, from DIY warehouses to larger clubs throughout the nineties and into the new millennium.
The next two decades saw OLD GRANDAD continuing to perform and releasing three additional full-length albums, including their recent self-titled 2019 offering. The members have also kept busy in other projects, with Carroll playing in the legendary Bay Area thrash band Death Angel, Barnett and Carroll recording and touring with Hammers Of Misfortune, and Moggridge relocating to Portland, Oregon and working with Bell Witch and on his solo acoustic project Aerial Ruin.
"OLD GRANDAD appealed to a wide range of local heavy-music fans. The band's over-the-top paeans to drugs and Satan featured a unique mix of Sabbathy sludge, thrash-metal tempos, growling, three-way death-metal vocals and Pink Floyd-inspired psychedelia." – CBS San Francisco
"Dig into this exhumed slab of psychedelicized death crawl and kiss yourself for living right." – Metal Injection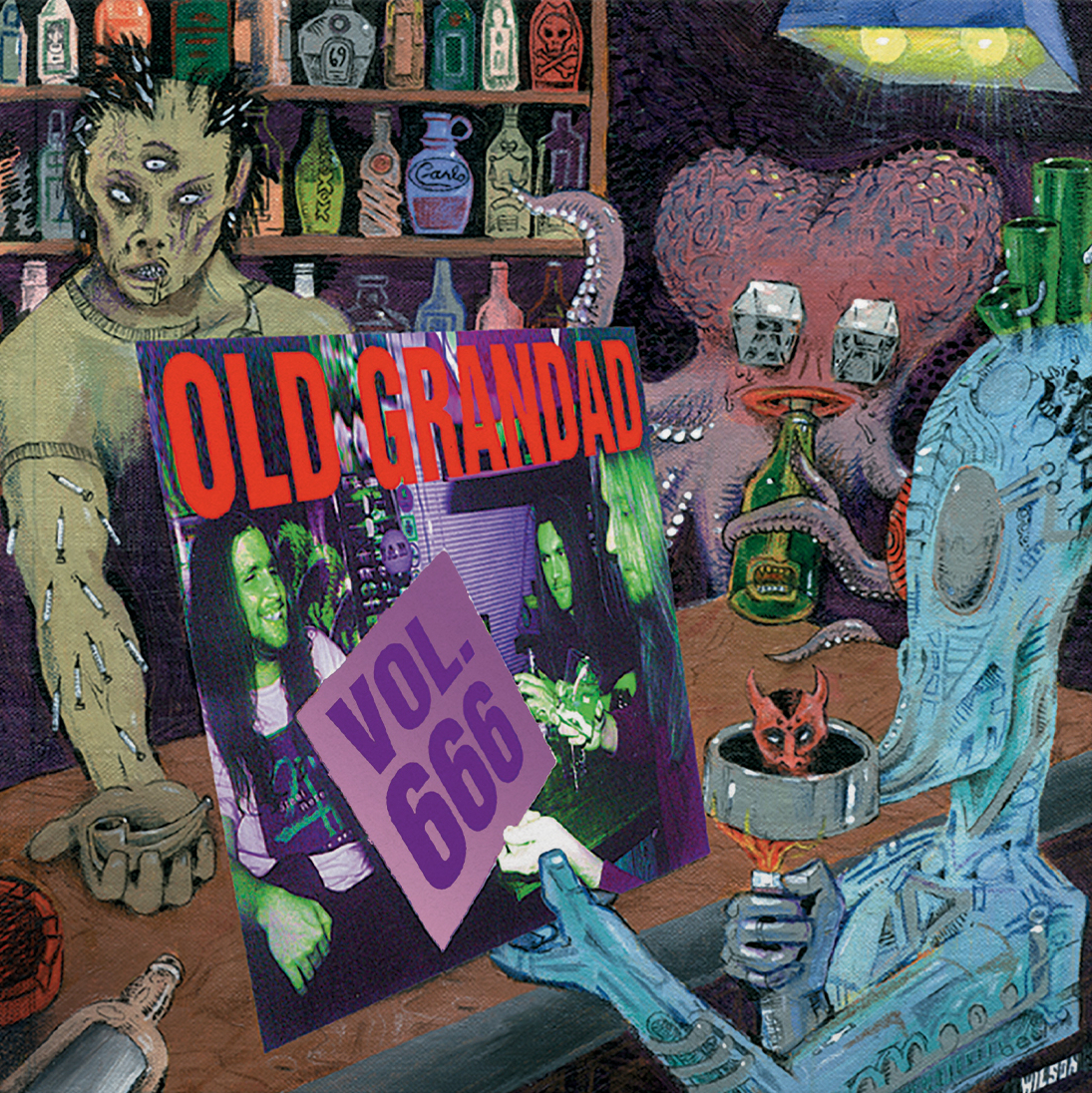 http://www.oldgrandad.com
http://www.facebook.com/oldgrandadsf
http://www.hectic.com
http://hecticrecords.bandcamp.com
http://www.instagram.com/hectic_records