Cult psychedelic stoner/death metal unit OLD GRANDAD will reissue their Vol. 666 full-length and OGD EP on vinyl July 23rd via Hectic Records.
OLD GRANDAD was forged in the San Francisco fog of 1994 when Will Carroll, Erik Moggridge, and Max Barnett created a thrash metal/death-flavored, Sabbath-inspired, Satanic-Floydian, groove-guzzling giant. Their live performances quickly became legendary for their excessive celebrations of all things heavy.
Living on a strict diet of blasphemous nihilism, ferocious cacophonizing, and relentless fun, OLD GRANDAD produced a sludge fest of growling grace in 1995 on their first Hectic Records album Vol. 666. With bombastic abandon their fans howled along to the heaviness of songs like "Urine Angel" and "Don't Call Me A Deadhead." The live favorite, "Blatant Drug Song," reflected the unique blend of heavy rock worship and lifestyle insanity that blossomed in darkened bars and hazy minds in San Francisco in the nineties.
In 1997, OLD GRANDAD released the OGD EP on Hectic Records, delivering a refined expansion of both their Floydian passions as well as ferociously redefined thrash riffing. The blistering "I'm Frying On Acid" complimented the acid tunnel groove of "All Calls In Daze" in ways singularly distinctive to the crushing trio of OLD GRANDAD. They soon became ingrained and celebrated in the San Francisco underground, playing hundreds of shows with an array of bands in a diversity of venues, from DIY warehouses to larger clubs throughout the nineties and into the new millennium.
The next two decades saw OLD GRANDAD continuing to perform and releasing three additional full-length albums, including their recent self-titled 2019 offering. The members have also kept busy in other projects, with Carroll playing in the legendary Bay Area thrash band Death Angel, Barnett and Carroll recording and touring with Hammers Of Misfortune, and Moggridge relocating to Portland, Oregon and working with Bell Witch and on his solo acoustic project Aerial Ruin.
Revisiting the mid-late nineties in warm analog glory, this epic Hectic Records double vinyl reissue of their first two albums Vol. 666 and the OGD EP is beautifully packaged and sounding heavier than ever thought possible.
Comments the band, "OLD GRANDAD are excited to say high to all our friends and want to send an enthusiastic invitation to listen to our first ever vinyl pressing of the two-record set Vol. 666 and OGD EP. Big thanks to Hectic Records who did an amazing job with this beautiful blasphemous beast."
OLD GRANDAD's Vol. 666 + OGD EP will be released on limited edition 2xLP available in two color variants: black or half-and-half red/black. For preorders visit the Hectic Records website at THIS LOCATION.
View the band's "Crawl All The Way" video HERE.
Vol. 666 Track Listing:
1. Blatant Drug Song
2. Urine Angel
3. No Hell To Fear
4. Emerald City
5. Feeling Fine
6. Medieval Weaponry Control & You
7. Forty-Two
8. Cheech And Chong I
9. Don't Call Me A Deadhead
10. 114
11. Sick Sense
12. Bovine
13. Crawl All The Way
14. Cheech And Chong II
OGD EP Track Listing:
15. I'm Frying On Acid
16. Fear
17. All Calls In Daze
18. The Other Red Meat
19. The Highs That Bind
OLD GRANDAD:
Max Barnett – bass, vocals
Will Carroll – drums, vocals
Erik Moggridge – guitar, vocals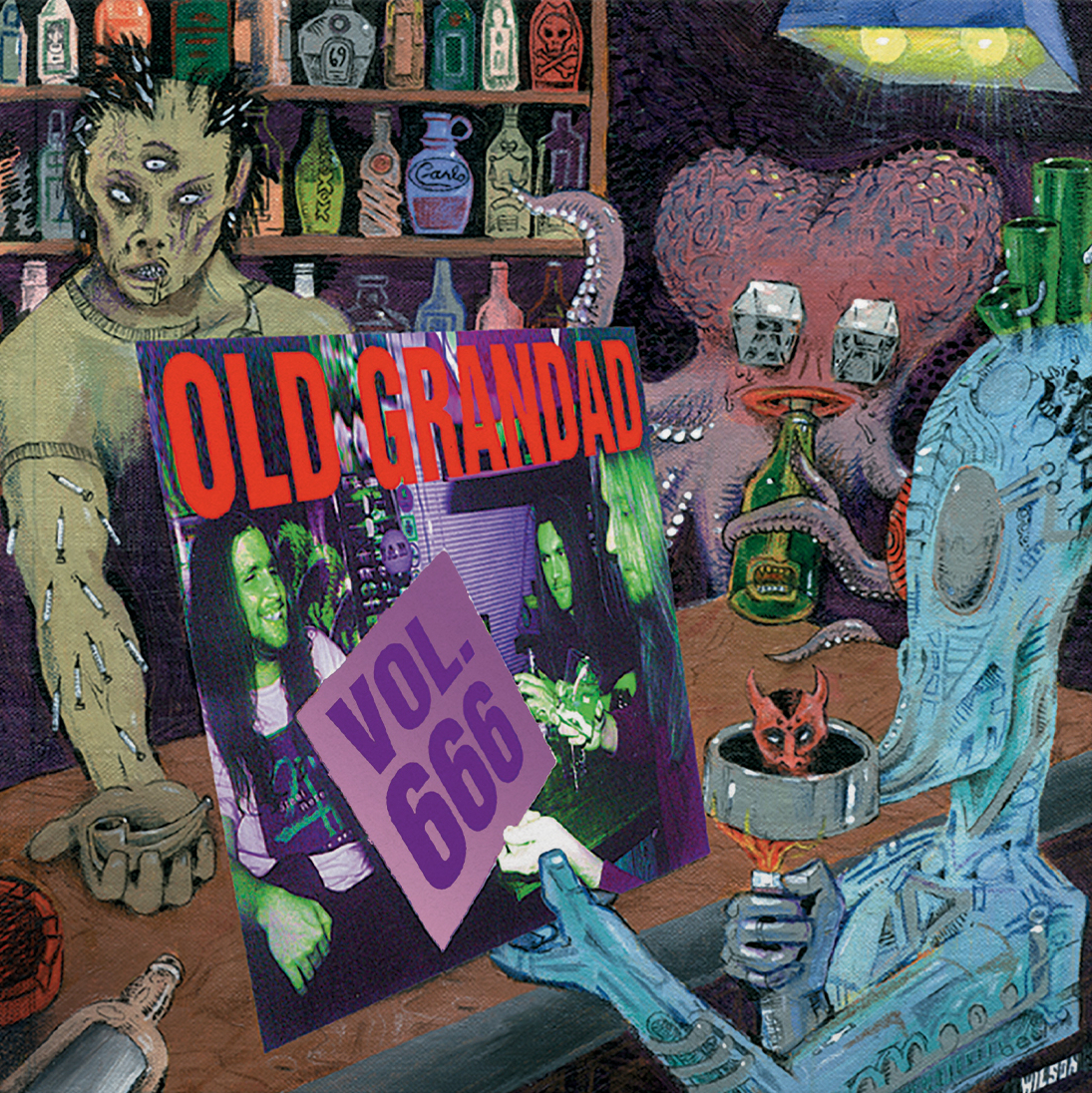 http://www.oldgrandad.com
http://www.facebook.com/oldgrandadsf
http://www.hectic.com
http://hecticrecords.bandcamp.com
http://www.instagram.com/hectic_records
http://www.discogs.com/label/2249002-Hectic-Records-8