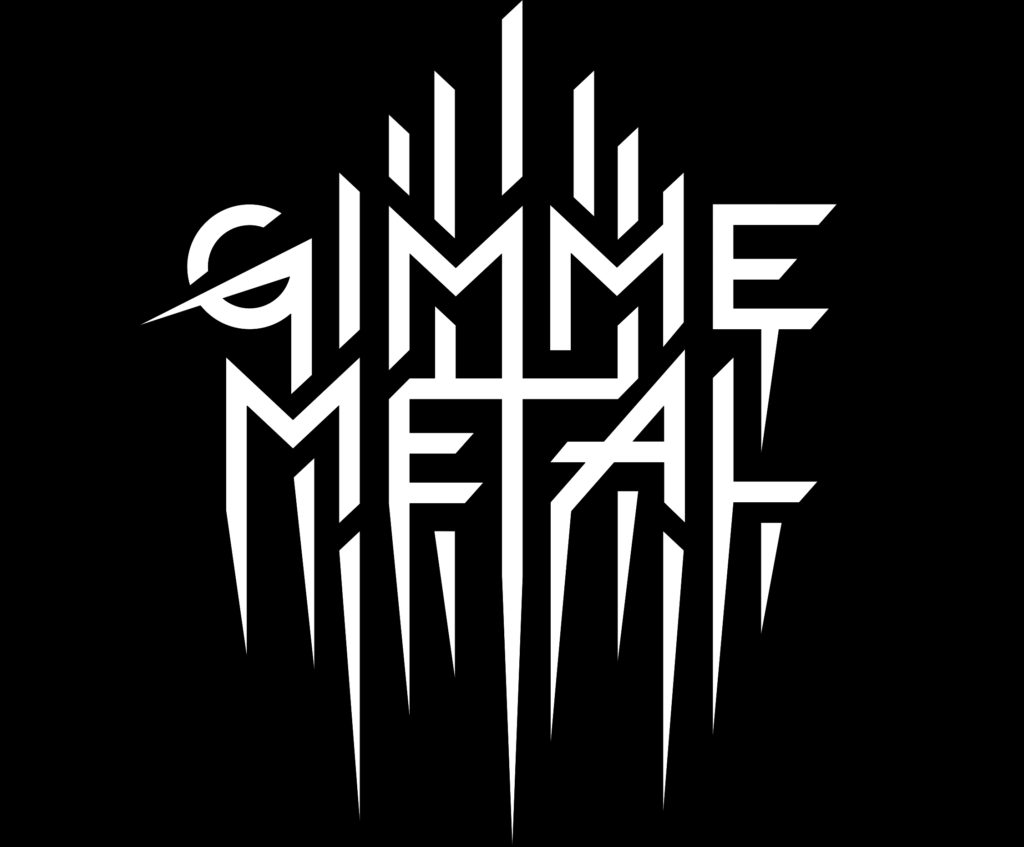 Each week, GIMME METAL publishes its radio chart listing the top 40 tracks played on the station. Already the best metal discovery service online, the GIMME METAL chart is a powerful tool for listeners, labels, and artists for staying up to date on the best new metal released by established greats and up-and-coming underdogs, all handpicked by GIMME's knowledgeable DJ roster and editorial team.
GIMME METAL Chart – July 19th, 2021:
Ingested – "This Disgusting Revelation"
Wolves In The Throne Room – "Spirit Of Lightning"
Powerwolf – "Dancing With The Dead"
Wanderer – "Marionette"
King Woman – "Psychic Wound"
Fulci – "Glass"
Mastiff – "Endless"
Ophidian I – "Storm Aglow"
Septage – "Of Gangrene Limbs"
Mordred – "Malignancy"
Click HERE for the full Top 40 List.
This week on GIMME METAL Radio: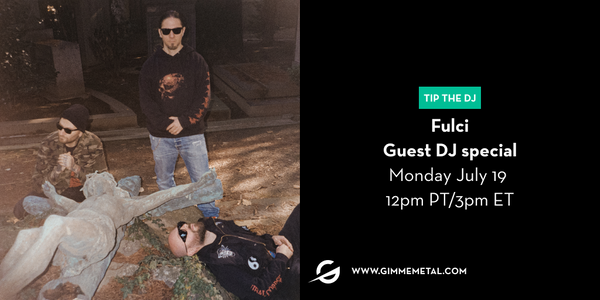 Fulci Guest DJ Special – These Italian death/horror fans — the band named, of course, in honor of cult horror film director Lucio Fulci — have surfaced with a collaboration with synth unit TV Crimes for a crawling soundtrack/nightmare of an LP, Exhumed Information, set for release July 23rd. Conceptually, they reflect on Lucio's 1991 horror feast Voices From Beyond, capturing the Master's spirit with some relentless, nightcrawling sounds. Join Fulci for a harrowing guest DJ special this week.
Bangers & Mosh Podcast Guest DJ Special – Bangers & Mosh is a UK based metal podcast hosted by best mates and lifelong metal fans Jimi, Dazz, and Defa. Their ethos: to cover the best in new and upcoming bands as well as pay homage to established legends of the scene. You'll find monthly round ups of the best new albums, fun feature shows as well as interviews with special guests from all corners of the world of metal…Join the gang for their GIMME METAL special.
Memoriam Guest DJ Special – New episode! To celebrate the release of Memoriam's fourth LP To The End, out now on Reaper Entertainment, GIMME METAL welcomes the one and only Karl Willetts to another guest DJ special! Legendary throat shredder for Bolt Thrower from 1988-1994 and 2004-2016, Willetts' influence on UK and international metal can not go understated. After founding Memoriam with Benediction bassist Frank Healy, the band has torn it up at full throttle with its inimitable style of death metal, releasing a stream of LPs culminating with this latest blaster.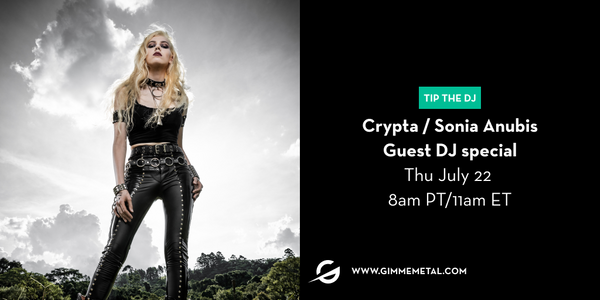 Crypta Guest DJ Special – New episode! Slashing, debilitating death metal is exactly what's on tap from this Brazilian/Dutch powerhouse. Crypta is the new project featuring Nervosa alumni bassist Fernanda Lira and drummer Luana Dametto, plus Sonia Anubis (Cobra Spell, ex-Burning Witches) and Tainá Bergamaschi (ex-Hagbard). The band released their Echoes Of The Soul debut via Napalm Records. Their significant sonic texture derived from various death metal subgenres and traces of classic thrash becomes instantly evident as the album begins, reflective of the entirely vicious, infernal aura the ten-track debut is about to unleash. Crypta unbridles high-powered sonic demons and nourishes cumulative, explosive energy with raging guitar riffs, Lira's unmistakable vocal color and Damettos's menacing drums. Anubis will take over the GIMME METAL console this week following Dametto's special a few weeks back (which you can still check in The Vault!) Don't miss it.
Tee Pee Records Guest DJ Special – GIMME METAL gives another warm welcome to Kenny Sehgal, who heads up the renowned NYC rock label Tee Pee Records and slays in his own band, Mirror Queen. Tee Pee is a familiar zone for most GIMME METAL fans, as it's the current or one time home of such beloved bands as Witch, Earthless, Graveyard, Sleep, Lecherous Gaze, Hot Lunch, Ruby The Hatchet, Harsh Toke, Annihilation Time, High On Fire, The Skull, Worshipper, Pharlee, Danava, Mirror Queen, Sweet Apple, The Atomic Bitchwax, Nebula, and so many more. Join Sehgal for another raging DJ special.
This week on GIMME METAL TV:
Carcass Live at Saint Vitus BAr – GIMME METAL TV is pleased to unveil another Max Volume Silence video from the archives! This time death metal legends Carcass make their way to the GIMME METAL TV screen. Mosh your face off in the Live Chat while this killer live performance from Saint Vitus Bar in Brooklyn, New York bludgeons your brain. Tell everyone what your favorite Carcass tune is and how you got into them, too!
Upcoming on GIMME METAL:
7/27 Ophidian I
7/28 Ingested
7/29 Wizardthrone
7/30 No Clean Singing Site Special
8/02 Gost
8/03 King Fowley
8/04 Master Blasters w/ J.Bennett
8/10 Trial
8/14 High Tone Son Of A Bitch
8/17 Possessed
8/18 Hooded Menace
8/20 Wolves In the Throne Room
8/21 Full Terror Assault Festival Preview
8/27 Wormwitch
8/30 Michael Alago
8/31 Green Lung
9/01 Rivers Of Nihil
9/02 Mordred
9/02 Anette Olzon
9/08 Torche
9/13 Autopsy
9/15 Southern Lord Label Special
9/17 A Pale Horse Named Death
9/22 Wraith
9/24 Cannabis Corpse
9/28 Alien Weaponry
10/01 Ghost Cult
10/13 Exhumed Tour Preview on Malpractice
Don't miss it! Visit GIMME METAL: http://gimmemetal.com.
About GIMME METAL:
Founded by digital music veterans from Apple Music, Google Play, Beats Music, and Napster, parent company GIMME Radio builds highly engaged communities for the passionate fan on a genre-by-genre basis. The company launched its first community in June of 2017: the world's first 24/7 metal-focused service. Fans tune in to hear world class DJs playing metal they can't hear anywhere else – for free. The GIMME METAL app and streaming radio service allows the fans and the DJs/artists to communicate directly with one another in a live feed, in real-time, while they listen. Its roster of 70-plus DJs includes Dave Mustaine of Megadeth, Jessica Pimentel, star of Orange Is The New Black, Brian Posehn, and Randy Blythe of Lamb Of God, among many others.
http://gimmemetal.com
http://www.facebook.com/gimmemetal
http://twitter.com/gimmeradio
http://www.instagram.com/gimmeradio