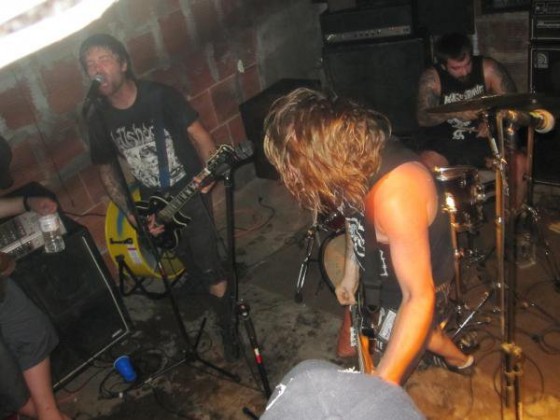 The first CD release from Hartford, Connecticut crust punks OILTANKER is out now via Southern Lord. Combining their Shadow of Greed LP and Crusades 7″, the limited edition numbered CD release combines both vinyl releases forming one 16-track socio/political d-beat killing spree. A sure-thing for circle-pit ragers and diehard fans of Wolfbrigade, Doom, DropDead, State of Fear and Hellshock.
Cvlt Nation is hosting a stream of Shadow of Greed/Crusades in its entirety RIGHT HERE.
Next week the OILTANKER brigade will storm the alleyways and off-the-grid local/D.I.Y. venues across a good hung of the continent on their latest self-booked live excursion. Stay tuned for further live updates in the coming weeks.
OILTANKER Summer Tour Dates:
8/23/2012 The Pariah – Philadelphia, PA w/ Plague Dogs, The Repellers
8/24/2012 Strange Matter – Richmond, VA w/ Parasytic, Disparage
8/25/2012 Kopecs – Pittsburgh, PA @ Skullfest
8/26/2012 TBA – Akron, OH w/ Masakari, Rhomer
8/27/2012 The C.A.I.D. – Detroit, MI w/ Shit Fucker, Culo, Scum
8/28/2012 The Wisco – Madison, WI w/ Pyroklast
8/29/2012 Medusa – Minneapolis, MN w/ Scaphe
8/30/2012 The Subterranean – Appleton, WI w/ Neon Hole [early show / all ages]
8/30/2012 The Maritime – Appleton, WI w/ Ratsak [late show / 21+]
8/31/2012 The Albion House – Chicago, IL w/ La Armada, Future Cops
9/01/2012 TBA – Cincinnati, OH
9/02/2012 house show – Huntington, WV w/ Appalachian Terror Unit
9/03/2012 The Get Down – Asheville, NC
9/04/2012 529 Club – Atlanta, GA
9/05/2012 house show – Tampa, FL w/ Bastard Deceiver
9/06/2012 TBA – Gainesville, FL
9/07/2012 TBA – Savannah, GA
9/08/2012 The Soapbox – Wilmington, NC
9/09/2012 The Barclay House – Baltimore, MD
"…16 tracks of pure rawness that will make you want to destroy the icons of greed!" – Cvlt Nation
"…a prime example of quality modern d-beat." – Exclaim!
"Fast and to the point with enough fury to rip out your organs at close range." – Absolute Zero Media
http://www.facebook.com/pages/Oiltanker/178083802211595
http://www.myspace.com/oiltankerct
http://www.southernlord.com
https://www.facebook.com/SLadmin
http://twitter.com/twatterlord