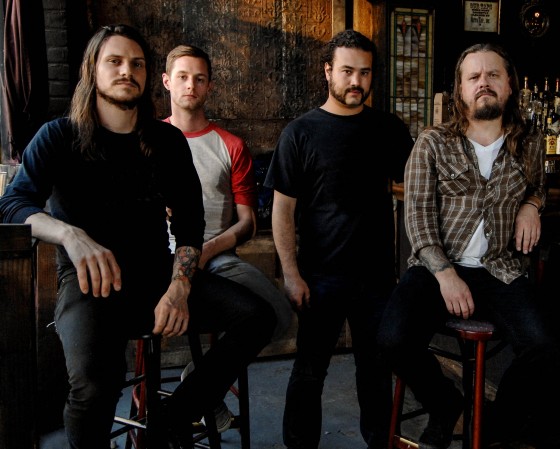 Brooklyn sludge rock instigators, HULL, today announce a short run of tour dates to close out the Summer. Set to commence on August 25 in Annandale, Virginia, the band will wage their sonic crush upon seven cities including an appearance on the Mutants Of The Monster Fest II Labor Day Weekend. This will mark HULL's first tour without longtime guitarist Drew Mack.
Comments the band in a collective statement: "We are honored to perform at Mutants Of The Monster II Festival in Little Rock organized by, none other than, CT of Rwake, Slow Southern Steel, Iron Tongue, et al. We are very excited to get back on the road and pay homage to the land, in this next chapter of HULL. Baptized in blood, ye hath forge thine surrender to the night."
View the tour poster, featuring artwork by Jorden Haley, creator of the band's epic Viking Funeral imagery below.
HULL Summer Tour 2012:
8/25/2012 The Cellar Door – Annandale, VA w/ Auroboros
8/26/2012 BP House – Richmond, VA
8/27/2012 Chapel Hill Underground – Chapel Hill, NC w/ Caltrop, Systems
8/28/2012 529 – Atlanta, GA w/ Stallone, Hawks
8/29/2012 Spring Street Fire House – Birmingham, AV w/ Black Hole Kids, Central Fires
8/31/2012 Mutants Of The Monster II Fest – Little Rock, AR w/ Rwake, The Ascent Of Everest, Broken Teeth, Dahkma, Beneath Oblivion, Sound Of the Mountain, God City Destroyers, Chronic Ritual
9/01/2012 Springwater – Nashville, TN w/ Hellbender
HULL continues to tour in support of their monolithic Beyond The Lightless Sky full-length released via The End Records last Fall. Called "…a concept album for the ages, " by Metal Army America Beyond The Lightless Sky features guest appearances by vocalist Jarboe, keys/ambiance by Fade Kainer (Batillus/Jarboe/Inswarm) and continues to reap critical acclaim internationally for its delicate balance of staggering heaviness and poetic grace.
"HULL have made something immense and nimble, ponderous and powerful," – Exclaim
"…crushingly heavy in a cerebral sense," – The Obelisk
"[Beyond The Lightless Sky] veers between motorcycle-revving D-beat, bog-trawling doom, sinister black metal, Neurosis drum-offs and hypnotic passages that gnash like a venom-dripping cousin to the final Isis album." — The Village Voice (NYC)
"…a determined and significant release, and one thoroughly deserving of a lot more visibility in the realms of heaving, epic metal." – Pop Matters
"The balance is still there between traditional ebbing post rock builds and hues and epic mountainous crescendos, but when HULL put their foot on the pedal its much more gravel than sludge." – Teeth Of The Divine/Roadburn.com Album Of The Day
"There is a fantastic amount of riffs you're going to want to repeatedly hear on this record. Couple that with some guitar solos that come out of nowhere and fit like gloves with the album's songwriting and its layered vocal approach and you've got a hell of a ride." – Slug
"…one damn fine record." – Doommantia
"…the best stoner/psych/doom releases of 2011." – Holy Grail From Hell
http://www.listn.to/HULL
http://www.facebook.com/hull666
http://www.hullorhighwater.com
http://www.sonicbids.com/hull
http://www.myspace.com/hull
http://www.birdovprey.com
http://www.karbine.com