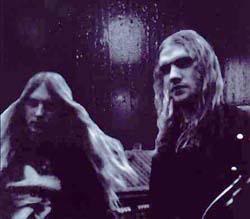 Sweden's OCTOBER TIDE will perform at the 6th Annual Hell's Pleasure MetalFest scheduled to take place this weekend in Possneck, Germany. The band is expected to play selections from their forthcoming new album, A Thin Shell, due in stores September 28. The performance marks the band's first since regrouping in 2009.
Guitarist Fredrik Norrman says, "we are really exited for the first gig ever with this updated version of OCTOBER TIDE. Our last rehearsal sounded great and it feels like we are actually a band. And the old songs sound better-than-ever with Tobias's vocals. So be there support OCTOBER TIDE and join us for beers afterwards."
Decibel Magazine recently premiered the song "Blackness Devours" from A Thin Shell on July 8. Longtime fans posted positive comments to the magazine's site confirming early on the growing excitement over the band's first album in over a decade: "This really sounds promising." "Sounds brilliant… Can't wait for September!" "OCTOBER TIDE spirit is still here after so many years of awaiting."
Formed in 1995 by then Katatonia guitarist Norrman and Katatonia/Bloodbath vocalist Jonas Renkse, OCTOBER TIDE quickly made a mark with two albums recorded and released during the years 1997 and 1999. Much of the band's music was written during a short break up of Katatonia which later proved only temporary as the band would reform and continues today; their latest album Night of the New Day features work by Norrman. OCTOBER TIDE would not perform live during this short period of activity and few interviews with the members were granted despite praise from both media and fans. The band, until reforming in late 2009, would maintain a cult status throughout the doom/metal community.
OCTOBER TIDE currently features vocalist Tobias Netzell, drummer Robin Bergh, and guitarist Norrman. Guitarist Emil Alstermark and bassist Johan Jansson now join the group as they ready for the weekend's performance.
Candlelight Records is distributed exclusively in the United States by Caroline Distribution, EMI Music for Canada, and Plastichead Music for the rest of the world.
http://www.myspace.com/octobertideband
http://www.candlelightrecordsusa.com
http://www.myspace.com/candlelightrecordsusa