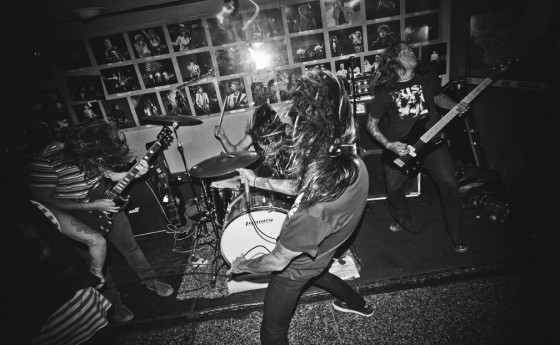 Cali punks, OBLITERATIONS, hit the road this week on their way to brutalize SXSW 2014 with a rash of performances exposing the public to seventeen brand new tracks during the trek, in preparation for their upcoming recording for Southern Lord.
OBLITERATIONS kick it all off tonight in LA, making two stops in California with The Body and Youth Code, followed by a Southwest run with Lecherous Gaze, after which they raid Austin with at least seven SXSW-related gigs already locked down for the week of festivities. The tour includes performances at the Thrasher Magazine/Converse Death Match with Judge, Tyler The Creator, The Black Lips and others as part of SXSW, The Spillover MF with Ty Segal, Dum Dum Girls, Deafheaven in Dallas, and much more.
Following the tour, OBLITERATIONS will invade Dave Grohl's Studio 606 to record their debut LP for release via Southern Lord later in 2014. More details on the impending full-length will be released in the coming months.
OBLITERATIONS is comprised of current and ex-members of Black Mountain, Saviours and Night Horse, and, delivering a blazing, crusty, Los Angeles-made blend of Poison Idea, Discharge, and Black Flag, set to a live show that willfully incites and encourages one's aggressive tendencies to shine, just released a new four-song EP as part of the Volcom Entertainment Vinyl Club.
OBLITERATIONS Tour Dates:
3/04/2014 E. 7th St – Los Angeles, CA w/ The Body, Youth Code
3/05/2013 Aladdin Jr. – Pomona, CA w/ The Body, Youth Code
3/07/2014 Billy O's – Ventura, CA w/ Lecherous Gaze
3/08/2014 Shaman Smith – Las Vegas, NV w/ Lecherous Gaze
3/09/2014 Monte Vista Hotel – Flagstaff, AZ w/ Lecherous Gaze
3/11/2014 The Mix – San Antonio, TX w/ Lecherous Gaze
3/12/2014 Hotel Vegas – Austin, TX @ SXSW Burger City/Ping Pong Booking/Inland Empire Touring Party w/ Natural Child, The Abigals, Cosmonauts, Guantanamo Baywatch
3/13/2014 Yellow Jackets – Austin, TX @ Juxtapose/Brixton Party w/ Coachwhips, Together Pangea, Fresh & Onlys
3/13/2014 The Lost Well – Austin, TX @ Vol. 4 Party w/ Windhand, Lecherous Gaze, Communion, Artic
3/14/2014 Scoot Inn – Austin, TX Thrasher/Converse Death Match w/ Judge, Bl'ast!, Power Trip, Kylesa, Lecherous Gaze, Youth Code
3/14/2014 La Barbecue – Austin, TX @ Metal BBQ w/ Spirit Caravan, Sweat Lodge
3/14/2014 Sailor Jerry House – Austin, TX @ Blundertown/Cultist Zine Party w/ Coachwhips, Coathangers
3/15/2014 Yellow Jackets – Austin, TX @ Rock Of Ages Party w/ Black Tusk, Lecherous Gaze, Youth Code, Cerebral Ballzy, The Young
3/16/2014 3 Links – Dallas, TX @ Spillover Festival w/ Ty Segall, Dum Dum Girls, Deafheaven
3/18/2014 Trainyards – Las Cruces, NM w/ Cheap Disguise, Hypatia
3/19/2014 51 West – Tempe, AZ w/ Speech Impediment, Resinator
https://www.facebook.com/Obliterations
http://obliterations.bandcamp.com
https://twitter.com/obliterations_
http://www.southernlord.com
http://southernlord.bandcamp.com
https://www.facebook.com/SLadmin
http://twitter.com/twatterlord