As Southern Cali's OBLITERATIONS, unifying current and ex-members of Black Mountain, Saviours, Night Horse and others, now come within a week of the release of their Poison Everything LP via Southern Lord, Pitchfork, is letting the entire album off the chain in one of their Advance features this week.
Recorded with producer Chris Owens (Lords, Coliseum, Young Widows) at Dave Grohl's Studio 606 in only three days, mixed by Kurt Ballou (Converge, High On Fire, Black Breath) at God City Studio, and mastered by Brad Boatright (Tragedy, Integrity, Sleep) at Audiosiege, Poison Everything drops nearly a half-hour of OBLITERATIONS' grating, hardcore punk charged by a seemingly bottomless wealth of antagonistic energy; prime fodder for fans of The Stooges, MC5, Laughing Hyenas, Black Flag and Poison Idea. Set to storm North American retailers next week, for the next seven days, massive media gateway, Pitchfork, is streaming the relentless Poison Everything in its entirety via an Advance feature.
This week, stream Poison Everything at Pitchfork RIGHT HERE.
Also get stomped by the official video for the album's "Mind Ain't Right" at THIS LOCATION.
Poison Everything will see worldwide release on Southern Lord, in Europe on October 13th, and in North America October 14th. Orders for the CD, LP and other physical band swag, including the clear vinyl version of the vinyl including a limited edition zine, can be placed HERE.
Just a week subsequent to Poison Everything's release, OBLITERATIONS takes their riotous live show back to the road, with a Southern Lord showcase in Los Angeles on October 15th kicking off a West Coast tour with labelmates Baptists and Torch Runner. The tour also includes an invasion of Southwest Terror Fest III: The Western Front in Tucson, where OBLITERATIONS share the main stage the final night with Sex Prisoner, Baptists and Sunn O))). Two weeks after the North American run, OBLITERATIONS will hit Europe on a three-week-long tour, sponsored in Germany by Visions Magazine.
OBLITERATIONS Tour Dates:
Fall West Coast US Tour w/ Baptists, Torch Runner
10/15/2014 Los Globos – Los Angeles, CA Southern Lord Showcase w/ Excel, Goatsnake, Xibalba, Baptists, Torch Runner
10/17/2014 Hard To Find Space – Santa Barbara, CA
10/18/2014 Black Flame Collective – San Bernadino, CA
10/19/2014 Rialto Theatre – Tucson, AZ @ Southwest Terror Fest #
10/20/2014 Soda Bar – San Diego, CA
10/21/2014 The Knockout – San Francisco, CA
10/23/2014 Slabtown – Portland, OR
10/24/2014 The Highline – Seattle, WA
10/25/2014 The Biltmore – Vancouver, BC
10/26/2014 Lucky Bar – Victoria, BC
10/28/2014 Wandering Goat – Eugene, OR ^
10/29/2014 Arlene Francis Center – Santa Rosa, CA **^
10/30/2014 Eli's Mile High Club – Oakland, CA **^
** w/ Creative Adult
^ w/o Baptists
# w/o Torch Runner
OBLITERATIONS Fall European Tour:
11/17/2014 Maguires Pizza Bar – Liverpool, UK
11/18/2014 Green Door – Brighton, UK
11/19/2014 Barfly – London, UK w/ White Lung
11/20/2014 Temple Of Boom – Leeds, UK
11/21/2014 The Anvil – Bournemouth, UK
11/22/2014 ACU – Utrecht, Netherlands @ Le Guess Who Fest
11/23/2014 La Zone – Liège, Belgium
11/26/2014 Templet – Lyngby, Denmark
11/27/2014 TBA – Berlin, Germany
11/28/2014 007 – Prague, Czech Republic
11/29/2014 Lofi Club – Milan, Italy
11/30/2014 Arena – Vienna, Austria
12/01/2014 Le Romandie – Lausanne, Switzerland
12/04/2014 Rocas – Luxembourg City, Luxembourg.
12/05/2014 VK – Brussels, Belgium
12/06/2014 4AD – Diksmuide, Belgium
12/09/2014 Le Bukowski – Donostia, Spain
12/10/2014 Wurlitzer Ballroom – Madrid, Spain
12/11/2014 Rocksound – Barcelona, Spain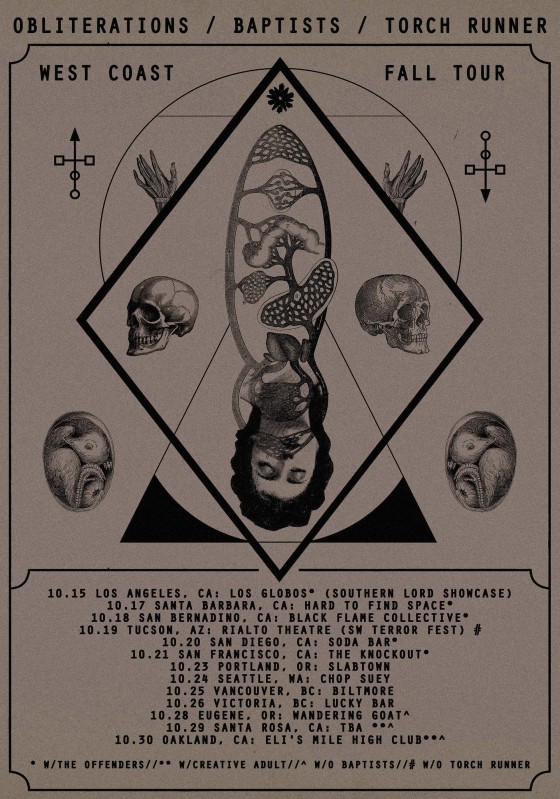 https://www.facebook.com/Obliterations
http://obliterations.bandcamp.com
https://twitter.com/obliterations_
http://www.southernlord.com
http://southernlord.bandcamp.com
https://www.facebook.com/SLadmin
http://twitter.com/twatterlord