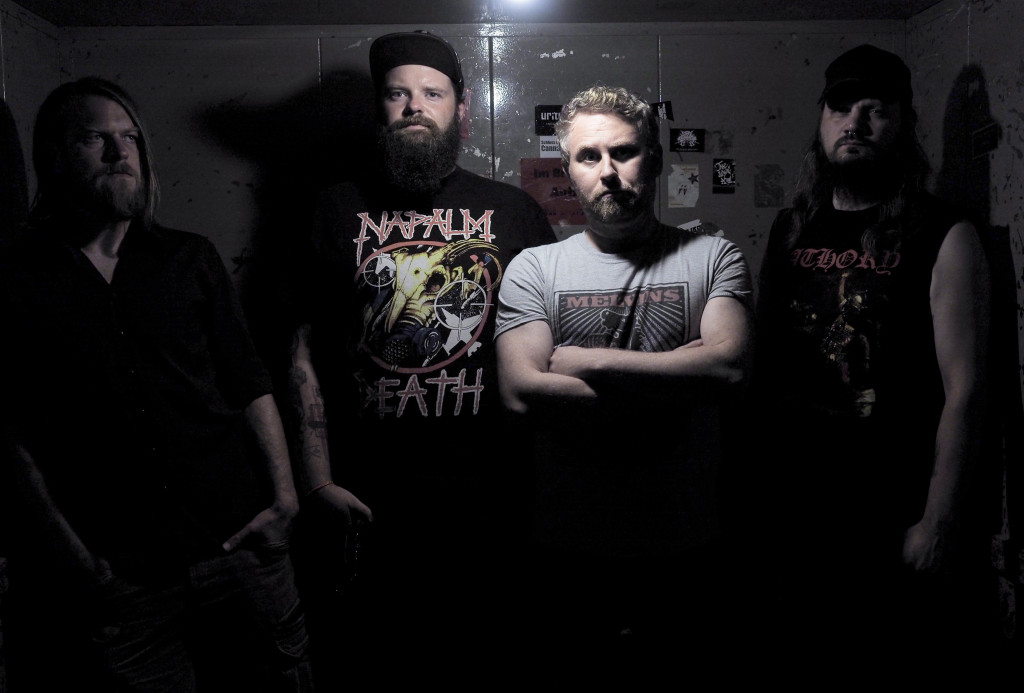 "Above all, you can believe in Providence in either of two ways, either as thirst believes in the orange, or as the ass believes in the whip." – Victor Hugo
Three years in the making, Germany's doom/sludge kingpins OBELYSKKH have completed their fourth full-length, and are preparing The Providence for release through their steady label home of Exile On Mainstream this Spring.
See an extensive audio/visual trailer for OBELYSKKH' The Providence RIGHT HERE.
The Providence was again recorded and mixed by Andy Naucke and mastered by Brad Boatright (Sleep, Tragedy, High On Fire, From Ashes Rise, Integrity), and again sees cover art crafted by Sebastian Feld/Marginal Ink. The album will be released on all digital platforms, CD, and 2xLP with three sides of music and a Side D etching.
OBELYSKKH's The Providence will see release on April 21st in Europe, and on June 2nd through new AISA/Red/Sony stateside distribution in the US. European physical preorders are available now at THIS LOCATION. Stand by for US and digital preorders, new tracks from the album, and more to be released in the weeks ahead.
The Providence Track Listing:
1. The Providence
2. Raving Ones
3. Northern Lights
4. NYX
5. Aeons Of Iconoclasm
6. Marzanna
The title of the new OBELYSKKH excursion might remind one of H. P. Lovecraft's iconic poem, and you'd not be wrong, as these classic words provided inspiration for lyrical content and the artwork for The Providence. But that's only one dimension. The other is illustrated almost perfectly by French revolutionist Victor Hugo: "Above all, you can believe in Providence in either of two ways, either as thirst believes in the orange, or as the ass believes in the whip." The band lived by this message, beating the record out of themselves, fighting an uphill battle.
Following the 2013 release of the band's groundbreaking third album, Hymn To Pan, which struck less than one year after its predecessor, White Lightnin', the Franconian doomsters found themselves in a state of turmoil and a line-up change with bass player Dirty Dave being replaced by Seb Duster. These ups and downs, alongside the massive honesty and emotionality in the band's routines, developed monstrous pressure, which is sonically channeled into this album, The Providence surging with massive weight, groove, and darkness. The album sees OBELYSKKH leaving huge parts of their former approach behind. Less psychedelic, with more groove — not stoner rock, but more on the side of doom than grueling sludge – yet still delivered in a crushing maelstrom.
OBELYSKKH has booked a run of European tour dates in conjunction with the album's release, with shows in Germany, Switzerland, The Netherlands, Belgium, and Austria from April 7th through April 20th, with more shows to be announced throughout the months ahead.
OBELYSKKH Tour Dates:
4/07/2017 Ebrietas – Zürich, CH
4/08/2017 Goldgrube – Kassel, DE
4/09/2017 Cafe de Jack – Eindhoven, NL
4/10/2017 Music City – Antwerp, BE
4/11/2017 Nexus – Braunschweig, DE
4/12/2017 Kulturbahnhof – Jena, DE
4/20/2017 Nihilistic Arts Festival – Wilhering, AU
http://www.facebook.com/TheObelyskkhRitual
https://obelyskkh.bandcamp.com
https://twitter.com/OBELYSKKH_DOOM
http://www.mainstreamrecords.de