Indisciplinarian presents Ensomhedens Kolde Kald, the hook-soaked debut LP by Copenhagen, Denmark-based NYT LIV. The album will be issued in May, and with the release record's artwork, track listing, and preorders, an official video for the lead single "Blodet Skygger" makes its public unveiling through a premiere at BrooklynVegan.
NYT LIV is a melodic, rocking hardcore band with slick, infectious hooks and an emotive but bright tone. Comparable to outfits like Modern Life Is War and Kvelertak, the band sings in their native Danish language about current social problems. Their bold debut album Ensomhedens Kolde Kald ("The Cold Calling of Solitude") captures ten songs which deliver ferocity and intensity combined with dynamic songwriting in a lyrical field of social indignation. The album was produced by Jacob Bredahl (Rising, Hatesphere, Fossils), mastered at Audiosiege by Brad Boatright (Modern Life Is War, Nails, Mutoid Man), and completed with artwork and layout by Lasse Høgh.
Ensomhedens Kolde Kald's second track, "Blodet Skygger," sees release through a video, directed and filmed by NYT LIV guitarist Martin Goltermann, who states, "'Blodet Skygger' is the first single off our debut album Ensomhedens Kolde Kald, and it deals with the state of feeling miserable and how to escape life. We wrote the song during an unexpected break at the studio caused by an old Marshall amp blowing tubes but managed to make use of the ninety-minute studio timeout to write an additional song for the album. We wanted to write a dynamic and intense song, which turned into 'Blodet Skygger,' also being the last song we wrote for the album."
BrooklynVegan debuts the video, offering with the premiere, "NYT LIV are a new-ish band from Copenhagen, and they sing entirely in Danish, but you don't need to understand the language to be won over by their heavy, atmospheric hardcore. And with Michael Benborg Aagesen's nasty scream, you might not understand him if he was singing in English anyway. That said, new single 'Blodet Skygger' is about some pretty dark stuff."
See NYT LIV's video for "Blodet Skygger" only at BrooklynVegan RIGHT HERE.
Ensomhedens Kolde Kald will see release on vinyl and all digital platforms on May 3rd. Find vinyl preorders through Indisciplinarian HERE, and digital preorders through all providers tomorrow.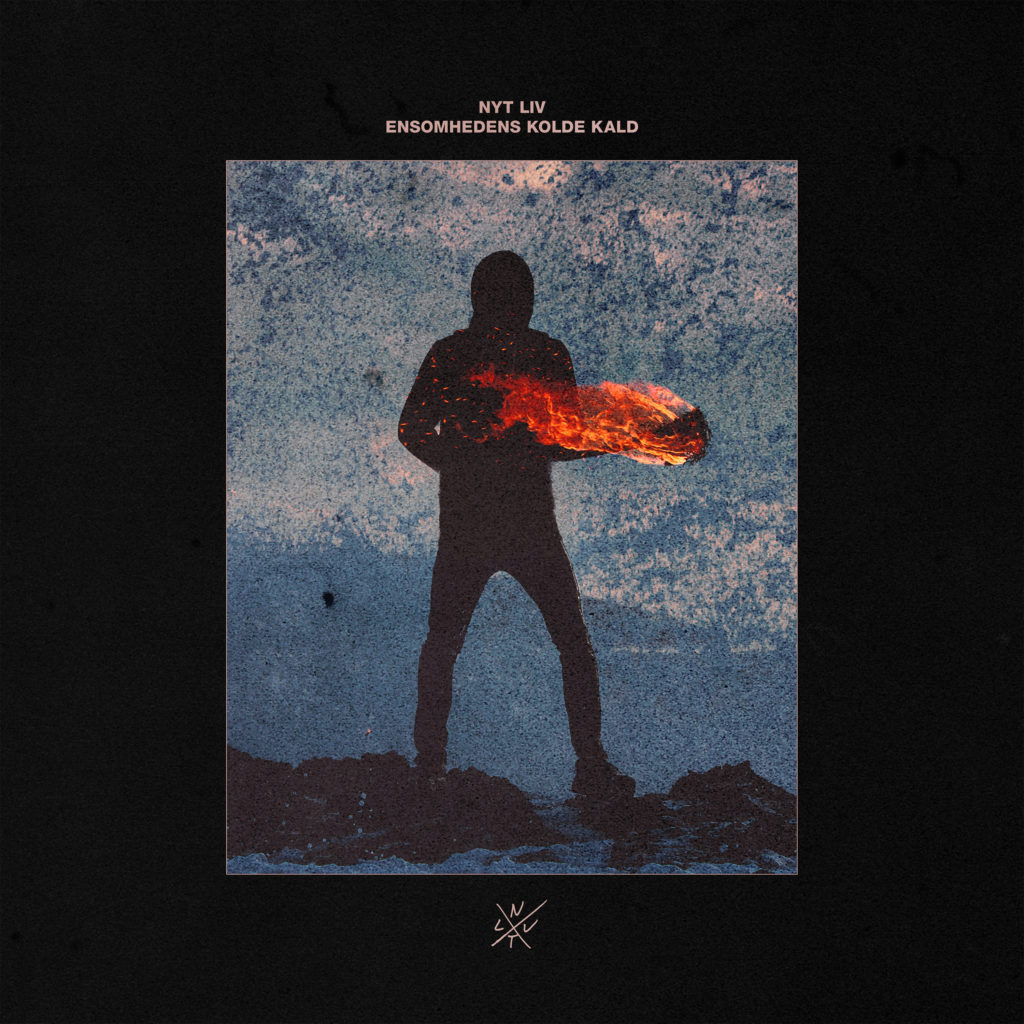 Ensomhedens Kolde Kald Track Listing:
1. Kniven
2. Blodet Skygger
3. Aske Og Blod
4. Fortidens Tæsk
5. Det Skal Du Nok Blive
6. Løgne
7. Stille Ikke Død
8. Ingen Fast Form
9. Farvel Til Fornuften
10. Lys
NYT LIV will support Cancer Bats at a sold out show in Copenhagen tomorrow night, will perform on this year's SPOT Festival in Aarhus, along with a string of headlining club shows in Demark and elsewhere in Europe. Watch for more tour dates to be announced over the months ahead.
NYT LIV Tour Dates:
3/22/2019 Hotel Cecil – Copenhagen, DK w/ Cancer Bats (sold out)
5/03/2019 Spot Festival – Aarhus, DK – Spot Metal w/ Baest, Orm, LLNN, Xenoblight
NYT LIV was formed in 2016 and subsequently recorded the debut EP, Livet Brænder ('Life Is Burning'), which was released August 2017. Following the release came a busy 2018 during which the band made a mark with performances at major Danish Festivals such as Roskilde, Copenhell, and Aalborg Metal Festival. NYT LIV is a flock of experienced musicians from the Danish hardcore and metal scene in which the members has recorded and toured with a string of powerful acts. The merits of the members are showing in a focused songwriting and sound as well as in the band's energetic and confrontative shows that are equally solid entertainment and indignant catharsis, depending on what you seek to extract from a hard-hitting rock performance. Either way, the human immediacy of the music does not deny itself, and it is swiftly realized, that this is a band with something on their mind.
As on the EP, NYT LIV's debut album was recorded with Jacob Bredahl producing and Brad Boatright mastering, giving the album an aggressive, organic, and intimate sound. Bredahl is an old friend of the band and its members, whom has all recorded with him in prior contexts. Therefore, a cooperation was natural and with his signature and background in the same scene, Bredahl comes as an integrated part of the band's sound. The unit's music can be viewed as a summary of the members' earlier endeavors plus the experienced musician's natural pursuit of an expression void of detours and unnecessary elements. NYT LIV cuts to the bone and delivers direct and engaging songs in a hard rocking and melodic version of metallic hardcore, in which music and lyrics seems to be perfect for communicating with an attentive audience. It is possible to have good time, but also to let one be captured and rightfully enraged from the personal and solemn narratives that portraits a world on the brink of dissolution.
NYT LIV's singer and lyricist Michael Aagesen composes a straightforward and simple poetry, which positions itself within the literary tradition of Danish social realism from the 1970s. The songs touch upon subjects such as loneliness, abuse, love, and suicide, and the sympathy lies with people, as most people are: without power, money, and agency, and with perfectly normal problems of both existential psychological and economical observance. Devoid of academic manners, the troubles of the little man and woman are examined from a personal perspective, where Aagensen's own experiences speak within the lines, but where also a macro perspective lives within the songs. The life world of the individual is often an expression of greater contexts and the problems emerge as the consequence of structures to which we are simultaneously submitted and are paradoxically also accomplices in upholding. The depiction of the woes of the individual contains therefore a societal critique and equally a call for change as to how we treat and view each other. The "cold call of solitude" is a much-needed proclamation to all of us to stand up for ourselves, but also to stand up for each other. No matter the cost.
NYT LIV:
Michael Benborg Aagesen – vocals
Martin Goltermann – guitar
Søren Hvidt – bass
Simon Erlendsson – drums
http://www.nytlivband.dk
https://www.facebook.com/nytlivband
http://www.indisciplinarian.com
https://indisciplinarian.bandcamp.com
http://www.facebook.com/indisciplinarian