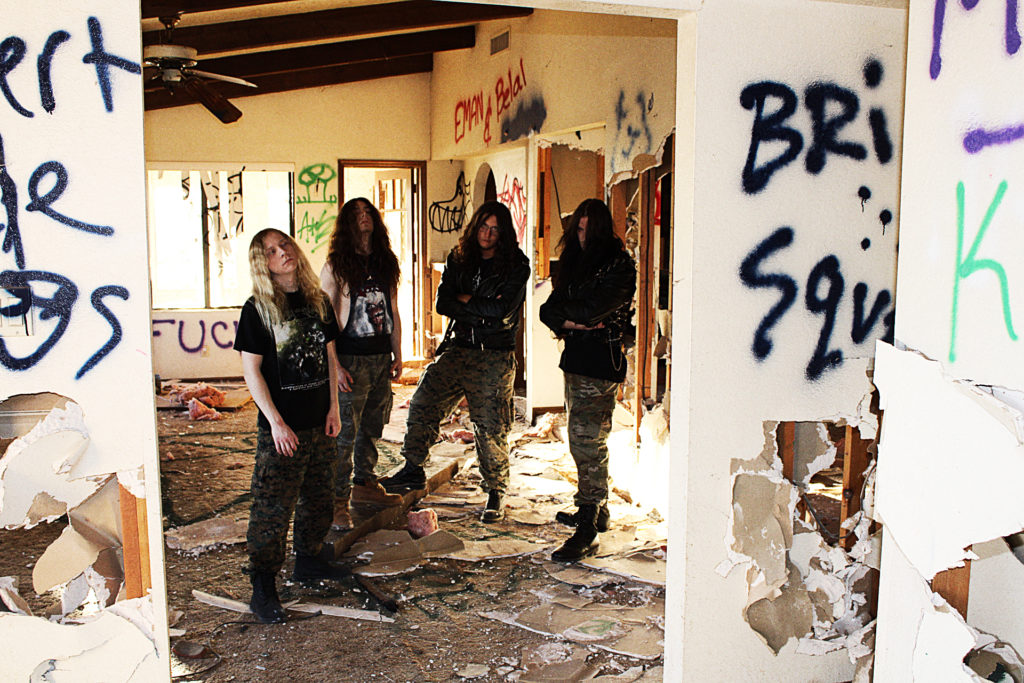 photos by Adam Gutierrez
Today, Metal Injection drops an exclusive early preview of Dawn Of Eternal Suffering, the volatile debut LP from Phoenix, Arizona's brutal death metal division, NUCLEAR REMAINS. The premiere comes as the album is being prepared for its official deployment tomorrow through Maggot Stomp.
NUCLEAR REMAINS' Dawn Of Eternal Suffering was recorded at Infrasound Studio in Queen Creek, Arizona, mastered by Will Killingsworth at Dead Air Studios, and completed with artwork by Colter Masson and logo by Dylan Perry.
The band offers, "We wanted to go all out guns blazing with our debut full-length album. We strived to write catchy, technical, and brutal songs, and to give the whole thing a dark and grim theme. Making this album was an unforgettable experience that brought us all closer as a band and we hope that you all enjoy your experience of Dawn Of Eternal Suffering"
Let NUCLEAR REMAINS' Dawn Of Eternal Suffering nuke you into nonexistence first at Metal Injection RIGHT HERE.
Dawn Of Eternal Suffering will be released through Maggot Stomp on LP, CD, CS, and digital platforms this Friday, July 14th. Find preorders at the label webshop HERE and digital preorders at Bandcamp HERE.
NUCLEAR REMAINS is booking performances surrounding the release of the new album, including with Desecation, Stabbing, Cavalera Conspiracy, Exhumed, and more coming up. See confirmed shows below and watch for more widespread tour activities to be posted.
NUCLEAR REMAINS Live:
7/22/2023 TBA – Tucson, AZ w/ Desecation
8/10/2023 The Beast – Tempe, AZ w/ Stabbing
9/15/2023 The Marquee Theatre – Tempe, AZ w/ Cavalera Conspiracy, Exhumed
Nevada Test Site. 1953. A mushroom cloud fills the sky over the six-hundred-eighty square-mile nuclear testing zone. Over the next four decades, thousands of nuclear explosions were detonated on the site. Seventy years later the true horrors of those tests are unveiling themselves downwind in the deserts of Arizona.
Arizona. Present day. A breeding ground for a new generation of mutants waving the death metal flag. Leading the charge from the fallout is NUCLEAR REMAINS, playing a mix of raw, punishing, and unforgiving brutal death metal with an old-school sound. Drawing influence from a host of bands around long before the young members mutated to life, vocalist Aiden Santelli, guitarist Anthony Fazio, bassist Gabe Villont, and drummer Anthony Buchowski cite Skinless, Dying Fetus, and Mortal Decay as some of their biggest influences.
After manifesting those influences with 2022's four-song Radioactive Decomposition demo, playing multiple out-of-state and hometown shows with the likes of BDM veterans Defeated Sanity, Devourment, Cenotaph, and Malignancy, NUCLEAR REMAINS is preparing to detonate their debut LP, Dawn Of Eternal Suffering. "Tripling down on the brutality," Fazio states, "the new LP expands on the horrific realities and consequences of nuclear war and thermonuclear brutal death!"
https://linktr.ee/nuclear_remains.az
https://www.instagram.com/nuclear_remains
https://nuclearremains.bandcamp.com
http://maggotstomp.com
https://www.instagram.com/maggotstomp
https://maggotstomp.bandcamp.com
https://twitter.com/maggotstomp
https://maggotstomp.bigcartel.com