NOVARUPTA, the blackened sludge metal project spearheaded by Alex Stjernfeldt (The Moth Gatherer, Mr. Death et al), will unite for one special show featuring eight singers! The unique performance will take place November 8th in Stockholm, Sweden at Hus 7 where the band will support Inter Arma.
Following his departure from The Moth Gatherer, Stjernfeldt stood disillusioned while facing an uncertain and bleak future. Fueled by depression and frustration and a need to explore a deeper and darker musical direction while also returning to the roots from which he came, the foundation of NOVARUPTA was born. Blurring the lines between band and project, collective and art, the composing of the debut was a cooperative effort between old and new friends, coming together in an open and creative forum, contributing to what was to become the fittingly titled Disillusioned Fire, released via Suicide Records earlier this year.
Disillusioned Fire features a host of notable vocalists including Mikael Stanne (Dark Tranquillity), Jörgen Sandström (Krux, ex-Entombed, ex-Grave.), Martin Wegeland (Domkraft), Tomas Liljedahl (ex-Breach, The Old Wind), Claudio Marino (Tid), Joel Segerstedt (The Open Up And Bleeds), Jonas A. Holmberg (This Gift Is A Curse), and Ossian Reynolds (Lola Zaza), each adding his own dark tinge to a record wrought with deep, dismal emotion. And now, for the first time ever, the full monumental lineup will perform live.
"When we first got the question of doing this show, my first thought was, 'No!,'" notes Stjernfeldt, "But on the other hand, I do love Inter Arma and if there ever was a time to do it, it would be this show, in my hometown, with a band I love. I sent a mail to all eight vocalists, and for some amazing reason, everyone was available this date. So the only thing left to do was to get a band together and relearn the songs. We have focused a lot on the core feeling of the songs to recapture it in the live setting. It's heavier and grittier and we all put in our own darkness in the songs, which makes the live act a collective effort into the pitch-black." NOVARUPTA on one stage was something that was never meant to happen. Never say never…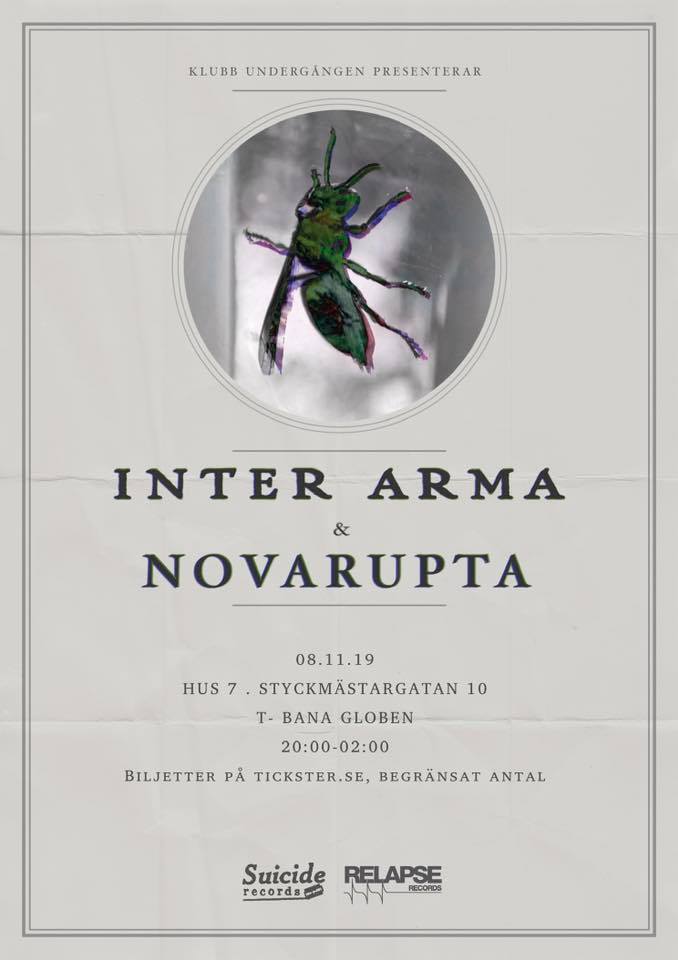 NOVARUPTA:
11/08/2019 Hus 7 – Stockholm, SE w/ Inter Arma [info]
NOVARUPTA Live Lineup:
Alex Stjernfeldt – guitar
Victor Wegeborn – guitar
Christian Jansson – bass
Patrik Herrström – drums
Vocalists:
Mikael Stanne
Jörgen Sandström
Martin Wegeland
Tomas Liljedahl
Claudio Marino
Joel Segerstedt
Jonas A. Holmberg
Ossian Reynolds
NOVARUPTA's Disillusioned Fire is available now on CD, LP, and digital formats. For orders visit the Suicide Records' Bandcamp page at THIS LOCATION where the record can be streamed.
"…moody sludge that rolls in waves of intensity…" – Decibel
"…an especially brilliant example of metal's ability to transform despair and destruction into beautiful new creations." – Invisible Oranges
"…the album finds balance amongst elements of post-metal, black, sludge, and doom. Everything about the combinations thereof in these songs feels extremely organic. Particular standout examples of this exist on the tracks 'Pyroclastic Flows' and 'Mare Tranquillitatis' where we are treated to guitar lines that seamlessly weave in and out to create brilliant textures and melodies underlying this immense, ominous sound." – Heavy Blog Is Heavy
"…a cathartic expression that lets the sludge metal it works with not be so tense and those who partake to have a chance to simply fall to the ground if they need to." – Captured Howls
http://www.facebook.com/novaruptaband
http://www.suiciderecords.se
http://www.facebook.com/suiciderds