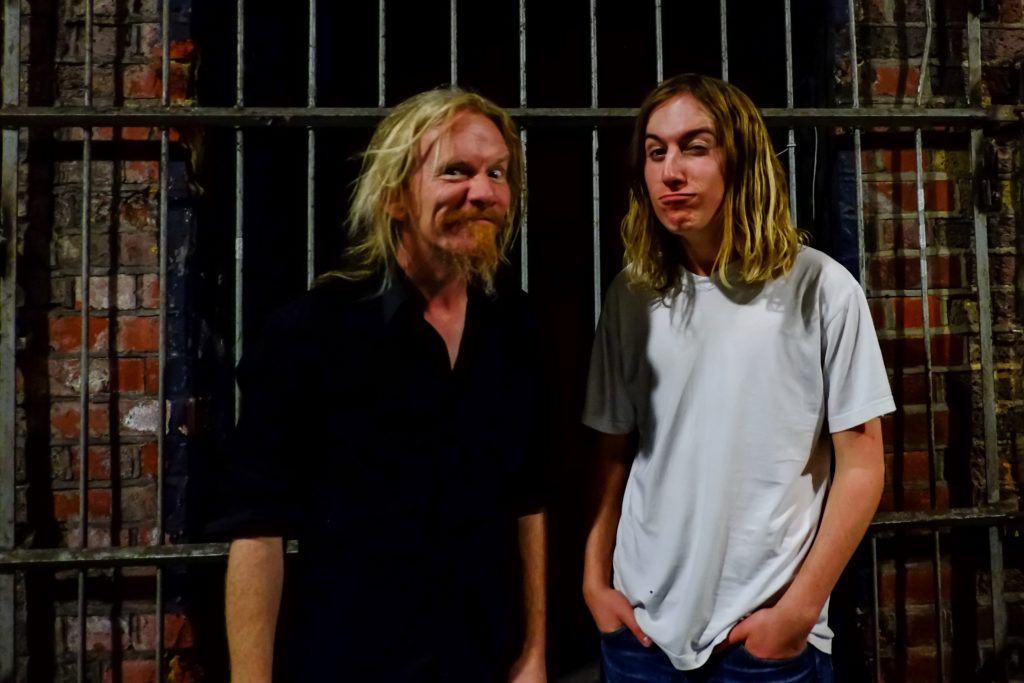 Peace Off, the debut LP by UK-based NOISEPICKER is now streaming at Svbterranean, alongside a track-by-track breakdown of the album. The feature posts on the eve of the LP's release through Exile On Mainstream.
For their debut full-length, Peace Off, NOISEPICKER continues a similar trajectory to their EP, heavily influenced by their love of distorted heavy sounds, and blues music, as well as the spirit of the UK punk scene, in which Armstrong has been immersed in for years. Peace Off is an album of heavy, gritty, gnarled and thrashing blues romp, which takes a myriad of sonic twists and turns throughout, making it one unpredictable listen. It's time to pick your noise and eat it.
Svbterranean writes, "Comprised of guitarist and vocalist Harry Armstrong (End of Level Boss, et al) and drummer Kieran Murphy, NOISEPICKER deliver a unique sound that is a melding of bluesy groove and sludge grit, with a punk heart beating underneath. On Peace Off the band refines and expands on their infectious style, which sounds like what would happen if Orange Goblin vacationed in the Mississippi Delta."
Check out the NOISEPICKER track-by-track album breakdown by Armstrong and stream Peace Off in its entirety at Svbterranean RIGHT HERE.
Peace Off sees release tomorrow, Friday, May 11th through Exile On Mainstream as 180-gram black LP in a beautiful gatefold sleeve containing artwork by Roland Scriver, and while the album will not be available as standalone CD-only release, the LP will contain the full album on CD as well. Preorders are available RIGHT HERE, and the band's video for "No Man Lies Blameless" is playing HERE.
NOISEPICKER just completed a UK tour with Zolle, and is booking new tour dates for the months ahead.
NOISEPICKER live:
5/12/2018 The Underdog Gallery – London, UK
After years of performing, and reveling in loud, hard-hitting music, UK-based singer and guitarist Harry Armstrong (End Of Level Boss, Lord Of Putrefaction, Decomposed, Hangnail, The Earls Of Mars) has sought the darker side of his musical taste, channeling heavy blues in a new group called NOISEPICKER. Armstrong had been germinating twenty minutes of material when he recruited Kieran Murphy on drums, who was working in a bar, washing dishes to the soundtrack of Orange Goblin and Muddy Waters just stumbling distance from where NOISEPICKER's sound was being conceived. Armed with a trusty Fender Stratocaster, a single loop pedal and a pile of patched together old equipment, NOISEPICKER performed a handful of gigs in small pubs, clubs and art galleries, and within two months the pair captured their sound in South London's Crows Nest studio, which resulted in the doom/punk/blues EP.
https://noisepicker.bandcamp.com
https://www.facebook.com/noisepickernoisepicker
http://www.mainstreamrecords.de