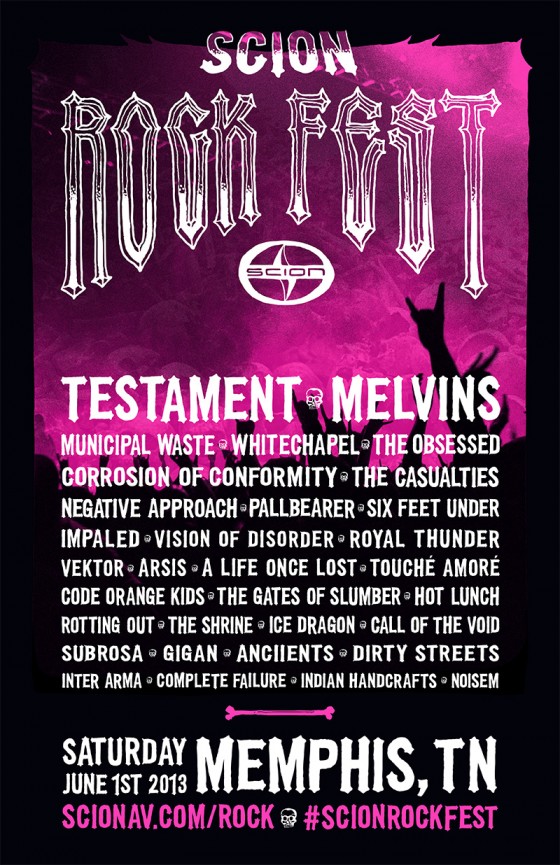 The searing blitz of Agony Defined, the debut LP from Baltimore-based thrash division NOISEM — formerly known as Necropsy — is set for release on Tuesday, June 11th via A389 Recordings. The riot-inducing whiplash of the album boasts high-octane death/thrash, unloading nine tracks in under twenty-six minutes, every track surging with face-melting divebomb solos and rabid, jackhammering percussion.
Another new track from Agony Defined today sees release via an exclusive stream of "Mortuary" at Cvlt Nation. Happy Friday. Crank it up, right now, RIGHT HERE.
NOISEM also previously released the album's title track via NPR's All Things Considered HERE as well as Voices In The Morgue" and "Severed" at the A389 Bandcamp.
Following their malicious set at Maryland Deathfest a week ago, tomorrow — Saturday, June 1st — NOISEM will pummel the Scion Rock Fest in Memphis, Tennessee alongside the Melvins, Testament, Vision of Disorder, Corrosion of Conformity, Municipal Waste, The Casualties, Impaled, A Life Once Lost, Code Orange Kids and tons more. Additional tours are in the planning stages and will be announced in the near future.
NOISEM Live:
6/01/2013 Scion Rock Fest – Memphis, TN [info]
"So many bands fail at sufficiently projecting the same kind of attitude that rained blood all those years ago, often coming off as silly or satirical or outdated. But the album bares its teeth from the beginning and doesn't fuck around, never wasting time with superfluous solo wankery or pointless acoustic departures. 8/10" – Decibel Magazine
"Fast, pissed off riffage, stunning solos and bombarding blast beats flirt with one another to create one of the meanest albums of the year. From beginning to end, this album is a full-on force of thrashing godliness. There isn't a single dull moment… 10/10" – American Aftermath
"Fresh produce is better than soggy lettuce, and like their aging forebearers once did, Noisem harness their youthful grasp with expertise." – New Noise Magazine
"Noisem rips through these nine tracks and aims to fuck you up…Noisem may have stepped up the death metal game with Agony Defined." – Cvlt Nation
https://www.facebook.com/pages/Noisem/100512316809410?ref=ts&fref=ts
http://www.a389records.com
https://www.facebook.com/a389recordings
https://twitter.com/a389recordings