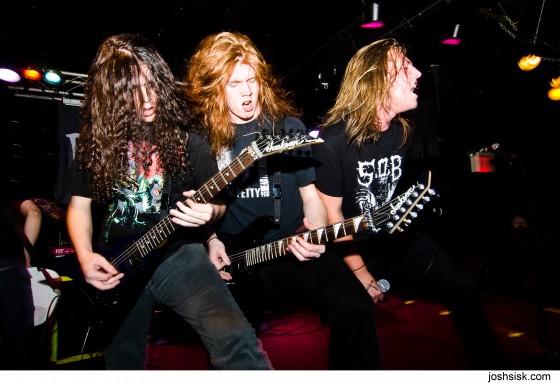 The searing, malicious blitz of Agony Defined, the debut LP from Baltimore-based thrash division NOISEM — formerly known as Necropsy — is set to break loose on June 11th via A389 Recordings. The riot-inducing whiplash of the album boasts high-octane death/thrash with a filthy and crispy delivery, unloading nine tracks in under twenty-six minutes, every attack surging with massive divebomb guitar solos and punishing beats.
Massive independent media portal NPR, National Public Radio, has offered to bring a new NOISEM track to the masses, and today the rasping, bludgeoning title and closing track to Agony Defined has been featured as the "Viking's Choice" in this week's All Things Considered podcast. "Agony Defined" charges out of the gate with a crushing stomp, then comes blazing alive with the incredible face-melting solos and rabid, jackhammering riff and percussion this young act teems with.
Unleash "Agony Defined" via NPR's All Things Considered RIGHT HERE.
Also fire up the album's opening rager "Voices In The Morgue" and sixth track "Severed" at the A389 Bandcamp.
A389 will release NOISEM's Agony Defined on CD, LP and digital download on June 11th; fans of Audiopain, Havok, Toxic Holocaust and the originators/masters of the style will not be disappointed, and all nonbelievers will be extinguished.
Coinciding with the album's release, NOISEM has been confirmed to annihilate the masses of extreme music fans invading their turf for Maryland Deathfest 2013, set to storm the stage opening night, Thursday, May 23rd alongside Abigail, Bolt Thrower, Cobalt and more. The band has also been confirmed to take part in the upcoming installment of the Scion Rock Fest in Memphis, Tennessee on June 1st with the Melvins, Testament, Vision of Disorder, Corrosion of Conformity, Municipal Waste, The Casualties, Impaled, A Life Once Lost and tons more. Additional tour news will be announced in the coming weeks.
NOISEM Live Actions:
5/23/2013 Maryland Deathfest – Baltimore, MD [info]
6/01/2013 Scion Rock Fest – Memphis, TN [info]
https://www.facebook.com/pages/Noisem/100512316809410?ref=ts&fref=ts
http://www.a389records.com
https://www.facebook.com/a389recordings
https://twitter.com/a389recordings