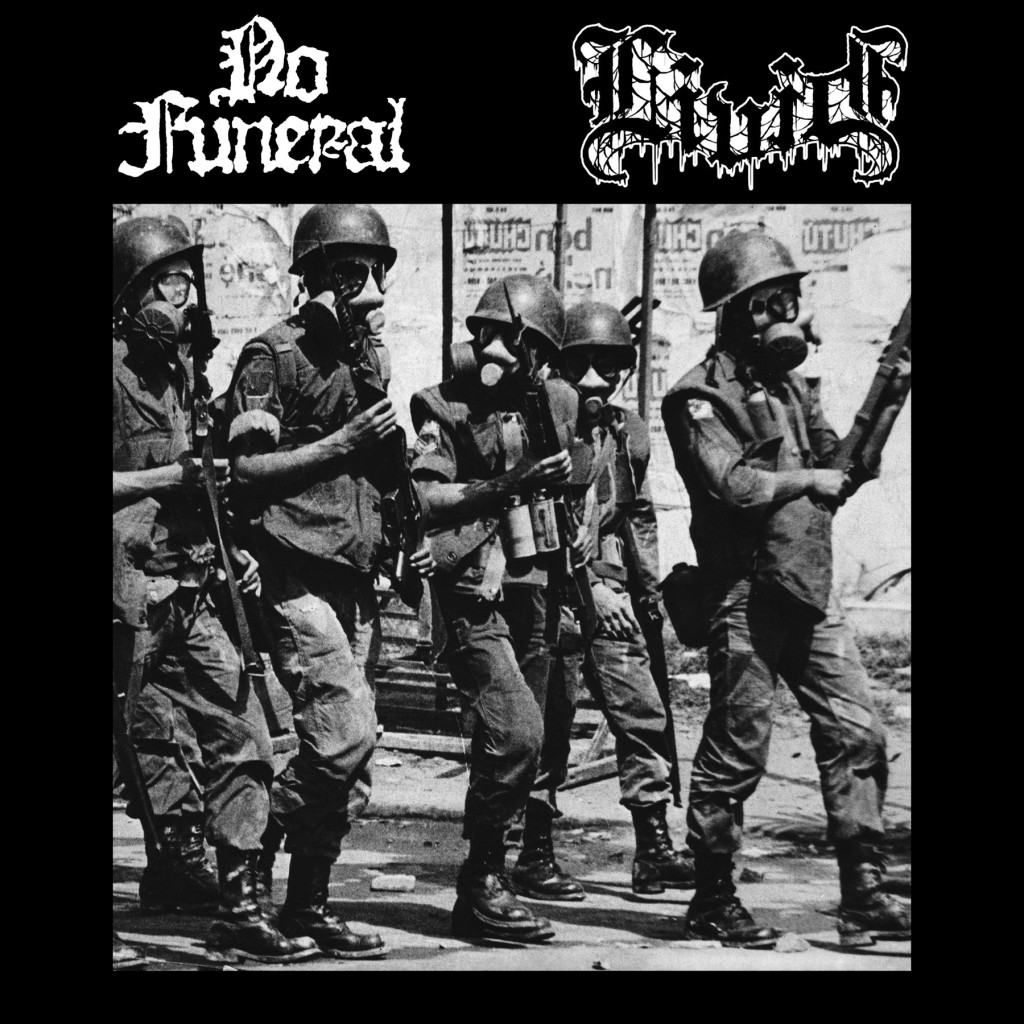 Minneapolis, Minnesota-based DIY sludge/doom/crust label, Live Fast Die Recordings, will unleash a demoralizing split release between two of The Twin Cities' finest doom/sludge exports: NO FUNERAL and LIVID.
Forged in 2011, NO FUNERAL — featuring former members of Sourvein and Ashen — plays bleak sludge in the vein of Grief, Dystopia, and Buzzov*en, with influences ranging from crust and sludge to death metal. The band's suffocating output stems from a range of deep personal struggles to complete misanthropy. Hate, misery, and the sheer disdain for the day-to-day activities have molded NO FUNERAL's songs into a soundtrack for loathsome scum.
LIVID was formed is 2014 and recently joined forces with Prosthetic Records for the release of their Beneath This Shroud, The Earth Erodes debut full-length. The band's punishing sound is soaked in palpable desolation and despair, spanning delicately-orchestrated drones to pummeling doom.
Together the two manifest a three-song EP that's at once stark and demoralizing. Cadaver Garden hails a release that's, "monolithic," and "heavy," Games, Brrraaains, And A Head-Banging Life crowns the split, "a must by for all metal fans," adding, "this split album is only three songs long but each song is a mammoth undertaking requiring time to absorb. Give it time because you'll get way more out of it then you might on the first listen." Two Guys Metal Reviews champions a, "simple monstrosity, something that you can get lost in and which reminds us time and time again of the burning power that this kind of music can have over our hearts and our minds." Elaborates Cvlt Nation, "NO FUNERAL is one of the most slept on sludge/doom bands doing it right now… I love the way that they are able to take the blues and inject that motherfucker with the right amount of hate and morbid melody… LIVID takes a different approach to the way they draw the listener into their expansive universe of sound. Their 18-minute tune is a cosmic journey where black waterfalls of melody crash over giant emotional rocks of despair. The soaring vocals that you will encounter on this track act as a beacon of light that can guide your mind towards a new path of self-expression!"
The split is set for release on August 15th digitally and vinyl limited to 500 hand-numbered copies worldwide.
For preorders, visit the Live Fast Die Recordings' Bandcamp page HERE where you can stream the split in its entirety.
NO FUNERAL and LIVID will be embarking on an East Coast tour this fall. Stand by for confirmed dates
NO FUNERAL/LIVID Split EP Track Listing:
NO FUNERAL – Infection
NO FUNERAL – Disease Brought By Depression
LIVID – False Hope
http://www.livefastdierecs.bandcamp.com
http://www.facebook.com/nofuneralmpls
http://www.facebook.com/lividirate