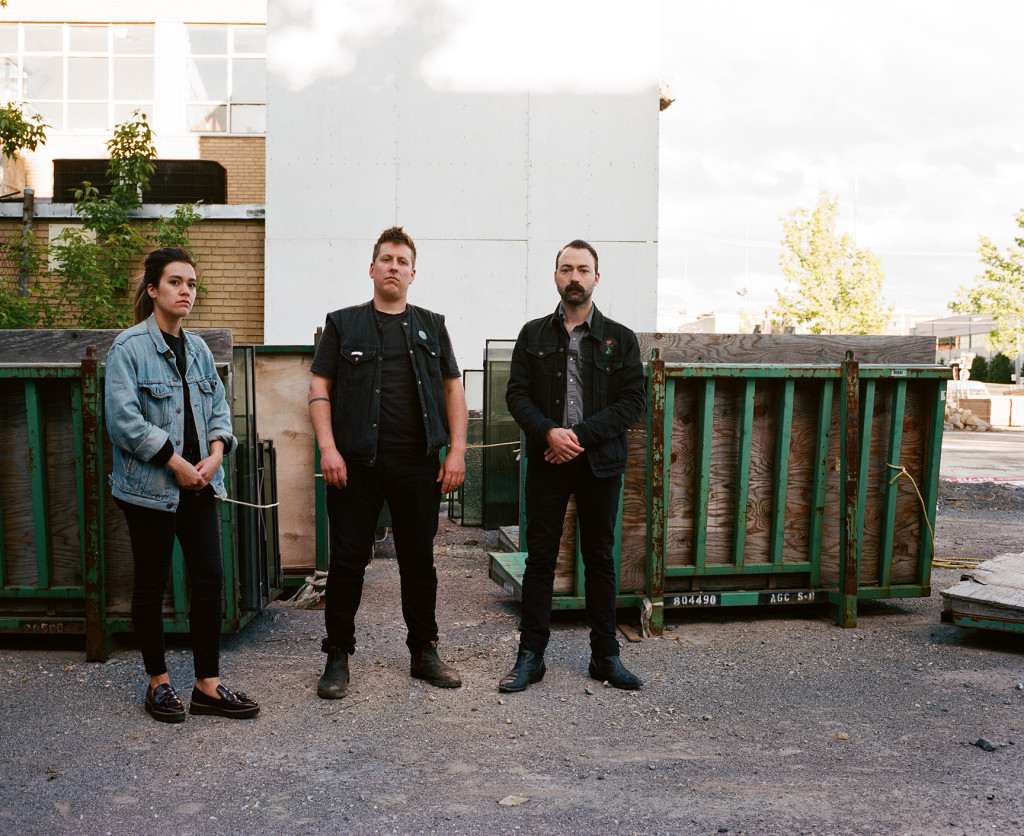 [photo by Pascha Marrow]
Montreal three-piece BIG|BRAVE shares an official video for "Sound," a new track from their forthcoming third album, Ardor, due out September 15th via Southern Lord. The video, which features vocalist/guitarist Robin Wattie and was created by guitarist Mathieu Ball, is a powerful demonstration in the art of balancing silence and noise.
See BIG|BRAVE's "Sound" video at NPR at THIS LOCATION.
"Sound" captures the soul baring emotion that saturates the band's vast, abstract, and often hypnotic resonances, and like the trailer for the album, it speaks volumes regarding what's to come in BIG|BRAVE's next endeavor; swirling static, booming guitars, powerful drums – all the hallmarks that have made them one of experimental rock's most exciting acts today. With just three songs that clock in for a forty-minute-long LP, BIG|BRAVE has adopted a nearly unbearable level of urgency and intensity that weaves throughout Ardor.
As with their previous release, Au De La, the new Ardor album was recorded a the Hotel2Tango, this time by Radwan Ghazi Moumneh (of Jerusalem In My Heart). Jessica Moss (Thee Silver Mt Zion Memorial Orchestra), who was a special guest on Au De La, played violin on all the three new tracks, and Thierry Amar (Godspeed You! Black Emperor) played contrabass on two of the tracks.
Since their inception in 2012, BIG|BRAVE have demonstrated the fluidity of experimental rock and put everything into their music, until there's nothing left to give. Their particular art in musical refinement expands ever gradually, unfurling into a very heavy, strong, and elevating force. As comfortable as they are with tidal waves of sound, BIG|BRAVE is unafraid to experiment with silence, oscillating between sparse, gentle arrangements and deep swells of noise.
Look for Ardor to be released on September 15th via Southern Lord. Watch for more news to be released in the weeks ahead.
"Montreal's genre-defying post-rock combo BIG|BRAVE could very well be the most noteworthy recent heavy curiosity to come out of the city in recent years." – Noisey
"…combines elements of Björk, Neurosis, The White Stripes, and Sunn O))) into a cohesive whole; but this whole is an ever evolving and challenging sonic mass. – The Quietus
http://www.bigbrave.ca
http://www.bigbrave.bandcamp.com
http://www.facebook.com/bigbravemusic
http://www.southernlord.com
http://www.southernlord.bandcamp.com
http://www.facebook.com/SLadmin
http://www.twitter.com/twatterlord