Decibel Magazine is currently streaming From The Wound Spilled Forth Fire, the latest full-length studio offering from Baltimore, Maryland black metal group, NIXIL. The premiere comes in advance of the record's official release via Prosthetic Records this Friday, August 25th. NIXIL's second full-length treads a spiritual path toward liberation through abyssal exploration, from the microcosmic to the macrocosmic.
Speaking on the album premiere, NIXIL comments: "From The Wound Spilled Forth Fire is a documentation of spiritual and temporal ascension through the alchemical engagement with adversity. It is a labor of fury and love, harrowing in the quest for catharsis. We hope it evokes the same transformative journey for you to experience it as it did for us to create it."
Adds Decibel, "The chaotic, heavy and challenging new album is both psychedelic and crushing, weaving a hypnotic web that mirrors the art on the cover. From the Wound Spilled Fourth Fire is furious and transcendental, but still with plenty of dynamic, classic riffing."
Stream NIXIL's From The Wound Spilled Forth Fire, exclusively at Decibel Magazine HERE.
Watch NIXIL's previously released video for "Abyss Unto Abyss" HERE, "In Thrall" HERE, and "Collapsing The Poles" HERE.
From The Wound Spilled Forth Fire will be released on CD, LP, and digitally. .For preorders, visit THIS LOCATION.
NIXIL will embark on an eight-date Eastern US tour this Fall in support of From The Wound Spilled Forth Fire. See confirmed dates below.
NIXIL Live:
9/29/2023 Westside Bowl – Youngstown, OH
9/30/2023 Kung Fu Necktie – Philadelphia, PA
10/1/2023 Ralph's Rock Diner – Worcester, MA
10/2/2023 Cherry Street Station – Wallingford, CT
10/3/2023 Windsor Exchange – Windsor, VT
10/4/2023 Geno's Rock Club – Portland, ME
10/5/2023 Dusk – Providence, RI
10/6/2023 El Bunker del Diablo – New York City, NY
Having made their presence known with their 2021 debut, All Knots Untied, NIXIL has steadily garnered a loyal following through live appearances across the United States sharing stages alongside Hulder, Evoken, Molder, Yatra, and an appearance at Maryland Deathfest 2022 along the way. Time spent on the road served to sharpen their collective musicianship and fully realize NIXIL's desire for collaborative unity and authenticity within the group ahead of From The Wound Spilled Forth Fire's creation.
NIXIL's scorched earth approach to black metal's sonic extremities offer a radical alternative to secular approaches to, and readings of, their craft. Where All Knots Untied was an introductory affair for the quintet, 2023 sees the band further expand upon concepts of chaos Gnosticism, ego-death, self-empowerment, and freedom.
After solidifying their lineup in its current form, with the arrival of guitarist/backing vocalist Alden, NIXIL opted to record From The Wound Spilled Forth Fire live at Magpie Cage Recording Studio with J. Robbins. The resulting six songs seethe with a frenzied despair, whilst more ominous passages breathe with a disquieting existential terror in every percussive and rhythmically meditative trance, exactly as the band intended to capture before handing mastering duties to James Plotkin.
NIXIL's latest offering is more than invocation and manifestation alone, From The Wound Spilled Forth Fire is an invitation for those shackled by earth and flesh to dispel from regressive human made traditions and misplaced guilt and shatter the illusion of a self.
NIXIL:
C. – vocals
Key – drums
Aurora – bass, backing vocals
Alden – guitar, backing vocals
Shane – guitar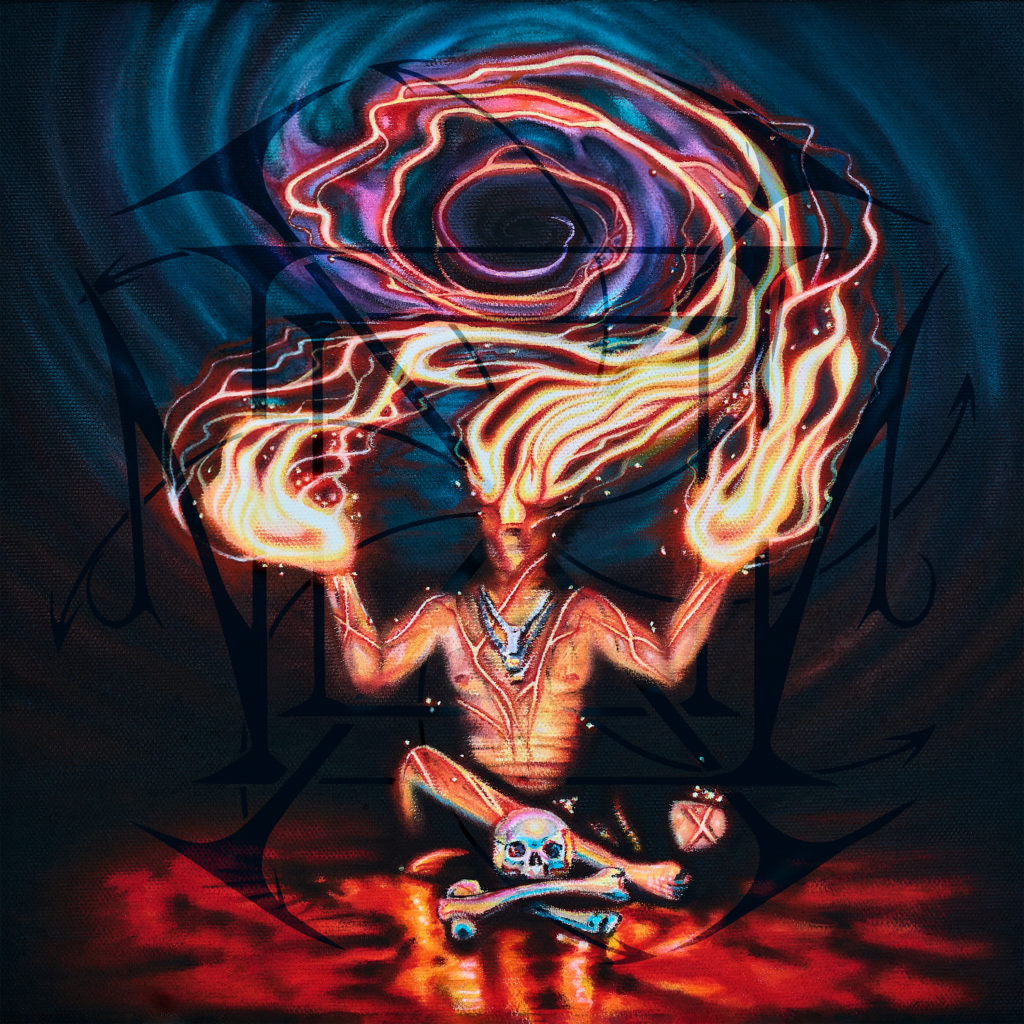 http://www.nixilnothing.com
http://www.facebook.com/nixilnothing
http://www.instagram.com/nixilnothing
http://www.twitter.com/nixilnothing
http://www.prostheticrecords.com
http://www.facebook.com/prostheticrecords
http://twitter.com/ProstheticRcds
http://www.instagram.com/prostheticrecords