Next week, Bay Area-based composer NICK VASALLO will release his second metal/classical hybrid solo album, Apophany, through Neuma Records. Today, a jaw-dropping video performance of "Black Swan Events" is now playing.
Ten years in the making, Apophany showcases VASALLO – "The Father Of Deathcore," from notable technical death metal/deathcore outfits Antagony, Oblivion, and more – as a composer, with epic performances from a variety of university orchestras and new music ensembles, including Red Shift, Wild Rumpus, The Living Earth Show, and others. Apophany is as gritty as it is satisfying. This is music for the metaverse, bedroom headphones, and giant auditoriums, but maybe not the parlor.
Apophany was composed, produced, recorded, edited, mixed, by NICK VASALLO, and mastered by Zack Miley, Zack Ohren, and VASALLO except for the closing track, "Black Swan Events," which was mastered by Erdem Helvacıoğlu. The album is completed with cover artwork by Claudatte Snyder, photography by Denise Vasallo, and design by Philip Blackburn.
"Black Swan Events" is performed by the CSU East Bay Orchestra with soloist Victor Dods. Leading with a scorching electric guitar cadenza by Victor Dods, the orchestra then erupts, with drums by Luis Martinez, flute by Toni Chimienti, oboe by Paul Perazzo, clarinets by Philip Halseth and Beth Ratay, bassoon by Robert Alfaro, horn by Amberle Mitchell, trumpet by Todd Minson, bass trombone by Israel Santiago, percussion by Taylor Rankin, violin and viola from Otis Harriel and Nicholas Morales, cello by Douglas Machiz and Austin Graham, upright bass by Aaron Shaul, with conductor David Waugh. The video was directed by Brandon Hunt and Taylor Rankin, filmed live at The Crowden Music Center in Berkeley, California, and edited by Brandon Hunt.
Loosely self-describing the movement as ""Bach, Eddie Van Halen, and Stravinsky hang out at a local thrash metal show," NICK VASALLO writes, "Nassim Nicholas Taleb's concept of the 'black swan' inspired me to structure the entire work around this central idea; a 'black swan event' is a surprise to the observer, has a major impact, and is rationalized in hindsight – as if it could have been expected. One of my primary goals with 'Black Swan Events' was to create an environment where two worlds collide and become one. I wanted to treat the appearance of metal as a surprising event that has a major impact upon the structure of the work. By the end of the song, the world of 'metal' – represented by the electric guitar and drums –becomes so prevalent and enmeshed within the orchestra that its initial arrival, in hindsight, no longer seems surprising. The relationship between these two worlds – metal and western art music – transforms from instability to resolution and synthesis."
Watch the stunning "Black Swan Events" video now at THIS LOCATION.
Neuma Records will release Apophany on CD and through all digital providers next Friday, March 18th. Find preorders at Bandcamp HERE.
If you were to connect seemingly unrelated things – heavy metal and the symphony orchestra, for example – you might be guilty of apophenia. That friction between opposites has never been a problem for NICK VASALLO, though – his music is equally at home in both worlds. Melding Xenakis, Varese, extreme metal, and dark ambient with gothic charm, VASALLO conjures up a muscular sonic battle that leads you on an inexorable musical journey to a conclusion where surrender is your best option.
Ten years in the making, catharsis comes as a relief in his new album, Apophany, the follow-up to his 2012-released Monuments Emerge. The new album presents nearly eighty minutes of varied orchestral and chamber works seared to the bone with a metal edge. It strikes with precision (VASALLO is a certified martial artist, after all) and uses a refined timbral palette with filmic orchestral mastery to powerful effect.
The programmatic themes in VASALLO's titles combine sources of ancient wisdom with contemporary spiritualism. "The Eternal Return" refers to Nietzsche's challenge to imagine that every action one makes will repeat for all eternity. This track leads to "The Moment Before Death Stretches On Forever, Like An Ocean Of Time" – a reference to the 1999 movie American Beauty; the monologue that closes with, "…and I can't feel anything but gratitude for every single moment of my stupid little life."
VASALLO delves, "Imagine five separate forces from different origins converging at the same time. It is a balance between synergy and anarchy. Each performer has a specific set of written instructions. They aren't playing music in reaction to each other but performing individual interpretations of a narrative I have laid out."
Bay Area native NICK VASALLO picked up the electric guitar while in high school and formed Antagony, later credited as birthing a popular subgenre of metal music called "deathcore." A graduate of California State University, East Bay, VASALLO completed his doctorate at the University of California at Santa Cruz. Honors include the American Prize, International Music Prize for Excellence in Composition, and the San Francisco Choral Artists New Voices award.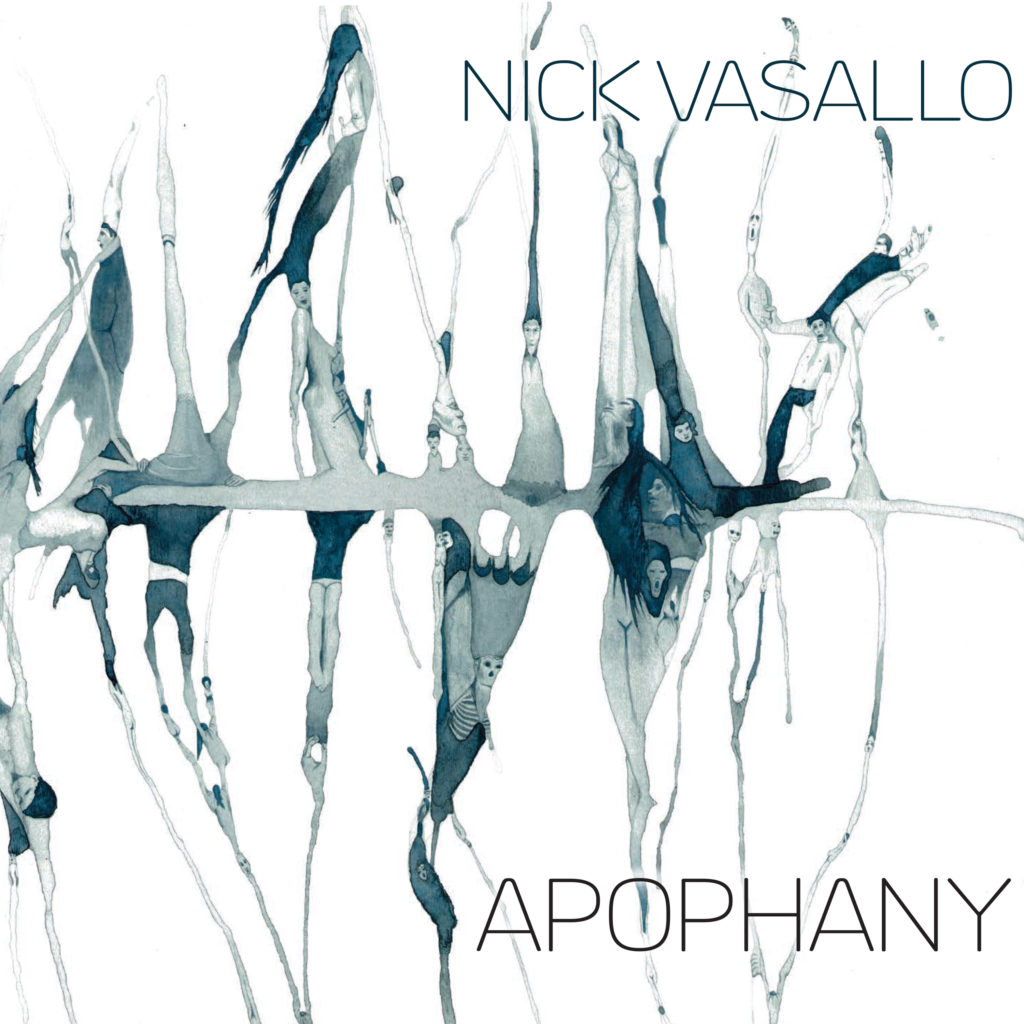 http://nickvasallo.com
https://nickvasallo.bandcamp.com
https://twitter.com/nickvasallo
https://www.facebook.com/nickvasallomusic
https://neumarecords.org
https://neumarecords.bandcamp.com
https://www.facebook.com/TheOriginalNeuma
https://twitter.com/RecordsNeuma
https://www.instagram.com/neumarecords