The following titles will be unleashed under the Candlelight USA Cult Series imprint January 8th, 2013…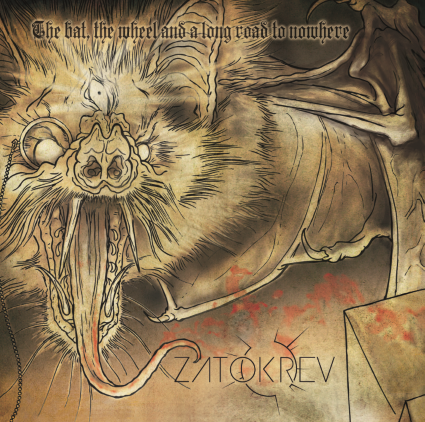 ZATOKREV | The Bat The Wheel And The Long Road To Nowhere
The Bat The Wheel And The Long Road To Nowhere is the third full-length from Swiss death/doom conjurors ZATOKREV. Their self-dubbed "sludge-apocalypse" takes you on an transcendental musical journey that clocks in over an hour in length and features lyrics sung in English, Czech, and Slovak. Metal Review says the album, "oozes confidence. This is a band that can reach the upper echelons," while The New Review notes: "ZATOKREV skillfully play on emotion to deliver their mournful message. It's a seriously heavy, seriously depressing doom-fest."
Check out the video for "Goddamn Lights" here:

The Bat The Wheel And The Long Road To Nowhere Track Listing:
1. Goddamn Lights
2. 9
3. Rodeo With Snakes
4. Medium
5. The Wheel
6. Feel The Fire pt.1
7. Feel The Fire pt.2
8. The Bat
9. Angels Of Cross
NINE COVENS | On The Dawning Of Light
On The Dawning Of Light is the second album from rising London-based underground black metal band NINE COVENS and their first with proper distribution in North America. NINE COVENS came together to explore the darker, more brooding aspects of black metal and in doing so have created a virulent, belligerent and passionate account of the weakness that exists in humanity. NINE COVENS offer a sonic confrontation to the eternally weak and all who follow without question to reflect on themselves and consider an alternative. Named after noted English witch/magician George Pickingill, NINE COVENS shroud their identities to focus on the music.
On The Dawning Of Light Track Listing:
1. Origin Of Light
2. As Fire Consumes
3. At The Ocean's Strand
4. The Mist Of Death
5. The Fog Of Deceit
6. To Quench A Raging
7. White Star Acception
8. Over The Ocean's Way
9. A Burning Ember
KONTINUUM | Earth Blood Magic
Iceland-based KONTINUUM present their unique blend of structured occult ambient noise via debut Earth Blood Magic. North American metal fans finally get to hear what Terrorizer calls "epic, progressive black doominess." Formed in 2010 by vocalist/guitarist Birgir Thorgeirsson with the aim to make hypnotic and spiritual musical noise, the quintet are already finding the curiosity of media stateside. This is Not A Scene calls Earth Blood Magic, "an album which shows a lot of unique qualities and character… an unexpectedly great and sombre effort."
Earth Blood Magic Track Listing:
1. Endgame
2. Steinrunninn Skogur
3. Moonshine
4. Stranger Air
5. Lightbearer
6. City
7. Lys Milda Ljos
8. Red
http://www.zatokrev.com
http://www.ninecovens.com
http://www.facebook.com/kontinuumice
http://www.candlelightrecordsusa.com