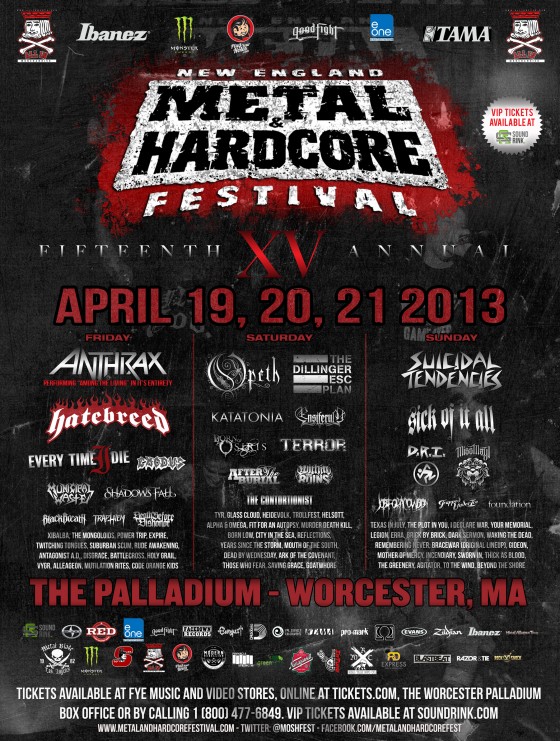 The fifteenth edition of the THE NEW ENGLAND METAL & HARDCORE FESTIVAL begins TONIGHT at the massive Palladium in Worcester, Massachusetts, and running through Sunday, April 21st, will bring almost ninety bands to the town.
NEMHF XV begins with the kickoff party on the side stage of the venue, tonight with Revocation, The Acacia Strain, A Life Once Lost, Fit For An Autopsy, The Greenery, To The Wind, Abiotic, Nightbitch and Surrounded By Teeth.
Today, MassConcerts also announces three public signing events for the weekend, with Jamey Jasta from Hatebreed at 5:30 on Friday, the members of Terror at 2:00pm Saturday, and the members of Suicidal Tendencies on Sunday at 5:00pm.
Set times for the three full days of the fest have been posted on the official website; those in attendance can stay up to date with all of the bands playing AT THIS LOCATION.
Since 1999, the NEW ENGLAND METAL & HARDCORE FESTIVAL has showcased a vast array of metal and hardcore acts, while also providing merchandising and promotional areas for record labels and other vendors, at Worcester, Massachusetts' massive venue The Palladium. This special 15th installment of the annual event merges multiple national tours including Paganfest, Metal Alliance, and the promoters' own Road To Metalfest and Mission Quest To Metalfest tours. Overall, including the pre-party show, the NEMHF XV lineup boasts nearly ninety bands, some of the main acts including Hatebreed, Opeth, Suicidal Tendencies, The Dillinger Escape Plan, Exodus, Ensiferum, Katatonia, Terror, Sick of It All, D.R.I., Shadows Fall, Black Breath as well as thrash legends Anthrax, performing their classic Among The Living full-length in its entirety.
Updates on the NEW ENGLAND METAL & HARDCORE FESTIVAL XV are being brought to you in full force by Earsplit PR, an official sponsor of this year's event.
KICKOFF PARTY, TONIGHT [6PM DOORS]:
REVOCATION, THE ACACIA STRAIN, A LIFE ONCE LOST, FIT FOR AN AUTOPSY, THE GREENERY, TO THE WIND, ABIOTIC, NIGHTBITCH, SURROUNDED BY TEETH
FRIDAY 4/19
SECOND STAGE:
DISGRACE, ANTAGONIST A.D., RUDE AWAKENING, SUBURBAN SCUM, TWITCHING TONGUES, CODE ORANGE KIDS, EXPIRE, POWER TRIP, THE MONGOLOIDS, XIBALBA, DEATH BEFORE DISHONOR, TRAP THEM
MAIN STAGE:
LIGHTSBANE, SCALPEL, MUTILATION RITES, ALLEGAEON, VYGR, HOLY GRAIL, BLACK BREATH, SHADOWS FALL, MUNICIPAL WASTE, EXODUS, EVERY TIME I DIE, HATEBREED, ANTHRAX
SATURDAY 4/20
SECOND STAGE:
SAVING GRACE, THOSE WHO FEAR, ARK OF THE COVENANT, DEAD BY WEDNESDAY, MOUTH OF THE SOUTH, EAST BEAST, CITY IN THE SEA, YEARS SINCE THE STORM, REFLECTIONS, BATTLECROSS, GOATWHORE, MURDER DEATH KILL, BORN LOW, ALPHA & OMEGA, TERROR
MAIN STAGE:
TOTALITY, HELLSOT, TROLLFEST, HEIDEVOLK, FIT FOR AN AUTOPSY, GLASS CLOUD, TYR, THE CONTORTIONIST, WITHIN THE RUINS, AFTER THE BURIAL, BORN OF OSIRIS, ENSIFERUM, KATATONIA, THE DILLINGER ESCAPE PLAN, OPETH
SUNDAY 4/21
SECOND STAGE:
TO THE WIND, AGITATOR, BRICK BY BRICK, THE GREENERY, WARHOUND, TURNSTILE, THICK AS BLOOD, SWORN IN, INCENDIARY, GIDEON, BRACEWAR, REMEMBERING NEVER, TRAPPED UNDER ICE
MAIN STAGE:
WELCOME THE TIDE, SYLAR, DARK SERMON, BEYOND THE SHORE, WAKING THE DEAD, FIT FOR A KING, ERRA, LEGION, I DECLARE WAR, THE PLOT IN YOU, TEXAS IN JULY, JOB FOR A COWBOY, MISS MAY I, D.R.I., SICK OF IT ALL, SUICIDAL TENDENCIES
Ticket Prices/Packages:
Weekend Pass For All 3 Days – $90 [BUY HERE]
Thursday, April 18th – Kick Off Party – $12 In Advance/$15 Day-Of [BUY HERE]
Friday, April 19th: $35 In Advance/$40 Day-Of [BUY HERE]
Saturday, April 20th: $40 In Advance/$45 Day-Of [BUY HERE]
Sunday, April 21st: $35 In Advance/$40 Day-Of [BUY HERE]
VIP Three-Day Package – $165: Includes one three-day NEMHHF Pass, entry to Thursday's pre-party, an NEMHF T-shirt, 18 x 24 NEMHF poster, NEMHF sampler CD, exclusive meet and greets with artists all weekend, early entry each day, NEHMF guitar picks, NEHMF button pack, raffles for exclusive gear, NEMHF beer koozie, NEMHF + Shock Clothing key chain, free Monster energy drink at the signing tent. [BUY HERE]
VIP One-Day Pass – $80: Includes one NEMHF day pass for Friday, Saturday or Sunday, an NEMHF T-shirt, 18 x 24 NEMHF poster, NEMHF sampler CD, exclusive meet and greets with artists all weekend, NEHMF guitar picks, NEMHF beer koozie, NEMHF + Shock Clothing key chain, free Monster energy drink at the signing tent. [BUY HERE]
http://metalandhardcorefestival.com
https://www.facebook.com/metalandhardcorefest
https://twitter.com/moshfest
http://www.massconcerts.com
http://www.soundrink.com
http://shookclothing.com/2011
http://www.plugyourholes.com
http://thepalladium.net
http://rockandshock.com
http://www.allinmerch.com
http://www.monsterenergy.com