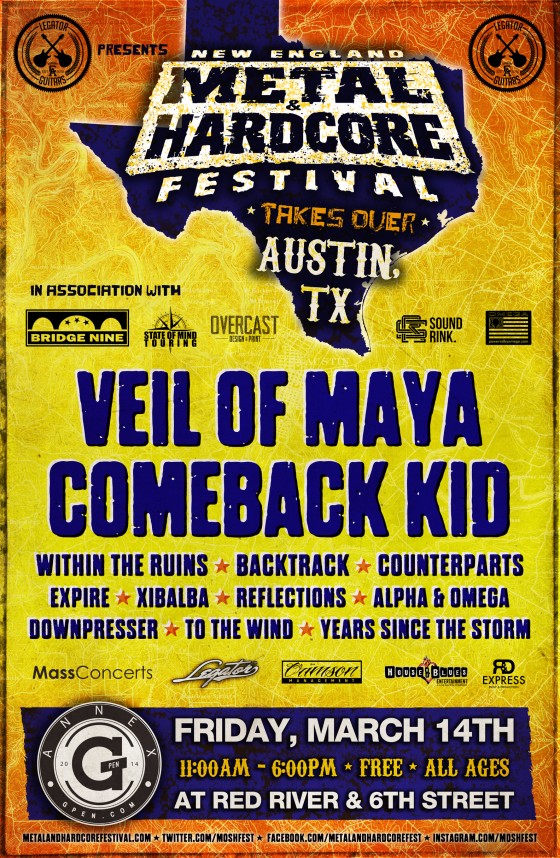 In addition to the sixteenth installment of their massive annual gala in Massachusetts this April, the promoters of the NEW ENGLAND METAL & HARDCORE FESTIVAL today declare their plans of taking over this year's SXSW at the other end of the country with a massive public showcase.
Now locked for Friday, March 14th, the seven-hour NEW ENGLAND METAL & HARDCORE FESTIVAL Takes Over Austin, TX will run from 11am until 6pm at the G Pen Annex at 6th Street and Red River, will be fully open to the public, and will be a free, all-ages event. The lineup includes a wide range of contemporary hardcore and metal acts including headliners Veil Of Maya and Comeback Kid, in addition to Within The Ruins, Backtrack, Counterparts, Expire, Xibalba, Reflections, Alpha & Omega, Downpresser, To The Wind and Years Since The Storm. "We are very proud of this lineup," stated MassConcerts head promoter, Scott Lee. "It is defiantly a taste of what NEMHF is all about."
All of the bands set to storm Austin for the NEMHF showcase will also be touring out across the country to perform at the this year's NEW ENGLAND METAL & HARDCORE FESTIVAL taking place on April 17th, 18th, and 19th at the iconic Worcester Palladium. Featuring two stages, the legendary event, now in its sixteenth year, continues to drive dozens of bands and thousands of fans to Worcester, Massachusetts every year. The 2014 fest merges multiple national tours including Metal Alliance, The Best In Brutality and Mission Quest To Metalfest and features the mammoth running lineup of nearly seventy bands already confirmed, including 1349, All Out War, All That Remains, Alpha & Omega, Barrier, Battlecross, Behemoth, Bent Life, Black Crown Initiate, Bleeding Through, Born Low, Broken Hope, Carnifex, Colin Of Arabia, Cop Problem, Counterparts, Cruel Hand, Discourse, Emmure, Enabler, Erra, Fallujah, Fire and Ice, Fit For An Autopsy, Gideon, Gift Giver, Goatwhore, Harm's Way, I Declare War, Iced Earth, InDirections, Inquistion, Julius Seizure, Kadavar, King Nine, Kublai Khan, Lionheart, Loyal To The Grave, Malfunction, Nails, Naysayer, Nile, Obey The Brave, Oceano, Ramallah, Reflections, Reign Supreme, Revamp, Rivers of Nihil, Sabaton, Sam Black Church, Scars of Tomorrow, Slapshot, Suburban Scum, Sylar, Texas In July, The Acacia Strain, The Last Ten Seconds of Life, The Mongoloids, Those Who Fear, Thy Art Is Murder, Twitching Tongues, Unearth, Warhound, Whitechapel, Will To Die, Within The Ruins, Years Since The Storm, with more still to be announced.
Tickets for the NEW ENGLAND METAL & HARDCORE FESTIVAL are on sale now; VIP packages HERE, 3-Day passes HERE, and passes for Thursday HERE, Friday HERE and Saturday HERE.
For on-site coverage of NEMHF or pre-fest interviews with its founding promoters, contact Earsplit PR, an official sponsor of the event.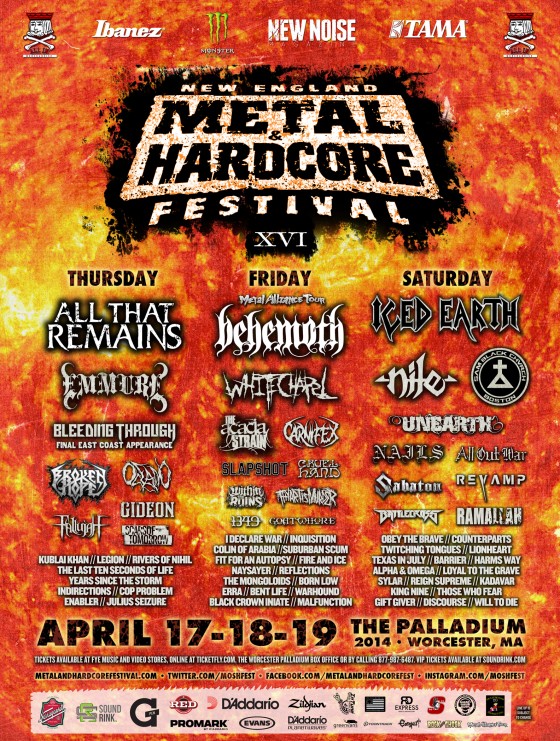 http://www.facebook.com/metalandhardcorefest
http://metalandhardcorefestival.com
http://twitter.com/moshfest
http://www.massconcerts.com
https://www.earsplitcompound.com
http://www.youtube.com/user/massconcerts