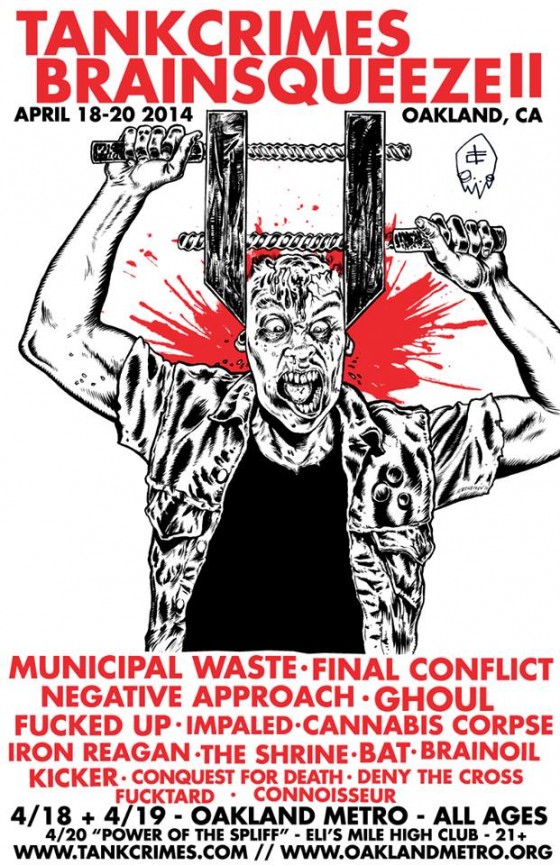 In celebration of the long-awaited second edition of Brainsqueeze Fest, the enablers at Oakland-based Tankcrimes Records, in cooperation with Decibel Magazine, offer up a maniacally side-splitting new teaser video.
Elaborates fest founder/Tankcrimes big cheese Scotty Heath, "The reason it took me four years to have a second Brainsqueeze is because we didn't have a new and better idea for a second commercial, the first one was a fucking phenomenon. Then this great idea came along so I booked the gig. Created by the same team as before of Ross Sewage and Mark Reategui who actually work completely separate from each other. They fucking nailed it."
Chuckle yourself into an aneurysm with the three-minute bout of cinematic genius, now playing courtesy of Decibel Magazine, at THIS LOCATION.
Set to commence April 18th and 19th at the Oakland Metro and April 20th at Eli's Mile High Club, which will include BBQ and an Andrei Bouzikov art show, the gargantuan Brainsqueeze gala features more than a dozen face-raping acts including Municipal Waste, Final Conflict, Ghoul and Negative Approach.
Weekend super passes are on sale NOW and include a two-sided, duel color Brainsqueeze T-shirt and 22″ x 34″ two-color screen printed poster. Don't be a cheap ass. Nab your tickets now RIGHT HERE.
Friday – April 18, 2014
Oakland Metro – All Ages
Ghoul
Cannabis Corpse
Final Conflict
Iron Reagan
BAT
Fucktard
Saturday April 19, 2014
Oakland Metro – All Ages
Municipal Waste
Negative Approach
Fucked Up
Impaled
The Shrine
Kicker
Conquest for Death
Sunday – April 20, 2014
Eli's Mile High Club – 21+
Brainoil
Deny the Cross
Connoisseur
+ wild and unpredictable guests
BBQ + Andrei Bouzikov art showing
Individual ticket info as well as a commemorative, digital fest-only compilation featuring ravaging numbers from the entire lineup will be available via the Tankcrimes Bandcamp Page soon to be announced soon. Stay alert.
http://www.facebook.com/events/201756163348784
http://www.tankcrimes.com/aboo
http://www.facebook.com/Bouzikov