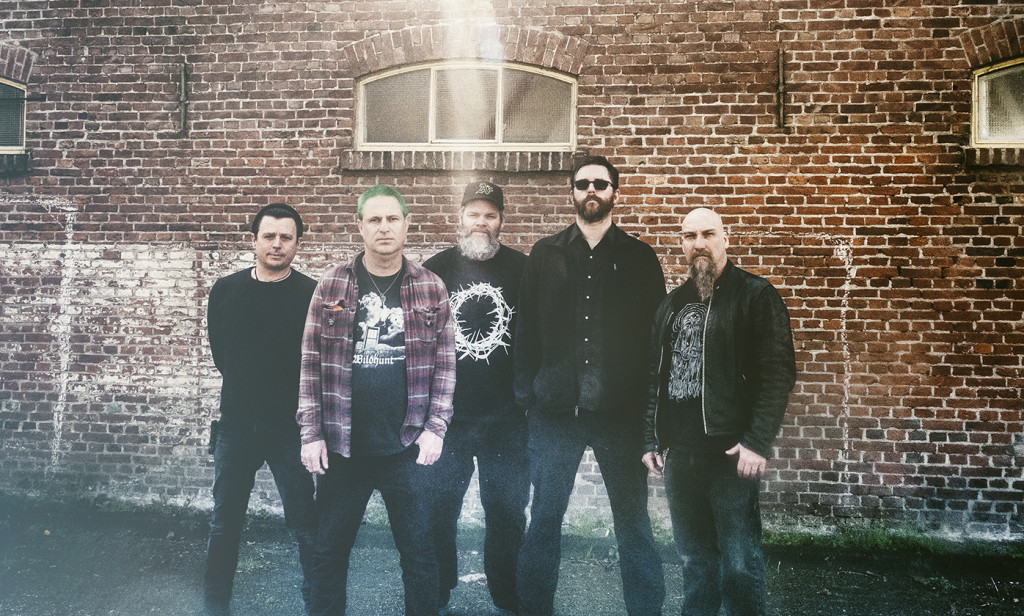 [photo by Stefaan Temmerman]
NEUROSIS continues to bring the monolithic tones of their recently-released Fires Within Fires LP to audiences, with a run of four West Coast North American live performances rapidly approaching next week.
Following recent shows in London with Earth, Discharge, and Subhumans, and two shows in Portland with labelmates Yob and Kowloon Walled City, NEUROSIS next week plays to fans in their Bay Area origin, with a show in San Francisco on December 17th, again with support from Yob, Kowloon Walled City. The next day, NEUROSIS headlines the multi-day The Power Of The Riff in Los Angeles, the fest also including sets from Wolves In The Throne Room, Incantation, Nails, Pelican, Kowloon Walled City, and more. December 19th sees the band in Seattle, and December 20th in Vancouver, with support from Yob and Sumac on both shows.
Rolling Stone – who today issued their 20 Best Metal Albums of 2016 list, which features NEUROSIS' Fires Within Fires in the #5 position — recently highlighted the new West Coast shows in an in-depth feature on the thirtieth anniversary of NEUROSIS and the new Fires Within Fires LP. A segment of the interrogation offers, "Outside of booking tours and scheduling press, the group has existed as a DIY operation for the better part of the last two decades, sort of like metal's equivalent to Fugazi or Black Flag. Everything about NEUROSIS, from their extended drum etudes to the Pink Floyd–like visuals they hauled on the road with them for years, has been about bowing to their own artistic whims. Their 11th and latest release, this year's Fires Within Fires, showcases the best aspects of the Neurosis experience: downtuned Sabbath-influenced riffs, pounding tribal drumming, fleeting moments of elegance and caustic vocals recounting personal apocalypses." Read the entire feature HERE.
NEUROSIS' first tour of 2017 sees them traversing the Pacific for a run through New Zealand and Australia. Running from February 14th through 18th, 2017 the band will play in Wellington, Auckland, Brisbane, Sydney, and Melbourne. Additional tour dates for the upcoming year will be announced in the weeks ahead.
NEUROSIS' acclaimed Fires Within Fires is available now on CD, LP, cassette, and all digital platforms through the band's own Neurot Recordings; see all bundles and options RIGHT HERE.
NEUROSIS Tour Dates:
12/17/2016 Regency Grand Ballroom – San Francisco, CA w/ Yob, Kowloon Walled City [tickets]
12/18/2016 Regent Theater – Los Angeles, CA @ The Power Of The Riff [tickets]
12/19/2016 Neumos – Seattle, WA w/ Yob, Sumac [21+] [tickets]
12/20/2016 Venue – Vancouver, BC w/ Yob, Sumac [19+] [tickets]
2/14/2017 San Fran – Wellington, NZ [tickets]
2/15/2017 Kings Arms – Auckland, NZ [tickets]
2/16/2017 The Triffid – Brisbane, AU w/ Dispossessed [tickets]
2/17/2017 Manning Bar – Sydney, AU w/ Dispossessed [tickets]
2/18/2017 The Croxton – Melbourne, AU w/ Dispossessed [tickets]
Decibel Magazine released an entire issue dedicated to NEUROSIS, including multiple rare Hall Of Fame features as well as a full feature on the new album, a very brief section of the coverage praising, "NEUROSIS have redefined what heavy meant and what heavy could be, all while refusing to define themselves as anything more than conduits for the music they conjure like diviners. Now releasing their eleventh LP, Fires Within Fires, they've ascended from the trappings of youth to alter the landscape of heavy music like the violent shift of tectonic plates." Alternative Press published, "NEUROSIS have been endlessly creative and relevant for every stage of their now three-decade career…. Every part of their discography is essential, and this will be another welcome chapter in their story." Noisey posted, "They're giants in a field obsessed with hugeness–hugeness of riff, of amplifier, of decibel, of ambition–and are a seemingly unbreakable sonic force… Whatever it is they continue to seek, this latest offering is a massive step forward towards it." The Wire praised, "Fires Within Fires is the summation of thirty years of experimentation in tonality and texture. Yes, NEUROSIS are firmly positioned within the extreme metal underground yet their music, with its ability to generate images of beauty akin to those many of us have experienced in our own lives – not to mention the loss that accompanies them – challenges this categorization." Terrorizer's album of the month review included, "Fires Within Fires sees NEUROSIS evoking both the primitive elements of their early years and the polished grace of their current form. A worthy addition to their legacy, their fire burns on."
http://www.neurosis.com
http://www.facebook.com/officialneurosis
http://www.twitter.com/neurosisoakland
http://www.neurotrecordings.com
http://www.facebook.com/neurotrecordings