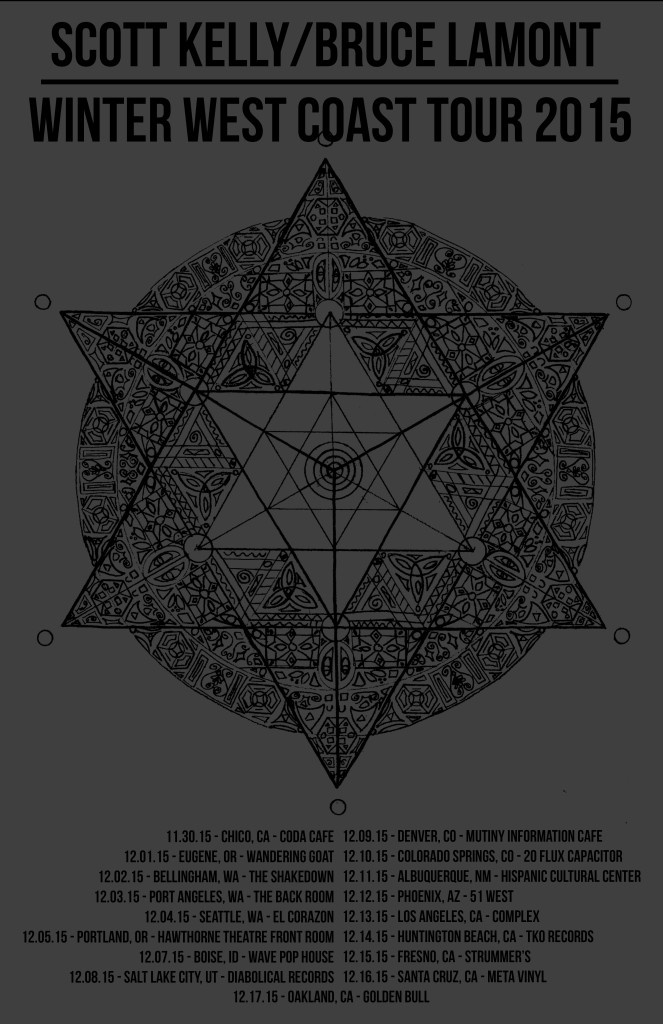 Following their recent stint along the East Coast, Neurosis' SCOTT KELLY and Yakuza's BRUCE LAMONT – also both of CORRECTIONS HOUSE – will bring their sonic experimentations to venues on the Western side of the US. Beginning November 30th, the pair will play eighteen shows in nine cities.
Comments Kelly of their latest expedition, "Bruce and I look forward to continuing our live sound experimentation through the Western States for an eighteen-show run starting November 30th in Chico, California and coming home to Oakland, California on December 17th. We were able to get a good idea of what we can do on our initial twelve performances in the Northeast but I feel like we're just beginning to find the deep vein. Please come out and witness this as it develops into something that will undoubtedly lead us to deeper exploration every night and a project and recordings in the future."
Of their recent performance in Chicago, The Obelisk relayed, "Together KELLY and LAMONT offered renditions of Townes Van Zandt's 'The Rake' and Neil Young's 'Cortez The Killer,' before finishing off with the CORRECTIONS HOUSE track 'Run Through The Night,' taken from their 2013 debut, Last City Zero. Standing side-by-side, KELLY's guitar and LAMONT's sax cast a Morricone-style spell over the room, a hard strum spacious with both adding vocals until LAMONT, having layered backing 'ooh's, created a sufficient wash and apex that seemed to swell one voice at a time until appropriately consuming. The studio version of that song gets pretty noisy, but live, it was more melodic, and when KELLY got back on mic to whisper out the last few lines, the multi-layer barrage he cut through made it plain that nothing else would follow…" While The Syracuse Skull Collective commended, "one of those incredibly intimate performances that won't happen very often."
SCOTT KELLY + BRUCE LAMONT:
11/30/2015 Café Coda – Chico, CA
12/01/2015 Wandering Goat – Eugene, OR
12/02/2015 The Shakedown – Bellingham, WA
12/03/2015 The Black Room – Port Angeles, WA [tickets]
12/04/2015 El Corazon – Seattle, WA
12/05/2015 Hawthorne Theatre Front Room – Portland, OR
12/07/2015 Wave Pop House – Boise, ID
12/08/2015 Diabolical Records – Salt Lake CIty, UT
12/09/2015 Mutiny Information Café – Denver, CO
12/10/2015 20 Flux Capacitor – Colorado Springs, CO
12/11/2015 Hispanic Cultural Center – Albuquerque, NM [tickets]
12/12/2015 51 West – Phoenix, AZ
12/13/2015 Complex – Los Angeles, CA
12/14/2015 TKO Records – Huntington Beach, CA
12/15/2015 Strummer's – Fresno, CA
12/16/2015 Catalyst Atrium – Santa Cruz, CA
12/17/2015 Golden Bull – Oakland, CA
SCOTT KELLY (Neurosis, Corrections House) will deliver his patented odes of pain, reflection and redemption with tracks off his solo outings – the bleakly atmospheric Spirit Bound Flesh and starkly minimalist The Wake as well as The Forgiven Ghost In Me album, released in 2012 under the moniker SCOTT KELLY AND THE ROAD HOME and tunes from the moving Songs Of Townes Van Zandt collection as well as newly recorded numbers to be released next year.
Multi-instrumentalist and vocal sorcerer BRUCE LAMONT (Yakuza, Corrections House, Led Zeppelin 2) has performed/collaborated with an array of artists throughout his storied career. On this run, LAMONT will be performing versions of some of the material on his 2011-issued debut solo album Feral Songs For The Epic Decline as well as newer/unreleased material. As with his previous solo outings, LAMONT will be executing multiple instruments and a plethora of vocal styles, with an incredibly layered looping system that culminates into some of the most entrancing live solo artist work one could ask for.
In addition, both KELLY and LAMONT will unite each evening following their respective sets to deafen the masses with renditions of various CORRECTIONS HOUSE hymns. CORRECTIONS HOUSE – which features within its ranks KELLY, LAMONT, Sanford Parker (Buried At Sea), Mike IX Williams (Eyehategod) and institutionalized minister of propaganda, Seward Fairbury – unleashed their long-awaited sophomore full-length, Know How To Carry A Whip, via Neurot Recordings last month. A nine-track, forty-five-minute exercise in sonic indecency, the record was captured by Parker alongside Fairbury in a subterranean bunker complex in Vietnam and dispels a disconcerting air of danger, paranoia and looming defeat marked by an inexplicable sense of catharsis.
http://www.facebook.com/ScottKelly.official
http://www.facebook.com/brucelamontmusic
http://www.facebook.com/CorrectionsHouse
http://www.neurotrecordings.com
http://www.facebook.com/neurotrecordings