Nefarious Industries reveals its most eclectic and bountiful itinerary to date with its sprawling 2022 release schedule, in conjunction with the announcement of the label's own in-house subscription club which includes the year's entire physical/digital catalog and more.
2022 will see the Nefarious Industries release of new albums from NEQUIENT, HIRAKI, MAC GOLLEHON, GRIDFAILURE, MEGALOPHOBE, BYE BYE TSUNAMI, RUSK, EUNOIA, CONTEMPLATOR, SARATTMA, MACHINIST!, GEMATRIA, ANXIOUS WAVE, BRIAN!, LACES OUT, MINE COLLAPSE, PAINT STORE, and more.
And for the first time, the label will offer a Sub Club with two platforms: THE SLIME CLUB which features all nine of the year's vinyl titles, and THE GRIME CLUB, which features all nine vinyl albums as well as nine additional compact disc or cassette titles, doubling your bounty to eighteen physical releases! Both clubs also include a ton of perks, including digital copies of every title, access to the limited copies, exclusive merch, and more included with the package.
Founding label operator Greg Meisenberg writes, "As we enter another decade of crime, slime, and grime, we're launching the Nefarious Industries Subscription Club to nourish your off-kilter tastes. 2022 is crammed with releases and the Sub Club is the perfect way to take advantage of this encroaching deluge of dissonance, as well as get your hands on some exclusive subscriber perks. See below for complete details about what we have in store for you. Registration is limited, so don't snooze!"
Join the Nefarious Industries subscription club while spots last at the label's website RIGHT HERE.
Additional details, videos, singles, tour dates, and much more on the upcoming release schedule is already being systematically dispatched; stay tuned through all Nefarious Industries links below.
Nefarious Industries Subscription Club:
THE SLIME CLUB – $165
All 2022 vinyl releases, limited to 50 subscriptions
(US shipping included; CAN +$30; INTL +$65; JP/AU/NZ +$95)
($225 retail value before shipping)
THE GRIME CLUB – $215
All 2022 catalog releases including vinyl, limited to 35 subscriptions
(US shipping included; CAN +$40; INTL +$75; JP/AU/NZ +$115)
($335 retail value before shipping)
Sub Club perks:
– Subscribers are guaranteed the most limited color variant for each pressing
– Exclusive Nefarious Industries Sub Club t-shirt
– Exclusive Nefarious Industries Sub Club coffee mug
– Nefarious Industries tote bag
– 10% off all online store purchases through 2022
– Bandcamp hosted download codes for all Nefarious Industries 2022 releases
The Rules of Sub Club:
1. You do not talk about Sub Club
2. Registration is NON-REFUNDABLE and CANNOT BE CANCELED
3. Shipping is included in the subscription fee for ALL subscribers
4. Non-US subscribers will receive quarterly shipments with multiple releases in a single package
SLIME CLUB:
NEF-78 – NEQUIENT – new full-length from Chicago d-beat thrashers
NEF-88 – HIRAKI – Danish noise-rock/synth-punk, collection of remixes from 2021 full-length
NEF-67 – CONTEMPLATOR – Quebec City instrumental progressive metal
NEF-80 – SARATTMA – debut full-length from Matt Hollenberg (Cleric, John Frum, John Zorn) and Sara Neidorf (Mellowdeath, ex-Brian Jonestown Massacre, Aptera)
NEF-85 – MACHINIST! – two heavy-hitting blackened sludge albums issued for the first time on wax
NEF-84 – GEMATRIA – new album of hallucinogenic prog from Ray Suhy (Six Feet Under, Cannabis Corpse, ex-East Of The Wall) and Steve Honoshowsky (Daughter Vision, Billy Martin's Fang Percussion, No Use For Humans)
NEF-83 – ANXIOUS WAVE – debut full-length from Providence noise/post-hardcore outfit
NEF-90 – BRIAN! – angular chaotic bassoon metal from the Ithaca underground
NEF-96 – LACES OUT – debut full-length from NY angular post-hardcore trio
GRIME CLUB:
NEF-82 – BYE BYE TSUNAMI (CS) – heart-breaking Danish cyborg screams from planet 無
NEF-91 – MAC GOLLEHON (CS) – film noir avant-jazz from world renowned NYC trumpet slayer
NEF-92 – GRIDFAILURE & MEGALOPHOBE (CS) – experimental/lo-fi jazz collaboration
NEF-81 – RUSK (CS) – debut from members of post/math-rock duo Jerkagram, recorded by John McEntire (Tortoise, The Sea and Cake)
NEF-86 – EUNOIA (CD) – Cincinnati blackened grunge
NEF-93 – LACES OUT (CS) – new EP from NY angular post-hardcore trio
NEF-50 – GRIDFAILURE (CS) – Sixth Mass-Extinction Skulduggery box set of paranoia-induced powerdementia, includes SMES I, II & III
NEF-94 – PAINT STORE (CS) – debut from Richmond instrumental tech metal duo
NEF-95 – MINE COLLAPSE (CD) – new EP from Chicago sludge-punk trio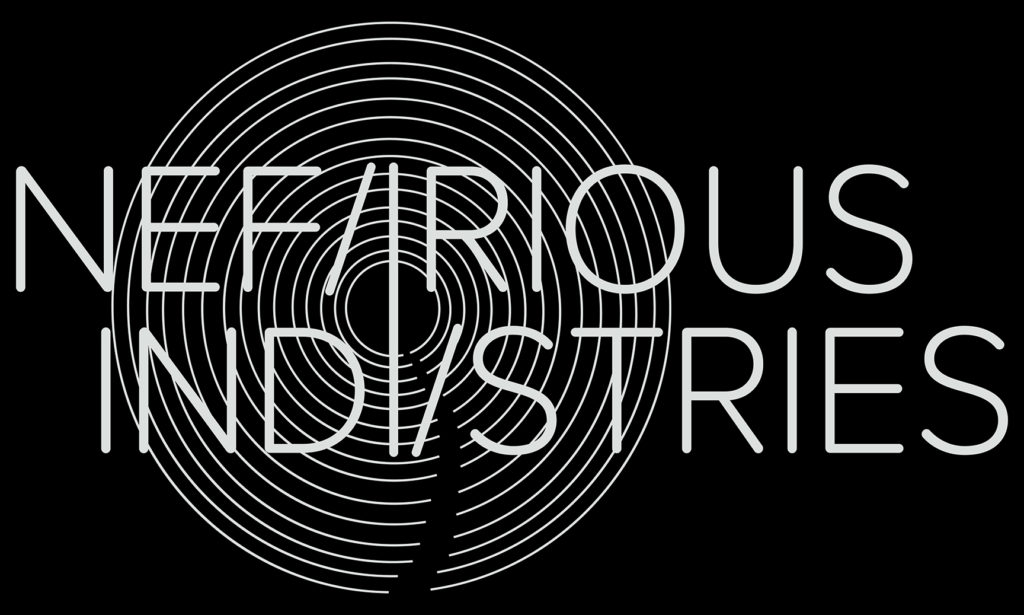 http://nefariousindustries.com
http://www.facebook.com/nefariousIndustries
http://www.twitter.com/nefariousInd
https://nefariousindustries.bandcamp.com