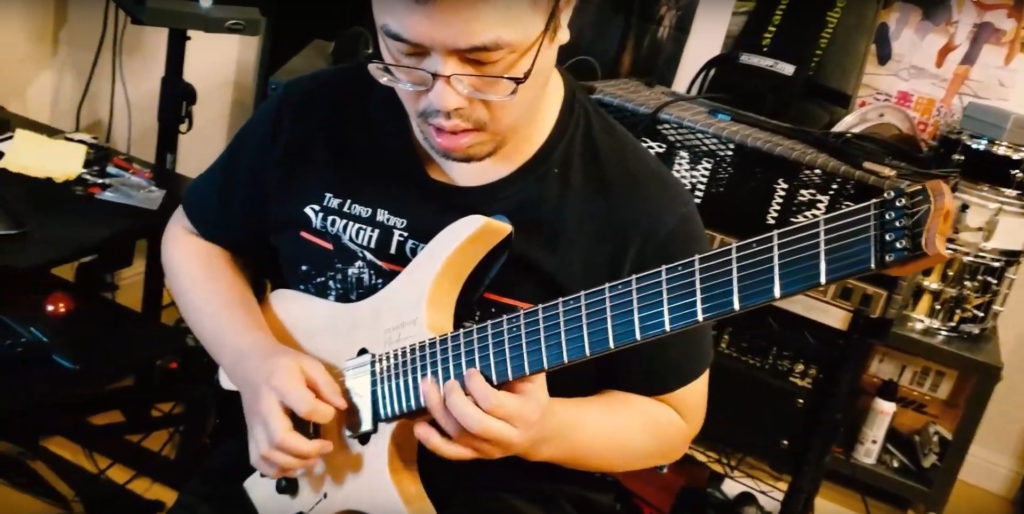 Invisible Oranges is hosting an exclusive feature, streaming the entire Heavy Metal Shrapnel instrumental solo shred album from Ripped To Shreds guitarist ANDREW LEE alongside an interview with the artist, ahead of the record's release through Nameless Grave Records this Friday.
ANDREW LEE's Heavy Metal Shrapnel was born out of a desire to see gated drums and sleazy riffing return to the forefront of guitar oriented instrumental music. LEE's unique fusion and neoclassical influenced soloing skills in the grimy death metal world garnered interest from a multitude of other bands, resulting in guest features on records by Mark Riddick, Fluids/Pharmacist, Dipygus, and more.
Recorded on hot pink guitars, Heavy Metal Shrapnel delivers epic Tony MacAlpine-esque melodies floating over glammed up '80s riffs that are equally Dokken and Liege Lord, with a solid rhythm bedrock provided by Zalatan that is both deft and powerful, as well as a synth driven power ballad.
Heavy Metal Shrapnel sees ANDREW LEE performing all guitars, bass, and synth programming, while the album's drums were handled by fellow guitar shred maniac Alex Zalatan (Zealotry). The record also showcases solos by shredhounds Hagamoto (Bodies Lay Broken) on "Heavy Metal Shrapnel," Antoine Daigneault (Chtheilist) on "Deliverator," and Phil Tougas (Chtheilist, First Fragment) on "Maybe." The record was mixed by LEE at his home studio, W Dungeon, mastering was handled by Damian Herring at Subterranean Watchtower (Ripped To Shreds, Horrendous, Horrified), and the cover art was drawn by Velio Josto (Vulture, Riot V, Toledo Steel).
The interview and review alongside Invisible Oranges' exclusive stream of the record includes, "A shred album in the classical sense, ANDREW LEE's Heavy Metal Shrapnel fuses strong songwriting and catchy riffwork with memorable melodies and absolutely face-melting guitar solos."
Stream ANDREW LEE's entire Heavy Metal Shrapnel first through Invisible Oranges now at THIS LOCATION.
Nameless Grave Records will release Heavy Metal Shrapnel on CD and through all digital platforms this Friday, December 10th. Find preorders at Bandcamp HERE and the label webshop HERE.
https://heavymetalshrapnel.bandcamp.com
https://www.facebook.com/NamelessGraveRecords
https://www.instagram.com/namelessgraverecords
https://namelessgraverecords.bandcamp.com