"Metaphorically, it's like putting your ear up to the chest of a rotting corpse and listening to the parasites eat it from the inside out. NECROT has recorded an album so putrescent you can almost smell it." – Paste Magazine
Bay Area hell brigade NECROT is pleased to announce a gaggle of shows in the coming months including a slot on Decibel Magazine's Metal And Beer Pre-Fest with Midnight, Powermad, and Coffin Dust! The band will also play Northwest Terror Fest 2018 alongside Integrity, Full Of Hell, Gatecreeper, and Exhausted Prayer, as well as their first ever European show at Kill-Town Death Feast in Copenhagen, Denmark with the likes of Blood Incantation, Grave Miasma, Hooded Menace, and more. Additional live assaults will be announced in the coming weeks. Stay alert!
NECROT:
2/17/2018 Eli's Mile High Club – Oakland, CA w/ Mammoth Grinder, Violation Wound, Succumb
3/25/2018 Saint Vitus Bar – Brooklyn, NY w/ Skullshitter, Syndromes, Pyrolatrous
3/28/2018 Meatlocker – Montclair, NJ w/ Skullshitter, Chained To The Dead, Oxalate, Dutchguts
3/29/2018 Atlas Brew Works – Washington DC w/ Skullshitter, Coffin Dust, Perpetuated
3/30/2018 Decibel Metal And Beer Pre-Fest @ The Foundry – Philadelphia, PA w/ Midnight, Powermad, Coffin Dust [info]
4/20/2018 Spring Meltdown @ Hard Rock Hotel – Lake Tahoe, NV
5/19/2018 Cornerstone – Berkeley, CA w/ D.R.I., Deathwish
6/01/2018 Northwest Terror Fest @ Nuemo's – Seattle, WA w/ Integrity, Full Of Hell, Gatecreeper, Exhausted Prayer
9/06-09/2018 Kill-Town Death Fest – Copenhagen, DK
NECROT continues to tour in support of their critically-adored Blood Offerings full-length released in June via Tankcrimes. The record earned the #29 spot on Billboard's Hard Rock Chart and #52 on Billboard's New Artist Chart upon its first week of release and continues to reap critical accolades from fans and critics globally.
Decibel Magazine placed Blood Offerings at the #4 spot of their Top 40 Albums Of 2017 hailing a record, "pure and brilliant enough in its relentless, multifaceted attack to resonate across subgenres and serve as one of the true unifying heavy metal records of 2017." Revolver awarded the record the #18 position of their 20 Best Albums of 2017 writing, "Packed with killer riffs, thunderous blast beats and the death-defying leads of Saviours guitarist Sonny Reinhardt, the debut album from this hotly touted Oakland death metal trio bristles with a raw intensity that's frequently lost in the modern era of triggered, overproduced extremity. By keeping it real, NECROT keep it awesome." Treble concurred awarding the record the #15 spot of their 20 Best Metal Albums Of 2017 noting, "a solid chunk of the best death metal in recent years has come from the extended family of Bay Area bands that includes Acephalix, Vastum, and Hammers Of Misfortune (who aren't death metal but share some common musicians). NECROT is also a part of that group, and their debut LP Blood Offerings reveals that they're also arguably the most intense band of the bunch. With an ear for old-school death metal aesthetics and blood-curdling extremes, NECROT rarely ease off the throttle, letting their tremolo riffs and percussive gallop do much of the talking. Still, amid all the hack-and-slash ferocity are some excellent songs. This exercise in aesthetic destruction is too much fun not to revisit repeatedly."
Comprised of eight-tracks, Blood Offerings was captured by Greg Wilkinson at Earhammer (Vastum, Graves At Sea), mastered by Brad Boatright at Audiosiege (Nails, Gatecreeper), and comes shrouded in the unhallowed cover art of Marald Van Haasteren (Bolt Thrower, Baroness). Blood Offerings is out now on CD, LP, and digitally on Tankcrimes and on cassette through Sentient Ruin Laboratories. The limited vinyl edition comes as a foil-stamped, gatefold deluxe LP available in four color variants: 150 in purple splatter, 350 in gold splatter, 500 in black, and 1000 in gold.
Stream the record in full THIS LOCATION where you can also purchase the record digitally. Find physical preorders at THIS LOCATION.
Forged in 2011, NECROT – founded by current and former members of Acephalix, Vastum, Saviours, Watch Them Die, Atrament, Rude, and more – unleashed the audio bone-crush of their The Labyrinth full-length in 2016 via Tankcrimes. Spewing forth eight tracks amassed from three hard-to-find and long out-of-print demo tapes, the record reaped critical acclaim from fans and media alike compelled by the band's unrepentant Autopsy, Bolt Thrower, and Sacrilege worship.
"Packed with killer riffs, thunderous blast beats and the death-defying leads of Saviours guitarist Sonny Reinhardt, the debut album from this hotly touted Oakland death metal trio bristles with a raw intensity that's frequently lost in the modern era of triggered, overproduced extremity. By keeping it real, NECROT keep it awesome." – Revolver
"Fans of genre forefathers Bolt Thrower, Carcass, Benediction, and Master will be in familiar territory with NECROT's back-to-basics brutality and the relentless hammering of solid, headbanging groove and trademark brutal yet articulate vocal style of masters Ingram, Willets and Greenway. Each track contains the perfect amount of dexterity without losing any of its vitality and it's clear that a six-year period of honing their material has perfectly streamlined the band's vision." – Team Rock
"Blood Offerings offers enough simplicity and succinctness, delivered with the potency of a knife to the chest, to find its way into the collections of heavy music fans who are typically unfamiliar with death metal, a genre that's an acquired taste, to be sure." – Blabbermouth
"Blood Offerings is all old ground, but it is hallowed earth. We've heard everything played on this album before, but we've never heard it played quite like this. If you're that curmudgeon who keeps saying nothing can displace your aging death metal album collection, it might be finally time to buy a new record." – Decibel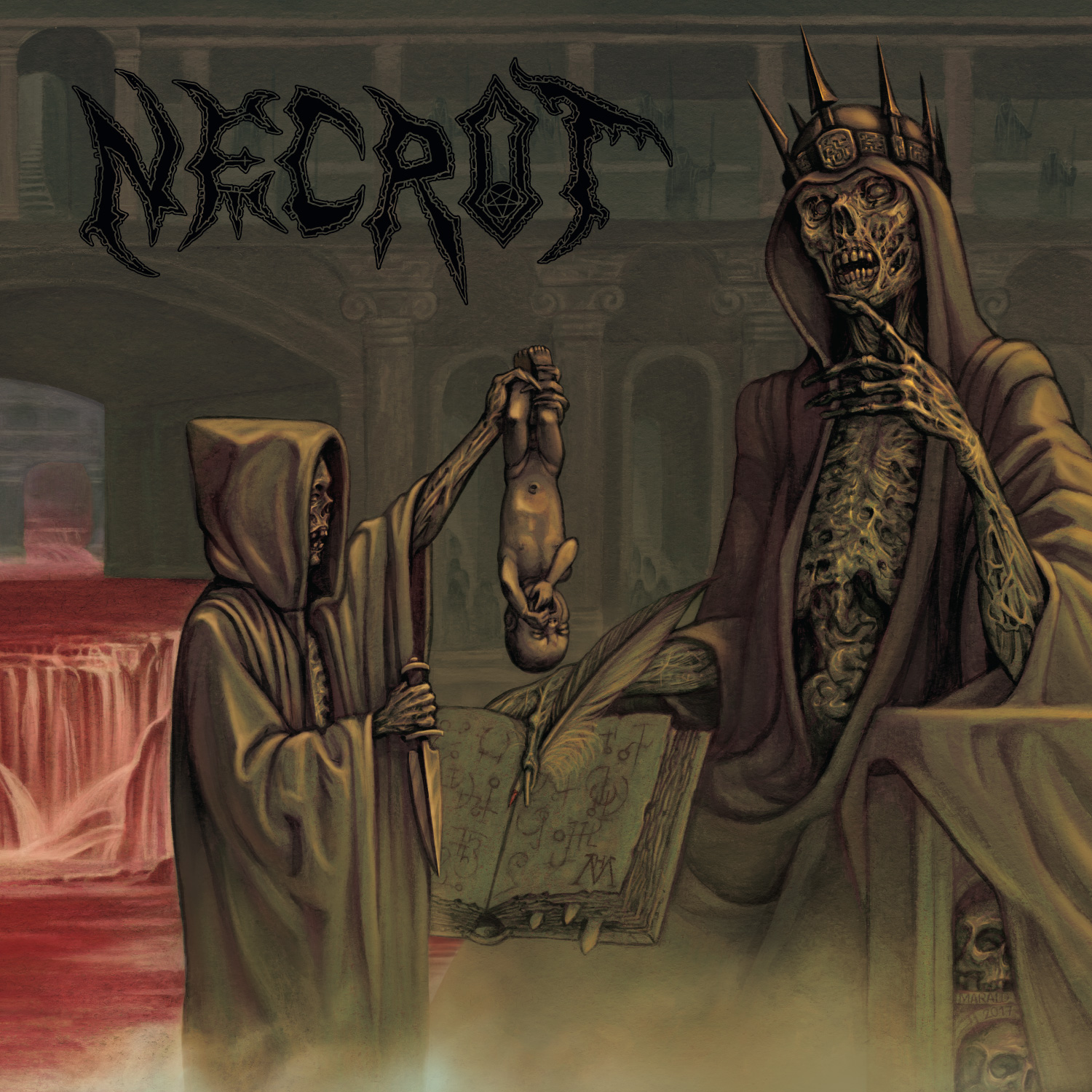 http://www.facebook.com/cyclesofpain
http://www.tankcrimes.com
http://www.facebook.com/tankcrimes
http://www.tankcrimes.merchtable.com
http://www.sentientruin.com
http://www.facebook.com/SentientRuin