NECROT's latest full-length, Mortal, released on August 28th via Tankcrimes, pillaged Billboard charts upon its first week of release. The album earned the #2 spot on the Top New Artist chart, #30 on the Top Current Albums chart, #4 on the Current Hard Music, and #10 on the Heatseeker Albums chart among so many others. See a full listing of the band's chart entries below.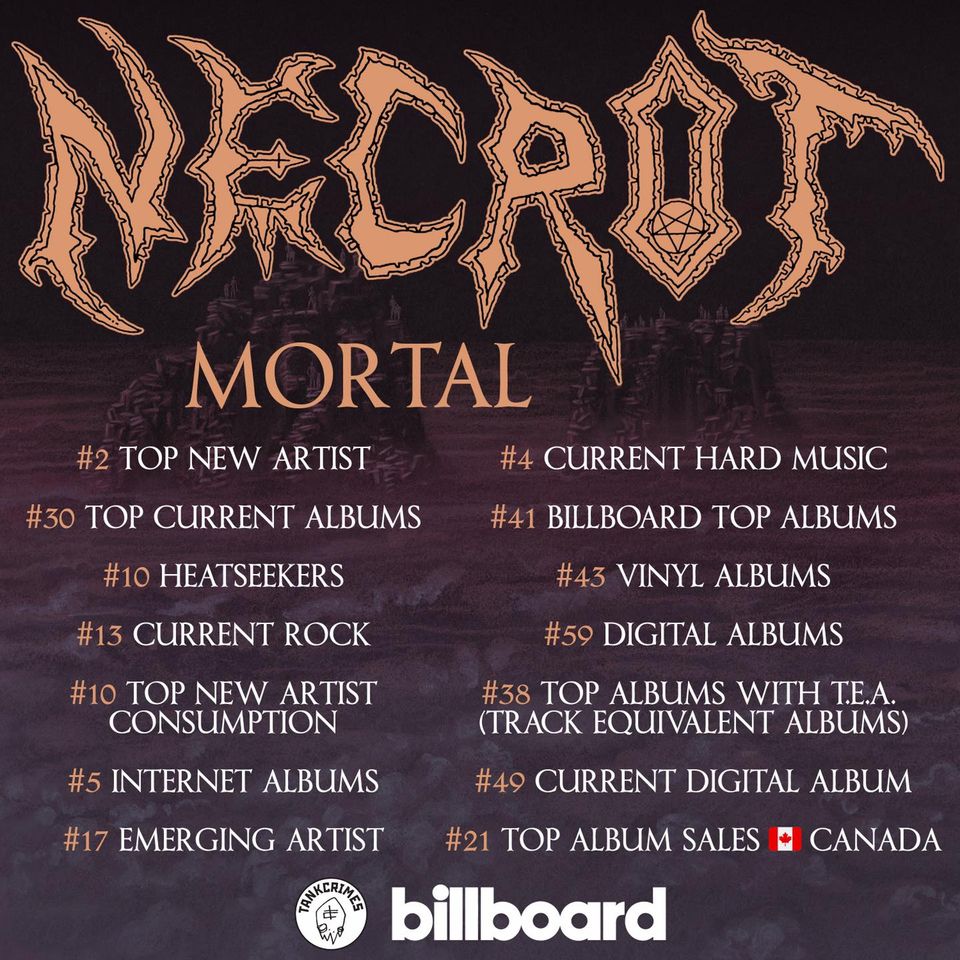 NECROT – Mortal Billboard Chart Numbers:
#2 Top New Artist
#30 Top Current Albums
#41 Billboard Top Albums
#4 Current Hard Music
#10 Heatseekers
#43 Vinyl Albums
#13 Current Rock
#5 Internet Albums
#10 Top New Artist Consumption
#17 Emerging Artist
#38 Top Albums With T.E.A. (Track Equivalent Albums)
#49 Current Digital Album
#59 Digital Albums
#21 Top Album Sales Canada
Stream NECROT's Mortal at THIS LOCATION.
Mortal was recorded by Grammy-award-winning engineer Greg Wilkinson (High On Fire, Autopsy) and mastered by Alan Douches (Cannibal Corpse, Cattle Decapitation, Mastodon) at West West Side. The record features cover art by Marald Van Haasteren (Baroness, Mortuous) and is available on CD (standard jewel case + limited mailorder only digipack), gatefold LP, cassette, and digital formats.
For physical orders, visit the Tankcrimes Merch Table at THIS LOCATION. Visit the NECROT Bandcamp page HERE for digital orders, new merch designs, and other NECROT exclusives.
Additionally, NECROT will appear on the first volume of the Decibel Magazine/Record Store Day Completely Extreme vinyl-only compilation series with the track "Stench Of Decay." The band will appear alongside Napalm Death, Red Fang, Incantation, Plague Years, and more! Limited to 1,000, gold-foil numbered copies, the LP debuts October 30th only at independent record stores, and is available for preorder HERE.
Forged in 2011, death metal/punk practitioners NECROT hail from Oakland, California. Sharing current and former members of Acephalix, Vastum, Saviours, and Mortuous, they are among the most respected bands of the current Bay Area death metal scene. Following three demos and a demo compilation LP, The Labyrinth, NECROT unveiled their debut full-length, Blood Offerings, in 2017. The record, which earned the #29 spot on Billboard's Hard Rock Chart and #52 on Billboard's New Artist Chart upon its first week of release in addition to earning year-end accolades from the likes of Decibel Magazine and Revolver, continues to reap the praise of fans and critics both Stateside and abroad. The band has toured the United States, Canada, Europe, and Australia extensively, in addition to numerous festival appearances in Mexico, Scandinavia, and Japan, with live incursions in support of Mortal to be announced in the months to come.
"…next-level NECROT is exhilarating as a motherfucker. The palette is wider and its nuances more deftly deployed. The flow is improbably natural considering the jams are serpentine and tricky enough to reveal new dimensions with each return. In short, this is the sound of a band chasing enduring greatness rather than the ephemeral bounties of the traditional album cycle." – Decibel Magazine
"They've pushed themselves as musicians and have remained mindful of coloring the canvas more, offering increased dynamics while not straying from raw death metal's path… Like their death metal and heavy metal heroes, the prime goal seems to be songwriting rather than a fruitless competition to be the most brutal and/or technical. An obvious reference point is Autopsy, yet they are far from being a clone band. Instead, NECROT seems inspired by that classic band's spirit and purpose more than anything. Indeed, if there's a band carrying that spirit's torch on a large scale, it's NECROT." – Blabbermouth
"Each of the tracks here has been borne from a combination of comprehensive touring, experience within and beyond the NECROT world (drummer Chad Gailey also plays in Mortuous, Vastum and Scolex, bassist/vocalist Luca Indrio is also a member of Acephalix, and guitarist Sonny Reinhardt not only plays in a number of other bands but is also the sound guy at Oakland's Metro) and being leery of the sophomore slump. This is the starting point for overall structural simplicity, hair-trigger immediacy, and pillage-conquer-and-move on impact of Mortal. – Metal Injection
"…next level death metal that truly rivals the classic bands that influenced NECROT, and it's forward-thinking without abandoning the no-bullshit thrills of early death metal, thrash, and hardcore. No lengthy psych and prog passages to be found here, no symphonies, no fancy studio tricks, no clean vocals – just a whiplash-inducing onslaught of well-crafted, beastly executed death metal." – BrooklynVegan
"They not only stand out among the volcano of bands attempting to recreate the old-school death metal sound, they triumph at the top of it, creating a unique experience and pushing the genre forward." – Last Rites
"The songs on Mortal feel written to play to the back of the room, from the furious opening one-two punch of 'Your Hell' and 'Dying Life' to the eight-and-a-half-minute title track that closes the album. Get hip to NECROT now, so that when they're headlining those 2,000 capacity rooms, you can say "I remember when…" – Bandcamp Daily
"… a record that encapsulates the aura of a long-gone era while at the same time being able to modernize its potency." – PopMatters
"Mortal proves that NECROT are fit to be among the upper echelon of the old-school death metal movement. Their songwriting has strengthened, as well as their energy, making Mortal a fun listen for extreme metal fans." – Dead Rhetoric
"What starts with a stream of semi-melodic Dismember riffs quickly leads to a sick Bolt Thrower part, and from there a triumphantly funereal solo that takes us all the way to a morbid series of squelching Incantation squealies, and … be still, my rotting heart." – Stereogum on "Stench Of Decay"
"Ask any battle-vested denim die-hard and they'll happily confess the secret to a great, fist-pumping, hair-spinning death metal record: it's all in the tone – and NECROT easily have one of the best in the game right now." – New Noise Magazine
"This release doesn't just meet expectations; it pole-vaults past them." – Metal Utopia
"…some of the most satisfying death metal today." – Ghost Cult
"NECROT carries on the spirit of what makes death metal so exhilarating, raising the bar for what makes a great death metal performance… easily of the year's strongest death metal releases thus far." – Treble
"Sitting with this record for several weeks has taken me back to that place where death metal has always been its most redeeming, pondering life itself in open dialogue with death and mortality via murderous riffs and mind-rending lyrics – This is the mark of a record threatening to be exemplar and timeless within a very crowded existence and I am thrilled to have absorbed it. A very high recommendation." – Grizzly Butts
NECROT:
Luca Indrio – bass, vocals
Sonny Reinhardt – guitars
Chad Gailey – drums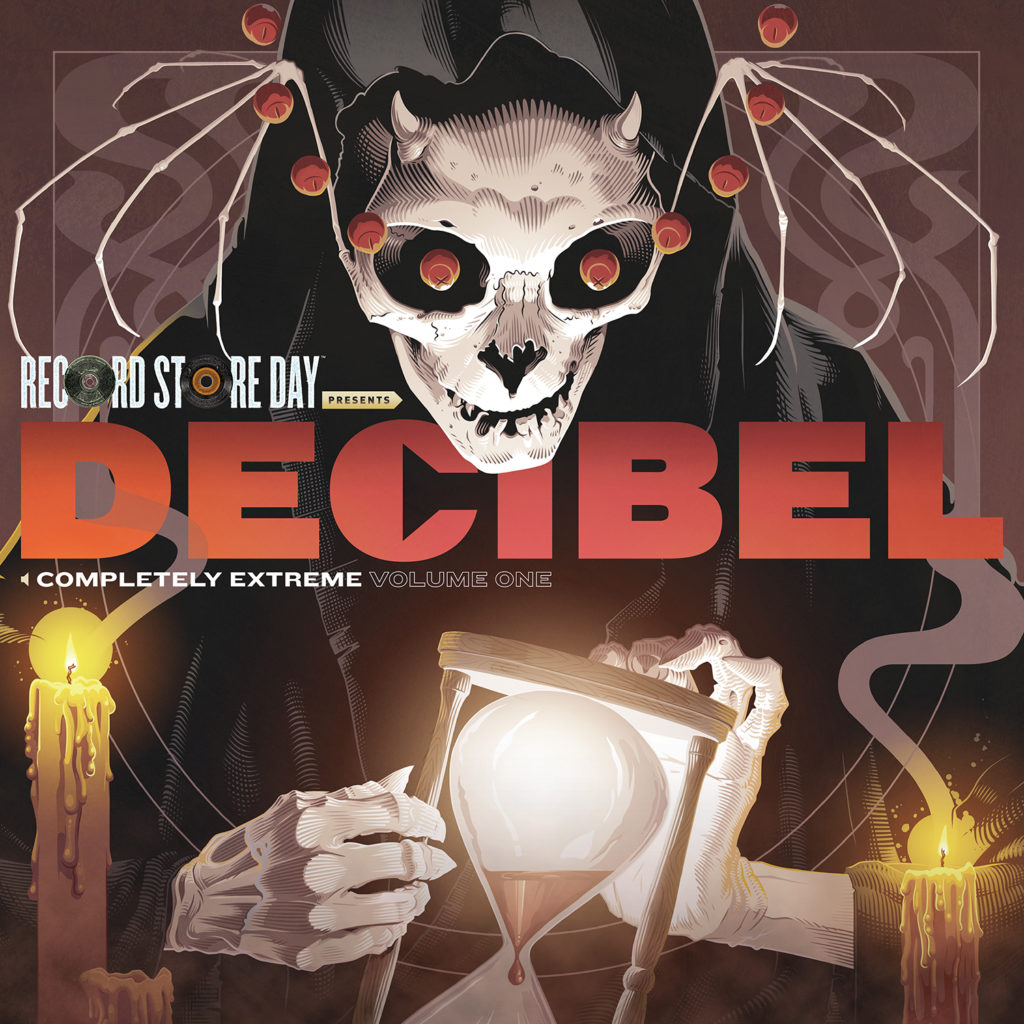 http://www.facebook.com/cyclesofpain
http://twitter.com/necrot_official
http://www.instagram.com/necrot_official
http://www.tankcrimes.com
http://www.facebook.com/tankcrimes
http://twitter.com/tankcrimes
http://www.instagram.com/tankcrimes
http://www.tankcrimes.merchtable.com