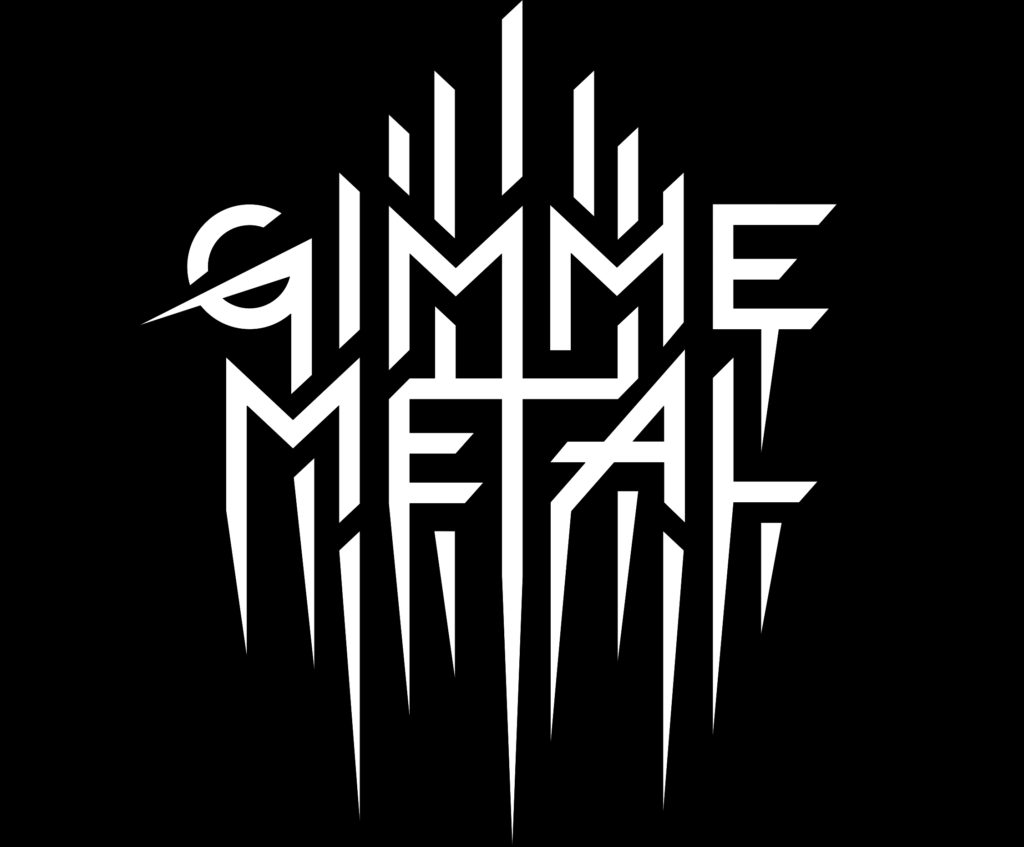 Each week, GIMME METAL publishes its radio chart listing the top 40 tracks played on the station. Already the best metal discovery service online, the GIMME METAL chart is a powerful tool for listeners, labels, and artists for staying up to date on the best new metal released by established greats and up-and-coming underdogs, all handpicked by GIMME's knowledgeable DJ roster and editorial team.
GIMME METAL Chart – September 11th, 2020:
1. Six Feet Under – "Amputator"
2. Expander – "Waste Ranger"
3. Plague Years – "Incantation"
4. Skeletal Remains – "Congregation Of Flesh"
5. Spirit Adrift – "Harmony Of The Spheres"
6. Cult Of Lilith – "Purple Tide"
7. Armored Saint – "End Of The Attention Span"
8. Chrome Waves – "Gazing Into Oblivion"
9. Undeath – "Lord Of The Grave"
10. Putrid Offal – "Let There Be Rot"
Click HERE for the full Top 40 List.
Upcoming Shows on GIMME METAL:
Expander Guest DJ Special – Dystopian to say the least, Austin's Expander reflects society's stamp-down by mechanized violence, hard-at-nails riffage whipping around robotic industrial rhythms and echoplexed vocal oppression. They've also got a GIMME special where they regale us in some sure-to-be-throttling musical selections. And don't forget to dig into their new Neuropunk Boostergang full-length, out now on Profound Lore.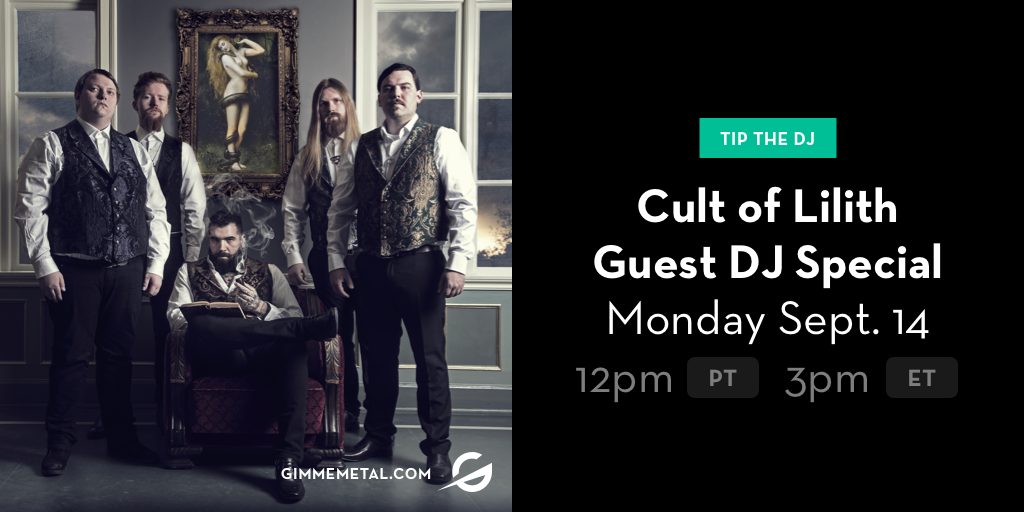 Cult Of Lilith Guest DJ Special – Out of Iceland, Cult Of Lilith engages in some serious genre-blur. "Necromechanical baroque." That is the province of Cult Of Lilith. A frantic collision of death metal, prog, complex classical structures and any other style they wish to incorporate, their debut album, Mara, out now on Metal Blade, is a restless, constantly shifting collection that is as imaginative as it is compulsive. Join the band on GIMME METAL for a guest DJ ride like no other.
Will Carroll's Fool Metal Jacket – Death Angel's Will Carroll has a very special Death episode brewing celebrating all things Chuck Schuldiner on his weekly installment of "Fool Metal Jacket" this Monday! Don't miss it!
Obsidian Kingdom Guest DJ Special – Obsidian Kingdom is a rare bird in today's music scene: unconventional and ever-challenging, the quintet from Barcelona is equally comfortable performing in big open air festivals as in museums for contemporary art. Featuring a heavy and intense sound with plenty of contrast, its main features are the use of multiple sonic resources in order to portray a wide range of emotions, a deep interest in aesthetics, and the mise-en-scène, the sombre and cryptic quality of the lyrical topics. Influences draw on figures as disparate as musicians like Nine Inch Nails, Scott Walker, and Ulver, as well as filmmakers like Kenneth Anger and Alejandro Jodorowsky. Their latest album, Meat Star, out on Season Of Mist, explores dark realms of the subconscious mind and GIMME METAL welcomes them to the DJ console.
Metallography with Jon Wiederhorn – Jon Wiederhorn is a veteran rock journalist who wrote and authorized numerous rock biographies. In the past, he's worked on editorial staffs at Rolling Stone, Guitar Magazine, and MTV. On this rerun of his very first episode, Jon takes a deep dive into Death's iconic Scream Bloody Gore LP currently featured in an exclusive repress variant via GIMME METAL's Vinyl Club subscription series (October edition). Hear it this Wednesday, 9/16 at 7:00pm EST/ 4:00pm PST.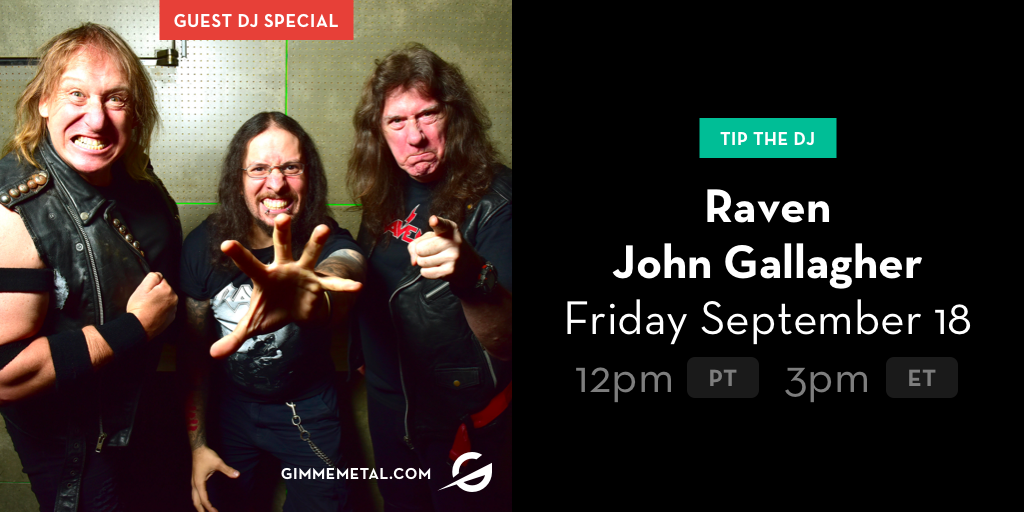 Raven Guest DJ Special – UK metal godfathers Raven started off in the '70s in Newcastle opening pub gigs for the likes of the Stranglers to becoming pure cornerstones of the NWOBHM, taking Metallica on their first tour in 1983, and being an undeniable source of inspiration for a who's who roster of metal's greatest acts. The band's highly-energized live show and interaction between band members developed an image and style of play-the-band, described as "athletic.' They began wearing guards, helmets, and plates from various sports (hockey, baseball, etc.), and incorporating them into the playing of their instruments. Raven has steadily toured and released albums throughout their storied career, including the latest full-length, Metal City, out this month on SPV. To celebrate, founding bassist/vocalist John Gallagher takes over the GIMME deck for what's sure to be an amazing block of music and memories.
Witching Guest DJ Special – Formed by friends in South Philadelphia in 2017, Witching began with a blues-based groove before moving on to more elaborate compositions fusing black metal, death, and sludge into a cathartic combination of disturbing agitation. Their self-titled EP later that year attracted the attention of outlets like Metal Injection and Decibel. Their latest, self released LP, Vernal, came out this summer to critical acclaim. Don't sleep on Witching or this episode!
Upcoming Guest Specials on GIMME METAL:
Uniform 9/21
Transcending Records 9/22
Skeletal Remains 9/24
Anaal Nathrakh 9/25
Michael Alago 9/28
Undeath 9/28
KnuckleBonz 9/29
Incantation 9/30
Venom Prison 10/02
Exciter 10/05
Goatwhore 10/07
Hellripper 10/09
Geld 10/15
GWAR 10/16
Enterprise Earth 10/19
No Clean Singing site special 10/28
Enslaved 10/30
Possessed 11/06
Don't miss it! Visit GIMME METAL: http://gimmemetal.com.
About GIMME METAL:
Founded by digital music veterans from Apple Music, Google Play, Beats Music, and Napster, parent company Gimme Radio builds highly engaged communities for the passionate fan on a genre-by-genre basis. The company launched its first community in June of 2017: the world's first 24/7 metal-focused service. Fans tune in to hear world class DJs playing metal they can't hear anywhere else – for free. The GIMME METAL app and streaming radio service allows the fans and the DJs/artists to communicate directly with one another in a live feed, in real-time, while they listen. Its roster of 70-plus DJs includes Dave Mustaine of Megadeth, Jessica Pimentel, star of Orange Is The New Black, Brian Posehn, and Randy Blythe of Lamb Of God among many others.
http://gimmemetal.com
http://www.facebook.com/gimmemetal
http://twitter.com/gimmeradio
http://www.instagram.com/gimmeradio