book.com
"…a thunderous, technically precise album colored with tuneful guitar harmonies and hooky death metal riffs. Although it's rooted in the melodic roar of Gothenburg death, there are also elements of power metal, black metal, thrash and prog." — Revolver
Eyes Of Blue Light, the smoldering new studio offering from Colorado-based metal legion, NECROPANTHER is out today. Captured at Green Door Recordings in Denver by Felipe Patino (Rise Against, NOFX) and mixed and mastered in Gothenburg, Sweden by melodic death metal mastermind Fredrik Nordström (Dimmu Borgir, At The Gates, Arch Enemy, In Flames etc.), the twelve-track offering chronicles the classic 1965 Frank Herbert sci-fi novel Dune.
In celebration of its release, Revolver delivers an exclusive full stream of the record alongside an in-depth interview with the band at THIS LOCATION.
Order Eyes Of Blue Light at the official NECROPANTHER Bandcamp page HERE.
NECROPANTHER will bring their audio bedlam to stages in the coming weeks including a special record release show on February 24th and an appearance at Electric Funeral Fest III with more live dates to be announced soon.
NECROPANTHER:
2/24/2018 Hi-Dive – Denver, CO Record Release Show w/ Munsens, Abrams *
3/17/2018 Herman's Hideaway – Denver, CO w/ Doyle, MF Ruckus, Lotus Gait, Radio Scarlet
3/30/2018 Elbow Room – Wichita, KS
4/07/2018 Moxi Theater – Greeley, CO w/ Draghoria
4/14/2018 The Crown Bar – Cheyenne, WY w/ Horde of Draugar
6/29/2018 Electric Funeral Fest III @ 3 Kings – Denver, CO
7/17/2018 Sister Bar – Albuquerque, NM
NECROPANTHER was forged in 2014 with the simple goal of creating heavy music and playing shows that thrill audiences. The band is vocalist/guitarist Paul Anop, lead guitarist Joe Johnson, drummer Haakon Sjogren, and bassist Marcus Corich. Together they've quickly become a favorite in the highly competitive Denver metal scene with their precision, speed, and short, hook-laden songs. NECROPANTHER was included in the 2016 year-end Top 10 Denver Metal Bands by the Denver Westword alongside with Khemmis, Dreadnought, and Blood Incantation, and was selected by the Denver Post for the 2017 Underground Music Showcase (UMS).
The band has extensive experience performing and touring. Haakon Sjogren and Marcus Corich were founding members of Havok and also played together in Colorado metal project Moore. Sjogren has also handled drums for Colorado bands Frozen Eternity and Circaic. In addition to his bass playing, Corich is also an accomplished skater and has performed at the Van's Warped Tour and other high-profile events. Anop was in Kansas powerhouse Spirit Of The Stairs as well as The Empress and Whalefalls while Johnson also played in Moore, as well as the metal fusion project Wild Game. Prior to moving to Colorado, he played and toured with the Philadelphia-based power metal band Shadowdance and NWOBHM band Wastoid. He has also appeared in a video for the famed shredder The Great Kat.
NECROPANTHER's eponymous debut (2016), an homage to the classic movie The Terminator, was recorded at Green Door in Denver, mixed by Eric Rutan at Mana Studio (Cannibal Corpse, Goatwhore etc.) and mastered by Alan Douches at West West Side Music (Cannabis Corpse, Converge, Torche, Tombs etc.).
"…top-tier melodic death metal." — PureGrainAudio
"…hard-hitting and aggressive, but with a fun throwback flair that keeps it lighthearted and listenable." — Denver Westward
"…an exciting and stellar album that captures the imagination of its source material while getting the adrenaline pumping with its thrash-inspired riffs." — Metal Trenches
"Worth listening to!" — Grizzly Butts
"NECROPANTHER doesn't have much in common with Khemmis or The Flight of Sleipnir musically, but their second full-length is the latest proof that the Colorado metal scene is truly something special. Fans of all the incestuous hybridizations between thrash, black, and death metal are strong advised to give Eyes of Blue Light a listen and prepare themselves for a fun blast of energy. I bet this band kills it live." — Indy Metal Vault
"It's all about the sweeping melodies and cutthroat thrash when it comes to NECROPANTHER… It's energetic, memorable, and even if it owes some debt to bands like Skeletonwitch and At The Gates, there's no doubting that they are onto a winning formula." — Dead Rhetoric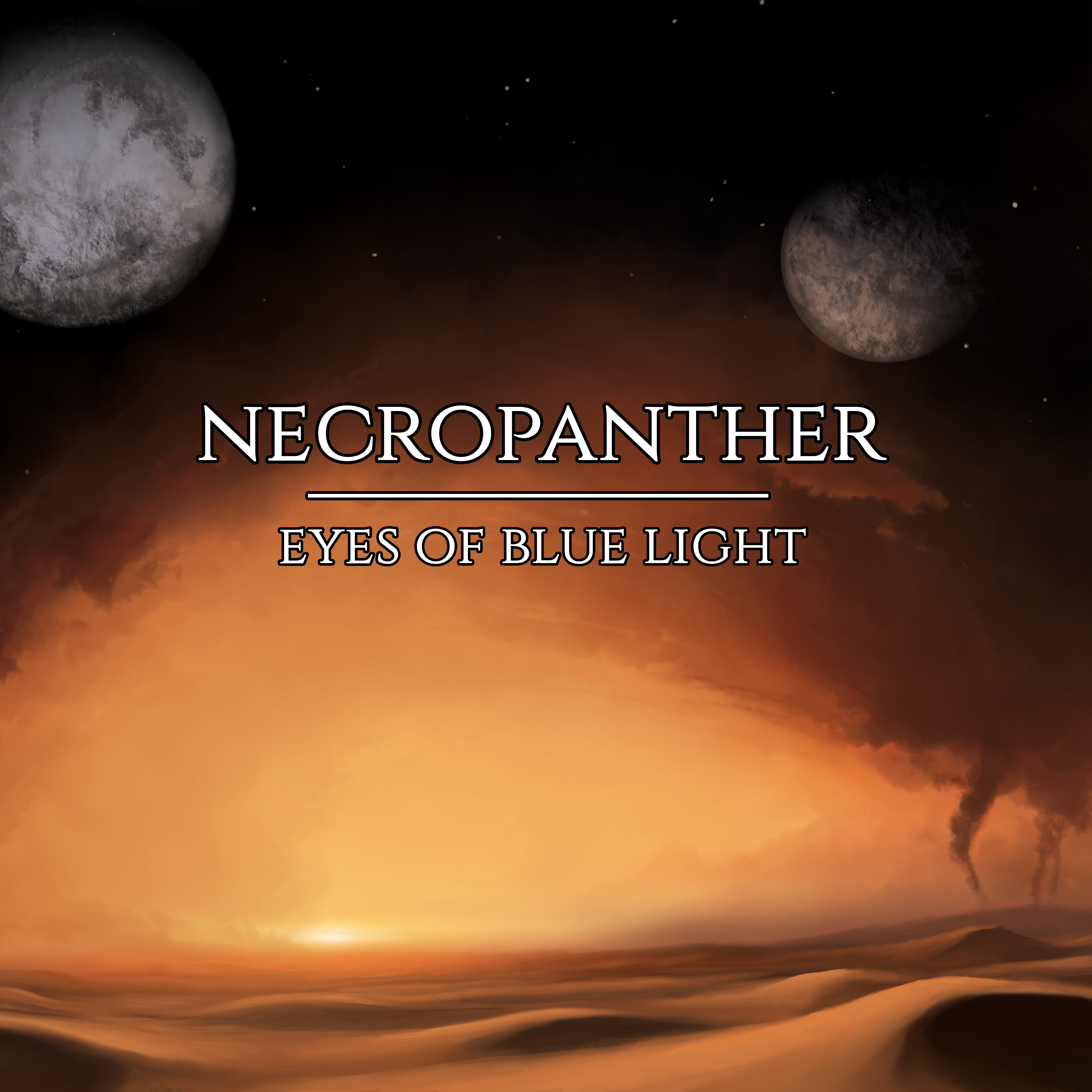 http://www.necropanther.com
http://www.facebook.com/PantherICT
http://twitter.comNecropanther_
http://www.instagram.com/necropanther
http://necropanther.bandcamp.com