The seventh studio album from German thrash icons NECRONOMICON, entitled Invictus, is out now in North America via Massacre Records.
Having amassed a major cult following in the thrash metal scene through heavy international touring, and through the band's previous six highly acclaimed albums released since their 1984 formation, the NECRONOMICON of 2012 is undoubtedly a stronger beast than ever before.
Recorded at Arson Music Studio, and mixed and mastered by Achim Köhler (Primal Fear, Sinner, Brainstorm, Headhunter), NECRONOMICON's seventh album Invictus features over fifty minutes of prime thrash metal, where the band's individuality and skill in terms of songwriting exceeds all expectations with a full sound and terrific production. The record features guest appearances by Randy Black (ex-Annihilator) and Ben Krahl (Final Kings) and bears cover artwork by Jan Yrlund /Darkgrove Design (Korpiklaani, Impaled Nazarene, Stratovarius, Sirenia).
Stream the album's opening track "Invictus" and a new version of the classic NECRONOMICON song "Possessed By Evil" at the band's official website HERE.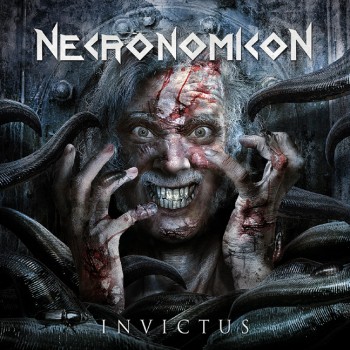 Invictus Track Listing:
1. Invictus
2. Unleashed
3. Bloody bastards
4. Thoughts running free
5. Unconquered
6. Upon black wings
7. Face to the wall
8. Pandora's box
9. Before the curtain falls
10. Possessed by evil (2011)
NECRONOMICON lineup:
Freddy – vocals & guitars
Andi Gern – guitar
Andi Nagel – bass
Klaus Enderlin – drums
http://www.facebook.com/necronomiconofficial
http://necronomicon-online.de
http://www.massacre-records.com
http://www.facebook.com/massacrerecordseurope
http://www.myspace.com/massacrerecordseurope