Today the metal-loving web moguls at MetalSucks premiere HAVOK's rendition of "Arise" by Sepultura. The tune comes off the band's forthcoming new EP titled Point Of No Return. Set for release on May 22 in North America, the EP was recorded by the band with final touches by James Murphy (Death, Testament) and contains two new thrash hymns and two cover tracks: the aforementioned Sep cover and a HAVOKed version of Slayer's "Postmortem/Raining Blood."
Check out "Arise" at THIS LOCATION.
Point Of No Return will precede the band's first European adventure beginning early May with Goatwhore, Angelus Apatrida and headliners 3 Inches of Blood. The Denver thrash legion are currently on tour with Sepultura, Death Angel, and Krisiun. The North American Kairos Tour 2012 kicked off April 10 and will make its way through nearly three weeks worth of shows before coming to a close in New York City on April 30.
HAVOK w/ Sepultura, Death Angel, Krisiun [remaining dates]
4/25/2012 Club Soda – Montreal, QC
4/26/2012 Bogie's – Albany, NY
4/27/2012 Sonar – Baltimore, MD
4/29/2012 Higher Ground – South Burlington, VT
4/30/2012 Irving Plaza – New York, NY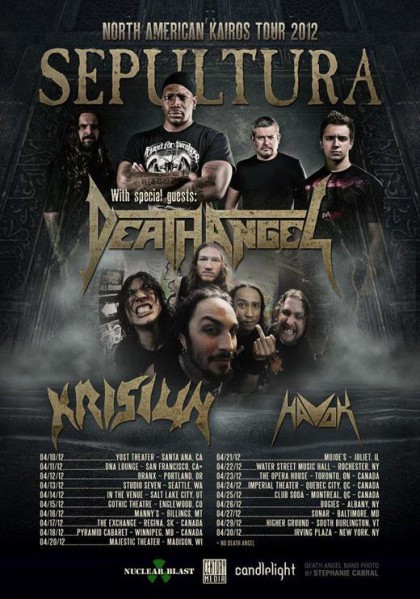 https://www.facebook.com/HavokOfficial
http://candlelightrecordsusa.com