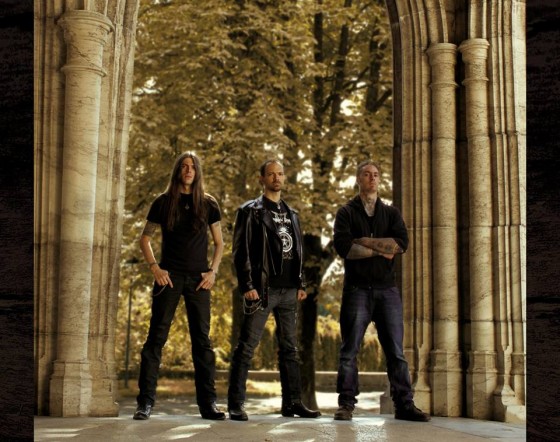 Swiss extreme metal manglers, NEAR DEATH CONDITION, are readying to unleash their sophomore full-length for Unique Leader Records. Titled Evolving Towards Extinction, the record was mixed at famed Hertz Studios (Vader, Hate, Dead Infection, Vesania etc.) in Poland, mastered at Iguana Studios in Germany and hurls forth eleven infernal odes of chaos and death ornamented by incapacitating drum gymnastics, scorching riffs and enough vocal acrimony to flatten a nation.
Evolving Towards Extinction Track Listing:
1. Words Of Wisdom
2. Between The Dying And The Dead
3. Intelligent Design
4. Pandemic Of Ignorance
5. Praise The Lord Of Negation
6. The Anatomy Of Disgust
7. Anagamin
8. Evolving Towards Extinction
9. Vertigo
10. Communing With Emptiness
11. Nostalgia For Chaos
NEAR DEATH CONDITION was spawned in Switzerland thirteen years ago and unleashed their Delusional Perception Of Reality demo in 2005. More a full-length than a mere demo, the punishing offering reaped instant praise among the death metal underground and earned NDC a place on Unique Leader's reputable roster of extreme. Their first official long player, The Disembodied – In Spiritual Spheres, which Masterful Magazine commended for fusing "traditional death metal aesthetics with its more modern counterparts while retaining heaviness and dynamics throughout," came to fruition in 2011 and grossed critical accolades from fans and media globally. NDC has leveled stages alongside the likes of Origin, Hour Of Penance and Darkane, ravaged the third edition of the infamous Silence Festival and plan to infiltrate the masses throughout 2014. A journey into the kingdom of sickness and insanity awaits!
Evolving Towards Extinction will be released via Unique Leader Records on March 18, 2014 with preorder opportunities and further info to be announced in the coming weeks.
http://www.facebook.com/officialneardeathcondition
http://www.uniqueleader.com
http://www.facebook.com/UniqueLeaderRecords