New Jersey progressive metallers EAST OF THE WALL have confirmed a co-headlining US tour with Chicago metal trio Diamond Plate.
Sponsored by MetalSucks and Metal Injection, the Redacted Pulse Tour is due to kick off on February 28th in Brooklyn, New York, before tearing its way across the US throughout March and into April. Collectively comments EAST OF THE WALL on the upcoming tour, "It's going to feel great climbing back into the van and bringing songs from Redaction Artifacts on the road. And it's been a good time rearranging some of the old material for the new lineup. Plus, we have Diamond Plate keeping us on our toes every night."
EAST OF THE WALL will be touring in support of their latest release, Redaction Artifacts, which was classified by Metal Injection in a 9.5/10 review as "the band's greatest work and one of the finest records of the year," while MetalSucks stated "EAST OF THE WALL is the intersection of Mastodon earthiness and any-prog-band complexity." No Clean Singing said, "Redaction Artifacts is a thoughtful, ear-candy-laced labyrinth with a lot to explore and absorb. This is dense, challenging music, and as impressive as EAST OF THE WALL's releases have been thus far, Redaction Artifacts is certainly their finest album yet," and American Aftermath crowned the LP a 9/10 in their review, offering, "Even revamping a line up didn't allow the music to suffer. EAST OF THE WALL have crafted yet another outstanding release that truly highlights the benefits of virtuosic musicianship and creative songwriting. To put it in simple terms, it's just damn good."
Purchase "Redaction Artifacts" on CD from Translation Loss Records HERE and on 2xLP gatefold vinyl from Science of Silence Records HERE. EAST OF THE WALL's recently released official video for their song "Obfuscator Dye" is also playing RIGHT HERE.
EAST OF THE WALL Tour w/ Diamond Plate:
2/28/2014 The Omega Order – Brooklyn, NY
3/01/2014 The Brighton Bar – Long Branch, NJ
3/02/2014 10th Street Live – Kenilworth, NJ
3/03/2014 The Depot – York, PA
3/04/2014 Empire – Springfield, VA
3/05/2014 Ground Zero – Spartanburg, SC
3/07/2014 The Bowery – Knoxville, TN
3/09/2014 Uncle Lou's Entertainment Hall – Orlando, FL
3/10/2014 Jack Rabbits – Jacksonville, FL
3/12/2014 Siberia – New Orleans, LA
3/15/2014 Leon's Lounge – Oklahoma City, OK
3/16/2014 The Jam Spot – Albuquerque, NM
3/17/2014 Yucca – Phoenix, AZ
3/18/2014 Mirror Image Studios – Anaheim, CA
3/19/2014 Jub Jubs – Reno, NV
3/20/2014 The Bar Deluxe – Salt Lake City, UT
3/21/2014 Rojo's Tavern – South Tahoe, CA
3/22/2014 TBA
3/23/2014 TBA
3/24/2014 El Corazon – Seattle, WA
3/25/2014 Checkerboard Bar – Spokane, WA
3/27/2014 Machinery Row – Great Falls, MT
3/29/2014 The Railyard – Billings, MT
3/30/2014 Bluebird Theater – Denver, CO
4/01/2014 Fubar – Saint Louis, MO
4/02/2014 Cobra Lounge – Chicago, IL
4/03/2014 The Ritz – Warren, MI
4/05/2014 Broadway Joe's – Buffalo, NY
4/06/2014 TBA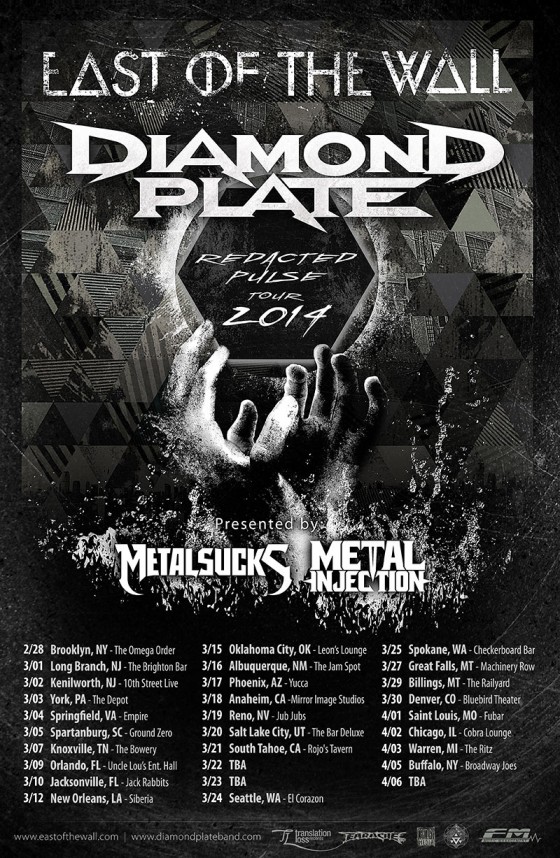 http://www.eastofthewall.com
http://www.facebook.com/eastofthewall
http://www.twitter.com/eastofthewall
http://www.youtube.com/eastofthewall
http://www.translationloss.com
http://www.scienceofsilence.net