"…a peyote-fueled nightmare…" — Cvlt Nation
Today marks the official unveiling of Trespasses, the alluringly disturbing full-length debut from Brooklyn-via-Detroit artist NATHANIEL SHANNON AND THE VANISHING TWIN. Out now on Aqualamb, the offering features fifteen truly haunting tracks, the accumulation of nearly a decade of bedroom recordings by singer and multi-instrumentalist NATHANIEL SHANNON.
In celebration of its release, today Cvlt Nation is pleased to premiere the gruesome visual accompaniment to opening track "Debutantes." The perfect manifestation of Shannon's vision, "Debutantes" is based loosely on Japan's cannibal turned pop-culture figure Issei Sagawa, the song unfolds from his point of view – lust turning deadly not out of evil, but out of a blissful yearning to be one with his object of desire. Directed by Pit Full OF Shit's Frank Huang, the video's fitting nod to grind-house aesthetics also flips the narrative's gender roles, placing a woman in the lead as a patient, methodical and blood-thirsty stalker
Issues the esteemed blog: "This exclusive premiere for the video entitled "Debutantes" conjures forth a peyote-fueled nightmare that would cause Michael Gira and Nick Cave to pause and take note."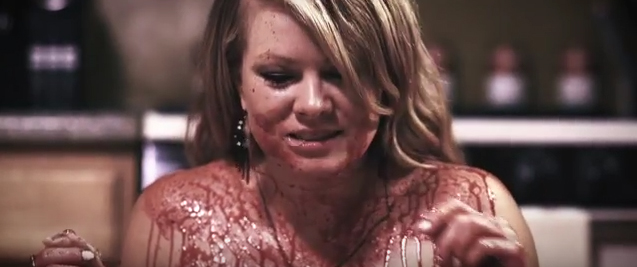 Soak in "Debutantes," in all its bondage-laden, murderous, cannibalistic glory at Cvlt Nation HERE.
Available in Aqualamb's signature format, the Trespasses LP comes accompanied by a beautiful 140+ page printed book featuring original photo-collage images assembled specifically for the album. Also included are SHANNON's handwritten lyrics, making for a truly sublime debut album package.
Order the album and book at THIS LOCATION. RIYL: Mark Lanegan, Angelo Badalemnti, Bruce Springsteen, Tom Waits etc.
Originally thought lost in the chaos of several breakups and subsequent moves throughout Brooklyn, Trespasses is an album that almost never was. Multi-track sessions for the songs were eventually unearthed and revisited, taking shape with the mixing and mastering assistance of Today Is the Day's sonic mastermind Steve Austin. The songs' dark themes are reinforced in the album's accompanying artwork, also created by SHANNON who is an accomplished photographer and multimedia artist.
The hymns that make up Trespasses present an uninhibited glimpse into the murky corners of SHANNON's life-long fascination with the psychology of lurid sounds and visual arts. SHANNON describes the album as "a fantastical exploration into the mind of a person trying to hold his composure, and not let his inner demons loose. These songs are inspired by true situations I have read about, experienced, or created as an exercise in living out the life of characters who aren't real, but could be. This is the soundtrack for a horror film that doesn't exist."
SHANNON will bring his disquieting odes to the stage tonight for a two part record release show beginning with a memorial at Church Of The Ascension in Brooklyn, New York. Additional live performances will be announced in the weeks to come.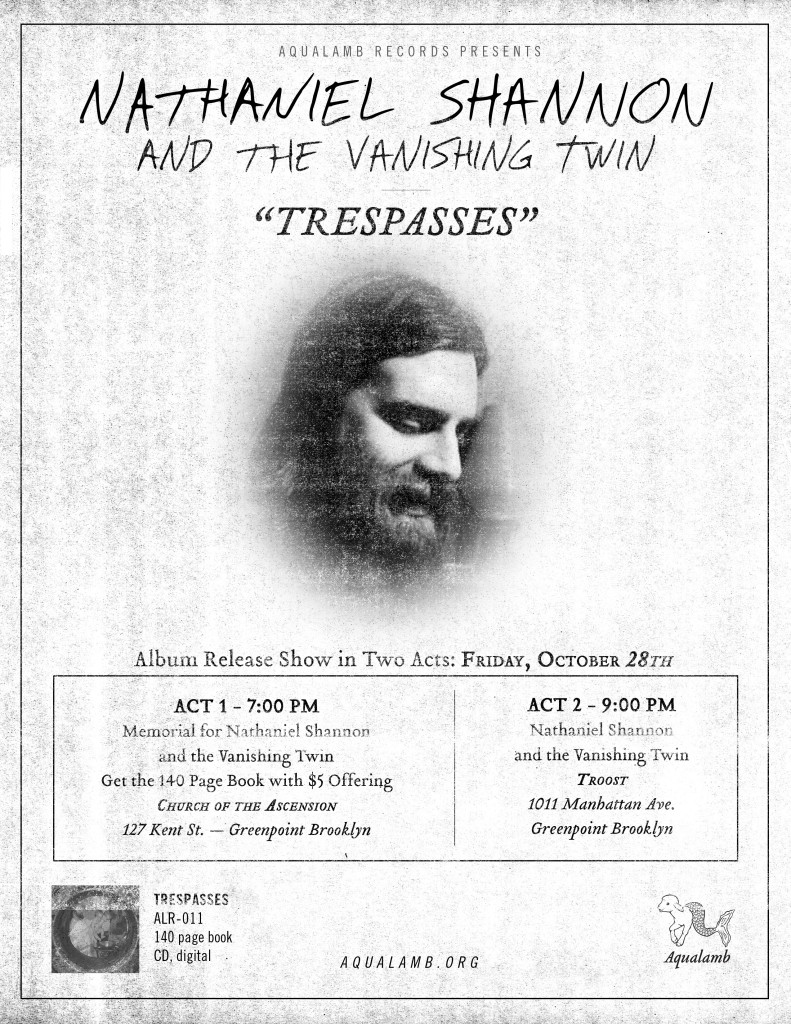 NATHANIEL SHANNON AND THE VANISHING TWIN Release Show in Two Acts:
Friday – October 28th, 20016
Act 1 – 7:00 PM
Memorial for NATHANIEL SHANNON AND THE VANISHING TWIN
Get the 140-Page Book with $5 Pittance
Church Of The Ascension: 127 Kent St., Greenpoint Brooklyn, NY
Act 2 – 9:00 PM
Troost: 1011 Manhattan Ave., Greenpoint Brooklyn, NY
"His multi-dimensional songwriting takes you down a dark ally. You're in a smoke filled room surrounded by thieves and hustlers. Every song on this record is true. It picks up and slams you down emotionally. NATHANIEL's no rules approach to putting these songs together pits it as the alternate version of the Taxi Driver soundtrack. In other words, it's honest. It's real." – Steve Austin, Today Is The Day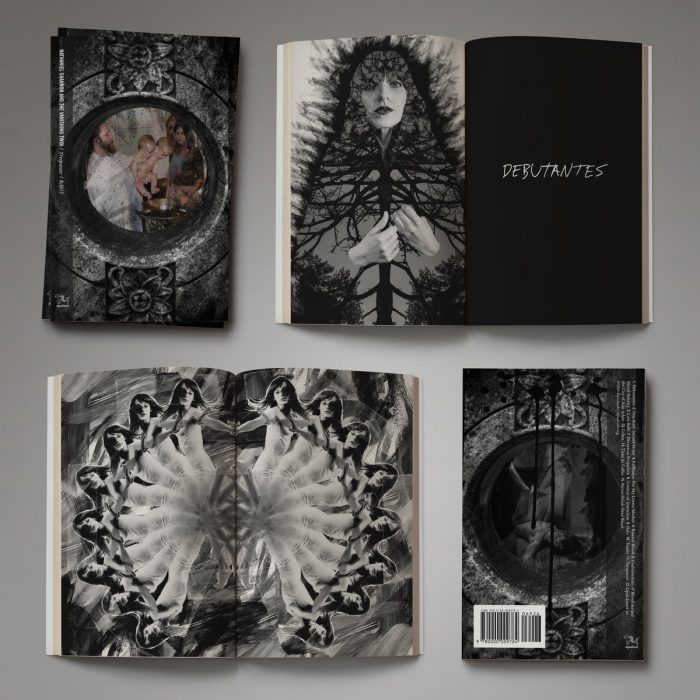 http://www.instagram.com/nsandthevt
http://www.twitter.com/nsandthevt
http://www.facebook.com/NSandtheVT
http://www.aqualamb.org
http://wwwaqualamb.bandcamp.com
http://www.facebook.com/aqualambrecords